The 2015 Dodge Challenger: Fast as Hell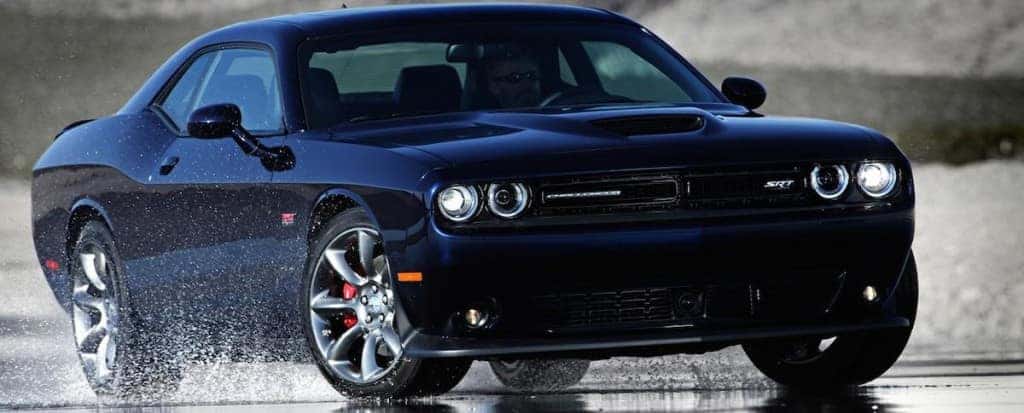 It sure is!
Completely revised for the 2015 model year, the Dodge Challenger is a speed demon straight from you know where. Guess that's why Dodge named its supercharged Challenger the Hellcat.
Whether or not you opt for this rabid feline, all of this year's Challengers are sporting significant re-styles and enviable enhancements, available now at your local Dodge dealer.
Dash to your next destination in one of these 2015 Dodge Challenger models…each one a muscle-bound monster, driven for ultimate performance and eye-catching aesthetics.
The 2015 Dodge Challengers: Demons of the Road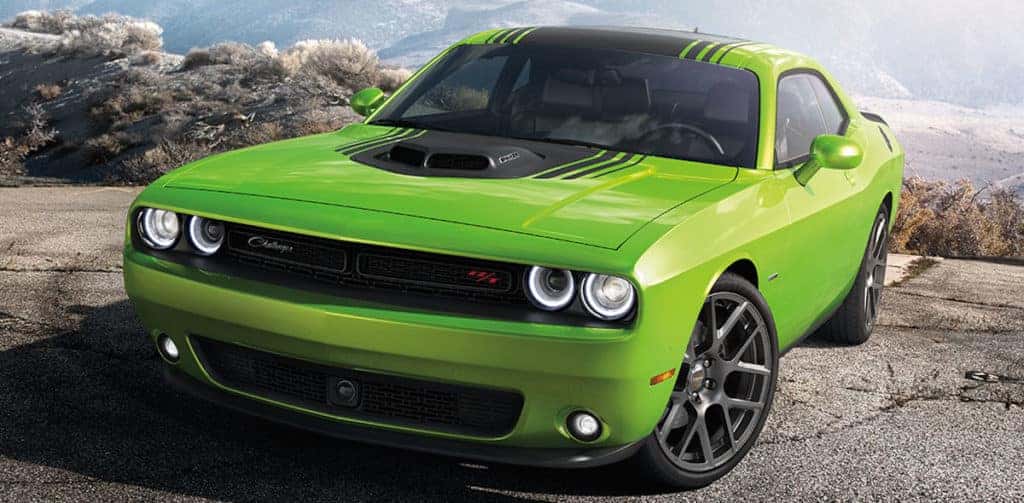 Some say "bad things happen in threes," but it seems good things happen in sevens. Whether the "Seven Sisters" of mythology, colleges, or oil companies, that number has long been associated with luck and prosperity.
Maybe that's why Dodge has released its five-seater coupe Challenger in seven trims, and they are: the SXT, SXT Plus, R/T, R/T Plus, R/T Scat Pack, SRT 392, and SRT Hellcat. Each one is a rear-wheel drive model, distinguished by its own individual options and equipment.
Starting with the SXT, you'll drive with the power of a 3.6-liter V6 engine, generating 305 horsepower and 268 lb.-ft. of torque, operated by a standard eight-speed automatic transmission.
Other standard features on the SXT include keyless entry and ignition, Bluetooth connectivity, seven-inch configurable display on the dashboard, power accessories, leather-wrapped tilt-and-telescoping steering wheel, 60/40 split-folding rear seat, five-inch Uconnect touchscreen display, six-speaker audio system, which is complemented by an auxiliary audio jack and CD player, all of which comes balanced and ready for action on 18-inch alloy wheels.
Taking one step forward, the SXT Plus scoops up all the goodies from the SXT and adds extra equipment like performance brakes and suspension, rear spoiler, automatic headlights, rearview camera, rear parking sensors, heated steering wheel enhanced with power tilt-and-telescoping adjustments, 8.4-inch Uconnect touchscreen, an even better sound system, all of which stands atop 20-inch alloy wheels.
Engine upgrades come from the Challenger R/T, which is outfitted with the SXT's bells and whistles, but powered by the 5.7-liter V8 engine, rated at 375 horsepower and 410 lb.-ft. of torque, matched to a standard six-speed manual transmission. The optional eight-speed automatic transmission compromises power just a bit, returning ratings of 372 horsepower and 400 lb.-ft. of torque.
Operated with the manual setup, the 2015 Dodge Challenger R/T zipped from zero to sixty mph in 5.8 seconds, with fuel economy measured at 18 mpg combined, while the automatic returns one more at 19 mpg combined.
For extra equipment in the Challenger R/T, opt for the Challenger R/T Plus, which essentially provides you with the same enhanced equipment as the SXT Plus.
Additional power is offered by the Dodge Challenger R/T Scat Pack and SRT, both of which resonate with a 6.4-liter V8 engine, which gets 485 horsepower and 475 lb.-ft. of torque, paired by a standard six-speed manual or optional eight-speed automatic transmission.
Operated by the manual, the SRT 392 model sprinted from zero to sixty mph in 4.5 seconds, returning an EPA-estimated fuel economy of 17 mpg combined from the manual transmission and 18 mpg combined expected of the automatic.
But the real boss of this lineup is the Dodge Challenger SRT Hellcat, burning down the road at 707 horsepower and 650 lbf.-ft. of torque, thanks to its supercharged 6.2-liter V8 engine.
Whether mated to the manual or automatic transmission, you'll get about 16 mpg combined in fuel efficiency and will blast by anyone in your way with lightning speed.
The Hellcat crushed the zero to sixty mph performance test in 4.1 seconds with the automatic transmission, and conquered the quarter-mile in 11.9-seconds at speeds of 123.4 mph.
A Package Deal on these 2015 Dodge Demon Challengers

There are several packages available to further customize your Dodge Challenger, depending on the trim level you choose.
For example, let's assume that you dig the SXT Plus or R/T Plus – because why wouldn't you?
Either one can be outfitted with the R/T Classic Package, a group that adds 20-inch five-spoke wheels, vintage dual R/T stripes along the car's sides, leather upholstery, featuring simulated suede inserts, and xenon headlights.
But, if you prefer the more basic, stripped-down SXT or R/T, you can elect to add the Super Track Pak, complete with a suspension tuned for higher-performance, as well as enhanced steering and braking, along with 20-inch black wheels.
The SXT gets the addition of a rearview camera and parking sensors, along with a matching body-color rear spoiler detail.
Another fun package comes from the R/T Scat Pack trim, which takes the equipment of the R/T and boosts it with the enhanced V8, along with an improved suspension, active exhaust system, stability control programming for performance, Brembo brakes, sport seats up front, 8.4-inch touchscreen, Bluetooth, satellite radio from the upgraded sound system, along with navigation and iPod/USB audio integration.
As you might imagine, the Leather Interior Group, available on the Scat Pack, enhances the Challenger's interior with leather/simulated suede sport seats, heated steering wheel with power tilt-and-telescoping adjustment, complementing the heated and ventilated front seats.
For a unique look, the Scat Pack Appearance option features enhancements like xenon headlights, gloss black grille, special wheels, and those signature, rally-inspired, "Bumble Bee" back stripes.
Vying for vintage looks? Take advantage of the "Shaker" hood, Shaker exterior graphic, and conical-shaped intake filter available on the R/T, R/T Plus, and Scat Pack trims.
Nearly at the top of these powerhouses, the Challenger SRT 392 takes the Scat Pack with its Leather Interior package and layers on extras like a center-scooped hood, enhanced Brembo brakes, adaptive suspension dampers, xenon headlights, 18-speaker Harman Kardon sound system, and adjustable driving modes.
But the Challenger SRT Hellcat offers the most from this company of seven. Taking the best of the SRT 392 and boosting it with the supercharged V8 engine, the Hellcat features fancy, color-coded key fobs designed to determine the output from the engine.
Want to reduce power? Use the black fob.
Engage full power? Red, in this case, means "go," rather than "stop."
Several other packages are available across the 2015 Dodge Challenger line, depending on your driving needs and desires.
The Safety Challenge: The 2015 Dodge Challenger Takes It Seriously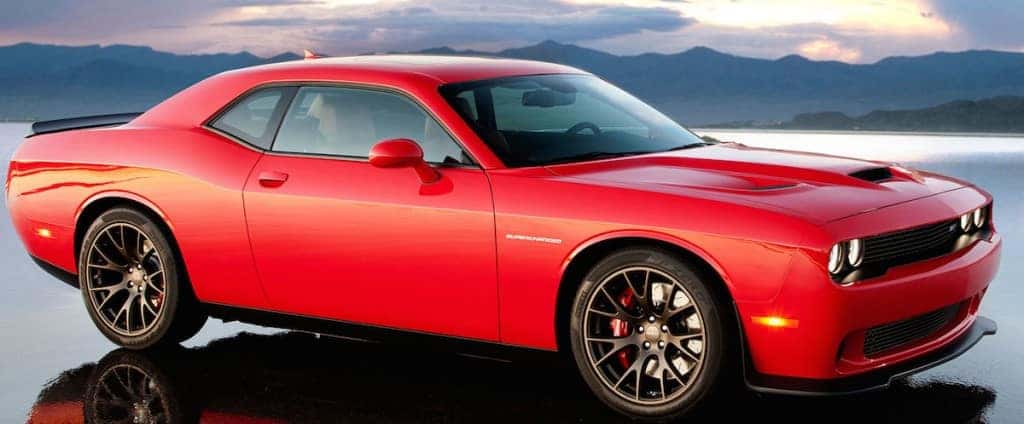 All this talk of hellacious power and burnt rubber begs the question: just how safe is the 2015 Dodge Challenger?
With its abundance of active and passive safety features, like standard stability and traction control, antilock brakes, active front head restraints, and both front and side curtain airbags, Dodge takes safety seriously, offering available blind spot monitoring, forward collision warning system, rear cross-traffic alerts, and rear parking sensors.
Although these performance cars are made for speed, Edmunds brake testing yielded good results, with the R/T able to stop from sixty mph in 111 feet, the SRT8 392 in 106, and the hell-raising Hellcat at 108 feet.
So, while you'll enjoy cutting-edge performance in the 2015 Dodge Challenger, you can drive with confidence knowing that your ride is backed up with solid safety technology.
Up to the Challenge?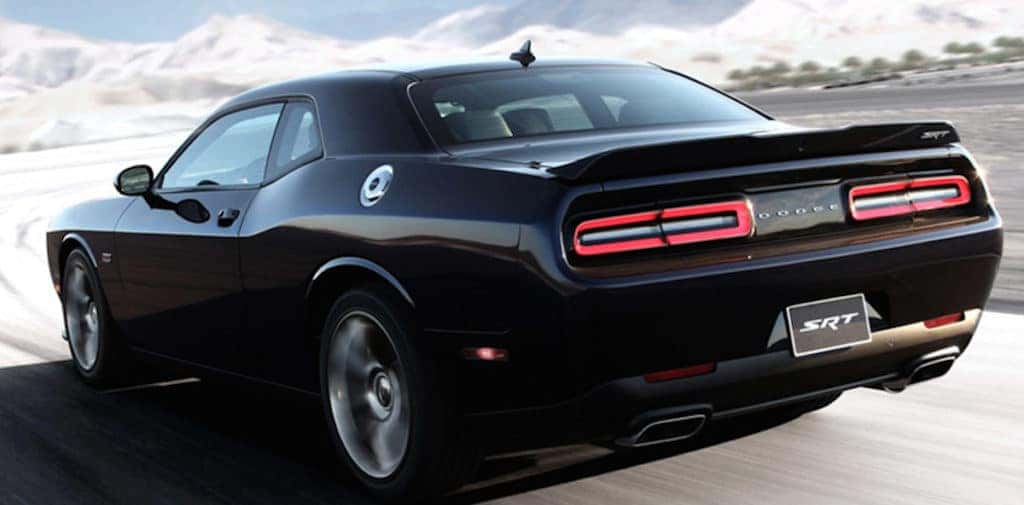 Those who have already driven this year's Dodge Challenger report a comfortable and refined interior, with an overall outstanding ride quality.
And the 2015 Dodge Challenger remains true to its iconic appearance and muscle-car legacy.
Ever eye-catching, the 2015 Dodge Challenger comes available in a wide array of exterior colors, including: Billet Silver Metallic, Sublime Green, B5 Blue, TorRed, Pitch Black, Bright White, Granite Crystal, Phantom Black, Ivory Pearl, Jazz Blue, and Redline Red.
Go ahead, we dare you!
Accept the challenge and get behind the wheel of your very own 2015 Dodge Challenger.