2015 Dodge Charger RT vs. 2015 Ford Taurus SHO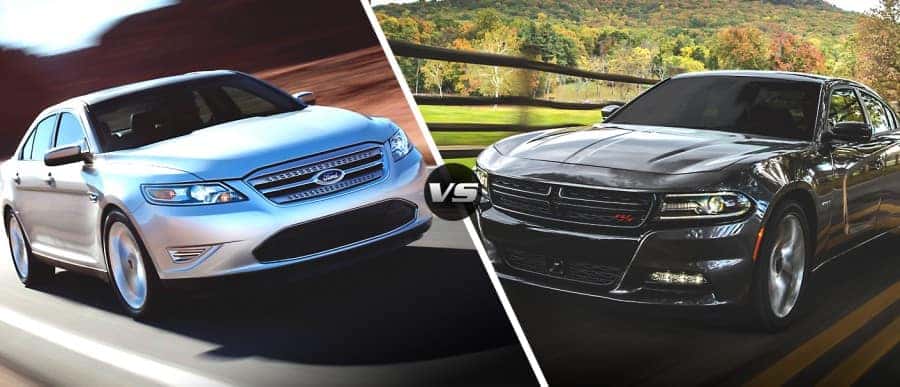 Options for high performance 4-doors seem to be continuously growing due to demand. Consumers don't want to settle. They're looking for a satisfying ride that has some swagger.
But, as with anything, there are just some sedans in this segment that are a cut above the rest. The 2015 Charger RT from your local Dodge Dealership in Miami is one of them. Compare it with the 2015 Ford Taurus SHO, and you'll find that the choice is easy.
Striking Capabilities
In a Charger RT, you enjoy 370 horsepower and 395 lb-ft of torque generated by a 5.7-liter V8. That much power gets you off the line and up to 60 miles per hour in under 5.5 seconds.
And with the RT's 8-speed automatic, shifts are efficient and seamless so you get the smoothest ride possible.
The Taurus SHO comes equipped with a 3.5-liter Twin Turbo V6, but has 5 fewer ponies and only 350 lb-ft of torque to work with.
Its engine is paired with a 6-speed automatic transmission, which gets the job done, but doesn't provide the same responsiveness as the Charger RT's 8-speed.
Despite the RT's larger engine size, the two cars have comparable fuel economy, and their tank sizes are similar. So you can get more power and use gas efficiently in the Charger.
The Dodge is also noted as having much better handling than the Ford. U.S. News reviewed the SHO's handling as "awkward," while they gave the RT kudos for having its "composed ride."
With a smaller turning radius and more agility, the Charger surpasses the Taurus when it comes to maneuvering.
Superior Interior
Once inside the Charger RT, you'll find things pretty pleasing as well. Its sophisticated interior has a race-inspired feel with fine details that demonstrate high craftsmanship.
Unlike the SHO, it comes with a premium audio system so you can rock out to a soundtrack of your choosing as you put this muscle car's abilities to the test.
And your friends will be happy to join you because the Charger RT has a larger overall passenger volume than the Taurus SHO. The spacious back seat offers more leg room, allowing everyone to stretch out and relax.
In addition, the RT comes with some extra features to keep you safe while you're on the road. Daytime running lights and fog lamps come standard, something you won't find with the SHO.
More for Your Money
So you might be assuming that the Charger RT must cost more since it has so much more to offer than the Taurus SHO.
However, Dodge's price sticker actually comes in much lower than Ford's. The Charger RT's starting price is $32,995 while the Taurus SHO's is $40,105. That's a pretty big different.
And Dodge offers 40,000 more miles of drivetrain warranty coverage and roadside assistance than Ford.
When you line up both packages with their pricing, it's really clear that the Dodge Charger RT is the optimal choice if you're looking for a highly capable sedan.