2015 Dodge Durango vs. 2015 Ford Explorer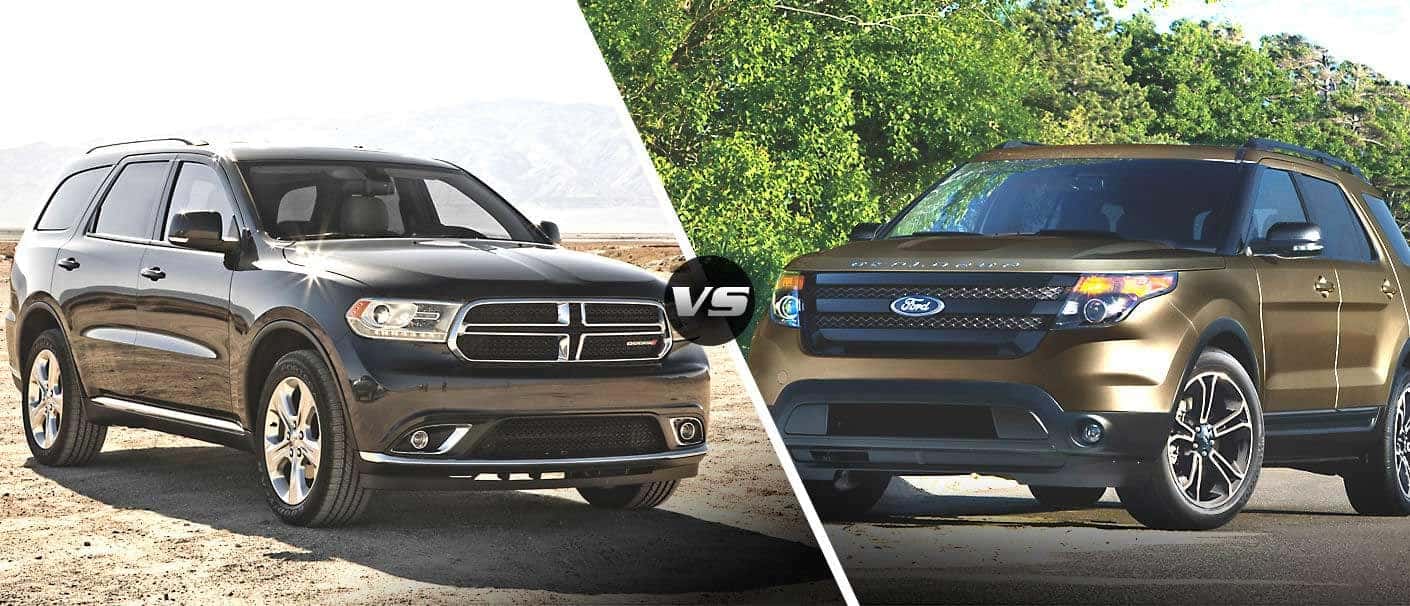 Is it time to start searching for your next SUV? Are you looking for more space but trying to avoid buying something that's bogged down by its own size?
The Dodge Durango is one of the most popular SUVs available on the market. With its refined exterior, powerful performance, and outstanding functionality, it trumps less thoughtfully designed competitors. When it comes to getting the complete package and feeling fully gratified by your SUV, the Durango eclipses rivals like the Ford Explorer. It's a totally superior kind of utility vehicle.
Engineering that Will Leave You Satisfied
The Dodge has a slightly more powerful engine, with a 3.6-liter V6 compared to Ford's 3.5-liter engine. The two get 290 horsepower, but the Durango delivers more torque with 260 lb-ft.
The Durango comes with an 8-speed shiftable automatic which helps it leverage that available torque. The Explorer, on the other hand, only has a 6-speed automatic to work with. Its more efficient transmission probably explains why the Durango scores a bit better in the fuel economy category. It has a rating of 25 miles per gallon over the Explorer's 24.
The Dodge also has a much larger fuel tank, capable of taking 24.6 gallons. The Explorer can only hold 18.6, so that you'd have to stop and fill up a lot more frequently.
Making Life Simpler and More Convenient
You can get all sorts of bells and whistles for your new vehicle from just about any car company nowadays. That's one way dealerships drive up their price stickers. They charge buyers extra for the comforts and conveniences that make a vehicle user-friendly, and consumers end up emptying their wallets.
That's why it's always essential to closely check what's included in a prospective car's list of standard features. In this case, the Durango definitely has more to offer than the Explorer. For instance, Dodge offers air conditioning with climate control as part of the standard package, while Ford makes it available when you opt for a higher level model.
The Durango also comes with Keyless Ignition so you don't even have to take your keys out of your pocket to hit the road. You definitely won't find that in the Explorer without upgrading. And the same goes for Bluetooth. Want the ability to go hands free when you need to make a call? In the Dodge, it's a standard feature, but again, count on paying more if you want it in your Ford.
While those may seem like little things when you're shopping for your next SUV, remember that you're going to be driving whatever vehicle you choose every day. Wouldn't you rather enjoy the ride instead of feeling stressed out or distracted while you're driving? Dodge makes things simple and keeps costs reasonable by building in the necessities from the get-go.
An Easier Way to Get Around
The Durango has a smaller turning radius and a slightly slimmer body which allow drivers to maneuver more easily in crowded parking lots.
Kelley Blue Book even noted that while the Explorer is a big SUV that offers extra space, it "isn't particularly nimble." They suggested looking for another vehicle if you frequently drive in busy areas. While the Explorer is a bit larger and more difficult to handle in congested areas, the Durango still tops it when it comes to cargo space. That just goes to show that size isn't everything.
Dodge's SUV provides nearly five additional cubic feet for packing up your sports gear, stowing your luggage, or accommodating anything else you might need to transport.
It's Nice to Feel Secure
Most modern vehicles now come with an assortment of standard safety features that have become the norm. And these two SUVs are no exception. They are fitted with safeguards such as Electronic Stability Control, Traction Control, and multiple airbags so you can have peace of mind.
But the Durango is also equipped with important anti-theft technology to keep you in control, even if you're vehicle has been stolen. You can remotely utilize the engine immobilizer if someone has taken your SUV, and it will prevent the engine from starting.
Isn't it nice to know that Dodge has the forethought to make sure you're covered even in the worst situations? 
When You Need to Haul
There are lots of times when towing comes in handy, and it's good to be prepared with the capability you need to take care of a heavy load. Whether you're thinking of getting that boat you always dreamed of or finally buying your daughter that horse, make sure your next SUV can get the job done.
The Durango has a significantly higher max towing capacity than the Explorer. It can take up to 6,200 pounds wherever you need to go. That's in contrast to the 5,000 pounds that Ford's SUV can manage. Why miss out on that extra 1,200 pounds of capability? Don't limit yourself in the future. Opt for the Durango's Best-In-Class standard or available towing.
Don't spend more to get less. Choose an SUV from a brand that specializes in creating the optimal driving experience for their customers. Choose the 2015 Dodge Durango.