2015 Dodge Grand Caravan vs. 2015 Honda Odyssey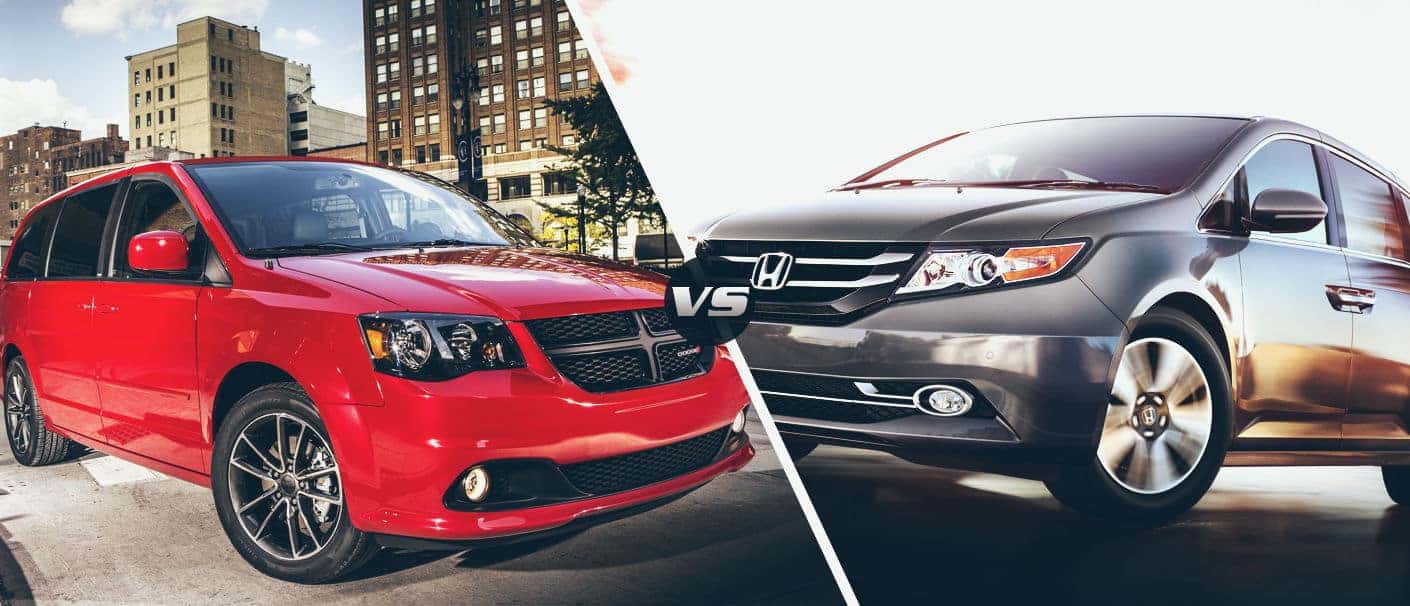 Now that Dodge is shifting its focus to creating performance vehicles that put out more ponies than mpgs, its family friendly vehicles like the Dodge Grand Caravan are slowly being phased out to the pages of automotive history. Yet the Dodge Grand Caravan is a strong offering, with plenty of convenience features, reliable performance, and affordable pricing. It's the perfect time for buyers to take advantage of this opportunity to get one of the last Dodge Grand Caravans to be produced.
The 2015 Honda Odyssey is one of the primary competitors for the 2015 Dodge Grand Caravan. If you are still on the fence over these two models, here's what you need to know to help you decide:
Exterior and Interior Design
The 2015 Dodge Grand Caravan has styling that is reminiscent of its muscle car brethren. The minivan has a muscular front end with large grille dissected in quarters by body-color bars. The boxy design gives the minivan a substantial look, and it ends with a squared-off rear end that provides more room for cargo. Small touches like the slightly flared wheel wells and grooves along the side panels provide interesting visual appeal throughout. The 2015 Honda Odyssey has a more aerodynamic look, with a pointed noise and sweeping profile lines.
The grille and head lights take a winged shape, contributing to the aerodynamic design and the look of a minivan in motion, even when it is stopped. Inside, the Honda Odyssey provides cloth upholstery and seating for seven. Several seating configurations are available to suit your needs. For example, the seats in the split second row can be moved wider apart to make room for adults or large child safety seats.
Dual-zone air conditioning, a redesigned center console and an advanced infotainment system make the ride comfortable and enjoyable. The cabin is also quiet thanks to noise-cancellation design choices. The interior of the Grand Caravan is a bit more practically minded, but it still offers plenty of features and comfort. The minivan seats seven, and it includes Stow n' Go seating that folds completely flat into the floor, providing more room for passengers or cargo where necessary.
Dual-zone air conditioning, air filtration, and reclining rear seats are just some of the other interior features. Both the Grand Caravan and the Odyssey offer plenty of leg and head room for comfortable seating, and they offer plenty of cargo room, with or without the seats folded or put away.
Power Train
Minivans may not be known for their hauling capacity or their top speeds, but buyers still want to know that they are getting a capable ride that can move as easily in rush-hour traffic as it can through rainy or snowy road conditions. The Dodge Grand Caravan comes with an adept 3.6-liter V6 engine that puts out 283 horse power and 260 pounds per feet of torque. The front-wheel drive system is paired with a six-speed automatic transmission. The V6 is the only engine choice, but drivers will not find it lacking.
The 2015 Grand Caravan can go from 0 to 60 mph in just 8 seconds. In addition to being powerful, the engine is fuel efficient, getting 17 mpg in the city and 25 mpg on the highway. In comparison, the 2015 Honda Odyssey has a 3.5-liter V6 that puts out 248 horse power and 250 pounds per feet of torque. The engine is a little less powerful, which also makes it a little more fuel efficient. It gets an estimated 19 mpg in the city and 28 mpg on the highway.
Overall, it has a combined fuel efficiency of 2 mpg better than the Grand Caravan — a difference that most drivers will find to be negligible. In real world driving conditions, the difference may even be reduced to zero.
Convenience Features
Both minivans are loaded with features that make driving a little more fun. The 2015 Dodge Grand Caravan has features such as heated mirrors, a tilt and telescoping steering wheel, four-speaker audio system, auxiliary jacks and more. As buyers move up the trim levels, they gain access to features such as tri-zone climate control, power lift gate, power sliding doors, leather upholstery and trim, an infotainment system, navigation system, satellite radio, and Bluetooth connectivity for hands-free calling.
An entertainment package is also available with a DVD player for the second and third rows.
The 2015 Honda Odyssey comes with features such as steering wheel mounted audio controls, universal remote transmitter, tilt and telescoping steering wheel and more. Many of the same features available on the Grand Caravan's higher trim levels are also available as options for the Honda Odyssey.
Safety Features
Minivans are known as family vehicles, and therefore, they must be safe. After all, you are carrying your most precious cargo of all when you are driving your family around town. The 2015 Dodge Grand Caravan includes safety features such as head airbags for all three rows of seating, emergency braking assist, front and rear head rests, traction and stability control, post-collision safety system, and tire pressure monitoring system. A backup camera is optional.
The 2015 Honda Odyssey comes with safety features such as head airbags for all three rows, emergency braking assist, stability and traction control, and more. The Odyssey also has a backup camera as an option.
Pricing
The 2015 Dodge Grand Caravan has a clear pricing advantage over the 2015 Honda Odyssey. The Grand Caravan starts at just $21,795 — far better than even many popular sedans. Meanwhile, the Odyssey starts at $28,975. The Dodge Grand Caravan is clearly the better option for families who are on a budget but who do not want to sacrifice value or style. It offers more powerful performance but does not sacrifice on exterior or interior design or quality. Thanks to the lower price, you can also afford to get a fully loaded model for far less than you would the Odyssey's fully loaded version. You'llcan drive in luxury without the cost.