2015 Jeep Cherokee vs. 2015 Nissan Rogue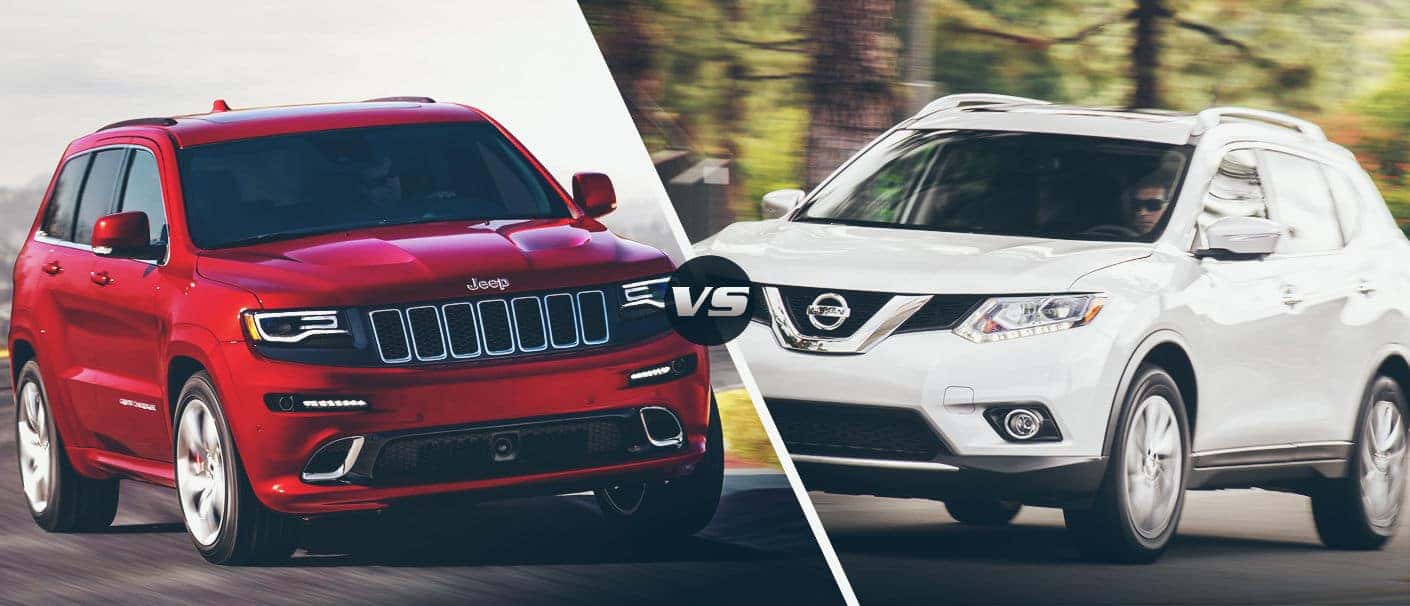 Nissan has a reputation for creating compacts and mid-size sedans that provide reliable performance and exceptional fuel efficiency. Yet it has been branching out into larger vehicles to appeal to its family friendly market. The 2015 Nissan Rogue is a solid offering, with unique styling details and great fuel efficiency.
Though the Rogue has much to recommend it, the 2015 Jeep Cherokee ultimately provides greater power and styling. Jeep has a reputation for power and performance, and it continues to deliver in this luxury crossover.
Here's what you need to know about how the 2015 Jeep Cherokee compares to the 2015 Nissan Rogue:
Road Prowess
Jeep has been making 
off-roading vehicles
 since it was founded nearly 80 years ago, so it's no surprise that the Cherokee packs a greater punch under the hood.
The 2015 Jeep Cherokee comes with a 2.4-liter Inline 4 engine that gets 184 horse power. The base model has adept acceleration and provides a quiet ride. If you want a little more power, you can opt for the 3.2-liter V6, which puts out 271 horse power and 239 pounds per feet of torque.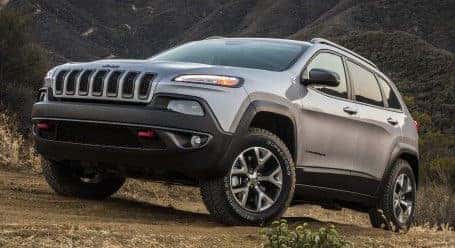 Between the V6 engine and the features added with the towing package, you can haul up to 4,500 pounds of cargo.
A nine-speed automatic transmission comes with the new Jeep Cherokee, which improves acceleration and fuel economy. The Cherokee can get 31 mpg on the highway, and all-wheel drive models can get a bit more.
The Cherokee isn't setting any records with fuel efficiency, but it offers respectable numbers that will help you pocket a little extra coin at the pump.
The 2015 Nissan Rogue comes with a 2.5-liter four-cylinder engine that is paired with a continuously variable automatic transmission and puts out 170 horse power. Acceleration is sluggish, but overall performance is decent. No other engine options are available.
Fuel efficiency is a little better on the Rogue — 33 mpg on the highway and 26 mpg in the city. However, you're trading off meager savings for what can be a significant difference in road handling, especially when you face difficult conditions such as rain, snow or mud.
You'll have to decide what's more important to you and then weigh the other qualities of the two.
Distinctive Style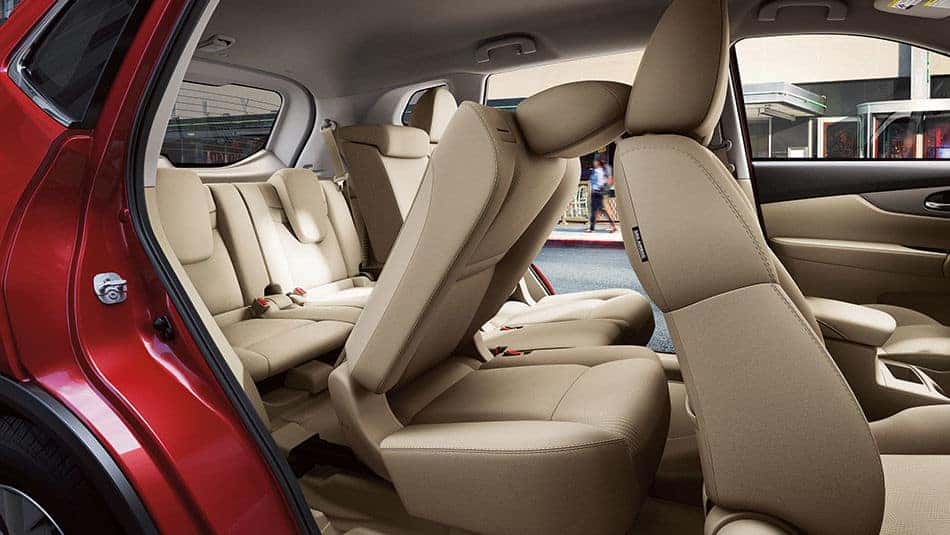 The 2015 Jeep Cherokee and the 2015 Nissan Rogue both have a style that is uniquely their own. You can't confuse one of these vehicles for anything else on the market.
The Jeep Cherokee reflects classic Jeep styling, and you can see hints of the vintage seven-slot grille, the boxy body, and the rugged underpinnings. Yet, the 2015 Jeep Cherokee has received a thoroughly modern makeover.
There are vertical, body-color bars between each of the grille slots, and the body has rounded out edges and more vibrant look. The head lights are small slits, creating a more intense look for the front fascia. The wheel wells are squared, and large intakes sit under the grille.
Some people are turned off by the Jeep Cherokee's look, especially when they are fans of the more rugged Wrangler. However, many more like its distinctive, modern styling.
The Nissan Rogue similarly divides fans of the brand. The style is a bit more mainstream than that of the Cherokee, but it still has some quirky traits. The overall look is a bit cartoonish, but there are soft edges and grooves throughout that provide just enough distinction.
The grille is marked by an oversized geometric shape that looks like a "U" and a "V" were put together. Geometric shapes are reflected throughout the design, such as in the side windows and the rear fascia.
The interior of the Rogue is roomy enough. There is a sliding and reclining second row that provides for maximum passenger comfort, but the optional third row is so small that it only accommodates younger passengers. Denser foam is used in the seating, creating a more comfortable ride for everyone.
Heated seats are available in the front, and the driver's seat is adjustable. Leather upholstery is only available on the higher trim levels.
You won't find a third row in the Jeep Cherokee, but you'll get more passenger and cargo room in its place. The second row slides and reclines to create just the right amount of space for rear passengers. It also has a 60/40 fold to give you more options for stowing cargo.
Chrome accents add a nice tough throughout the cabin, and leather upholstery is available.
Convenience and Safety
Family friendly vehicles like the Jeep Cherokee and Nissan Rogue have to provide plenty of convenience and safety features to stay competitive in the market, and both models do just that.
The Jeep Cherokee offers keyless entry, a tilt and telescoping steering wheel, a six-speaker audio system and storage compartments throughout.
Many more features come standard on the higher trim levels or are available in options packages, including leather upholstery and shift knob, heated and ventilated seats, a power driver seat, steering wheel-mounted controls, auto-dimming rearview mirror, rear sensors, heated steering wheel, memory seat, power moon roof and an infotainment system with an 8.4-inch touch screen.
Standard safety features include electronic stability and traction control, engine immobilizer, occupant sensing airbag, overhead airbag, and brake assist. Optional features include adaptive cruise control, lane-departure warning, forward-collision warning, The Nissan Rogue offers keyless entry, a tilt and telescoping steering wheel, steering wheel-mounted controls, a four-speaker audio system, and bucket seats.
Optional features include an infotainment system, automatic temperature control, power moon roof, auto-dimming mirror, leather upholstery and shift knob, heated seats, and power driver seat.
Standard safety features include numerous air bags, engine immobilizer, anti-lock brakes, traction and stability control, and a security system. Optional features include blind-spot monitoring, a surround-view camera, lane-departure warning, and forward-collision alert.
Both the 2015 Jeep Cherokee and the 2015 Nissan Rogue offer great performance and unique style for a good price, but the Cherokee edges out the Rogue in its power and overall offerings. The Cherokee starts at $23,095, and the Rogue starts at $23,040.