2015 Jeep Grand Cherokee vs. 2015 Ford Explorer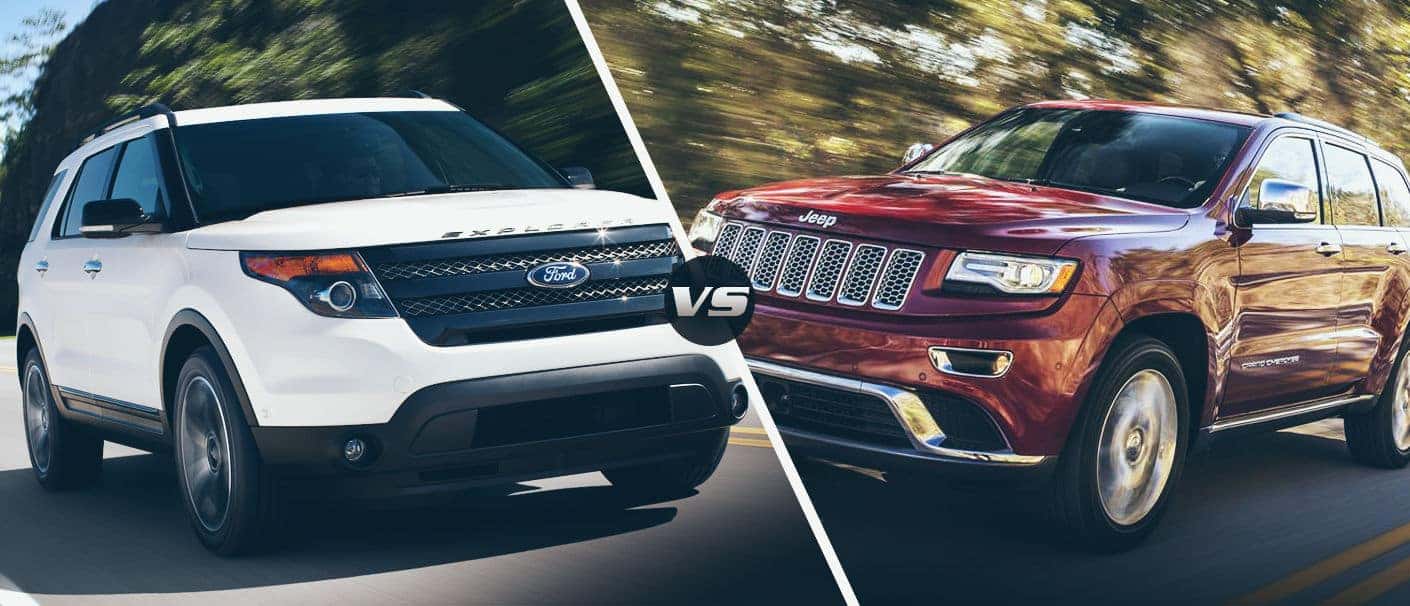 When you think of rugged, dependable, and powerful vehicles, two names might immediately spring to mind: Jeep and Ford. Both brands have made a name for themselves over several decades of producing automotive excellence.
Both make vehicles that are popular among the off-roading set, as well as those who just want a more muscular-looking ride that's big enough to accommodate their whole family or a group of friends for some weekend fun.
The 2015 Jeep Grand Cherokee and the 2015 Ford Explorer represent some of the best features that each brand has to offer. Both vehicles have much to recommend them, and they are neck and neck when put them together for a comparison.
Here's what you need to know about how these two stack up:
Exterior Design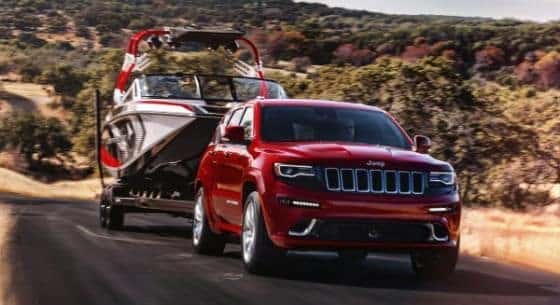 If you parked the 2015 Jeep Grand Cherokee and the 2015 Ford Explorer side by side, you'd have a hard time telling them apart. On closer inspection, you'd start picking out the differences, but if you were looking for your vehicle in a parking lot, you'd probably go to the wrong vehicle a couple of times.
Looking at the side profile, the Jeep Grand Cherokee has a slightly more aerodynamic look. The roof slopes down just slightly toward the end, and the rear hatch has a steeper angle to the window than the Explorer. The angle reaches a point at the tail light and then slopes in slightly back toward the vehicle.
In contrast, the roofline of the Ford Explorer flows straight back to the rear, which has only a slight angle to the rear window and then drops straight down. The design provides a bit more interior cargo room, but not enough to guide the choice between the two.
The Grand Cherokee's more aerodynamic design creates a more sophisticated and luxury look, including the slighted elongated front end, the inset door handles, and badging on the sides. Both vehicles have a similar wheel design, with fan-shaped spokes.
However, the Explorer has additional grooves inside each spoke for visual appeal.
At the front end, the Grand Cherokee also features a grille that's reminiscent of its historic seven-slot grille flanked by stylish headlights. Meanwhile, the Explorer has a traditional front end with an oversized horizontal grille and bland head lights.
Interior Styling
Your vehicle's exterior may be an expression of your personal style to show off to the world, but the interior has a much bigger impact on your everyday experience. The right interior will make you feel relaxed and comfortable and will give you plenty of convenience features that make driving fun.
The 2015 Jeep Grand Cherokee and the 2015 Ford Explorer both deliver in this category. The Grand Cherokee features and eight-way power driver and passenger seat with multi-level heating, a height-adjustable driver and passenger seat, adjustable lumbar support for the driver and passenger seat, reclining rear seats, a split-folding rear seat, leather upholstery and steering wheel, dual zone climate control, interior air filtration, memory settings and more.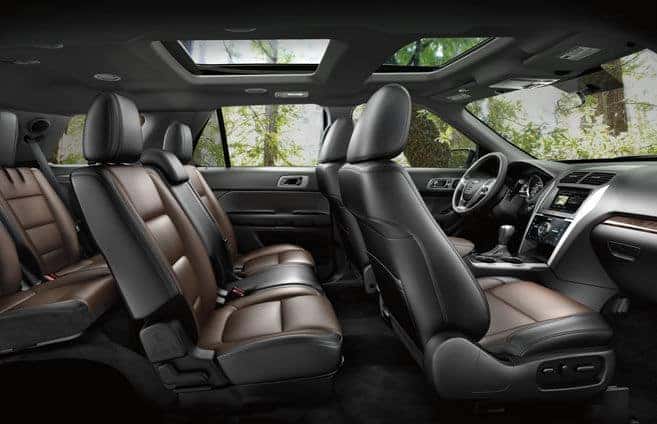 The audio system includes satellite radio (with 12 months free service), a memory card slot and USB connection, auxiliary input, Bluetooth capability, and six total speakers.
The Grand Cherokee does not have a third row of seating, which is one area where the Ford Explorer has an advantage. It includes a third row of seating as standard, providing room for up to seven.
The Explorer features adjustable driver and passenger seats, but they only have six points of modification. Lumbar support is available, but it is manual not powered. The upholstery is cloth, not leather.
Reclining rear seats are included as are rear ventilation ducts. The rear seat is split-folding, and the third row is split-bench seating with manual folding. Air filtration is available, as are front and rear air conditioning.
The audio system includes satellite radio (with six months free service), a USB connection and auxiliary input, and six total speakers. Bluetooth is available for hands-free dialing.
Overall, the two models have quite a number of wonderful features, but the Grand Cherokee slightly edges out the Explorer with its more luxury interior and its overall superior offerings.
Under the Hood
Jeep is known for its off-roading prowess, so the Grand Cherokee brings with it a powerful history. Though the Grand Cherokee was designed for luxury more than off-roading, it still has a powerful engine under the hood.
The 2015 Jeep Grand Cherokee comes with a 3.6-liter V6 engine that puts out 290 horse power and 260 pounds per feet of torque. Optional engines include a 3.0-liter V6 Ecodiesel that puts out 420 pounds per feet of torque and a 5.7-liter HEMI V8 that puts out 360 horse power.
All three are paired with an eight-speed automatic transmission.
Fuel economy on the standard engine is 25 mpg on the highway. The Ecodiesel gets 30 mpg on the highway, and the V8 gets 21 mpg on the highway.
Ford is no slouch when it comes to power, and it delivers similar specs. The base model comes with a 3.5-liter V6 engine that matches the 290 horse power of the Grand Cherokee but falls slightly short of torque at 255 pounds per feet.
Those who want a little more oomph can choose a Sport model comes with a turbocharged V6 that can put out 385 horse power. Those who want better fuel economy can choose a four-cylinder that lowers the horse power to 240.
The base model Ford Explorer gets fuel economy of 24 mpg on the highway and 17 mpg in the city, which is just a smidge under the Grand Cherokee.
Of course, both models also come with plenty of safety features, including four-wheel anti-lock brakes, an engine immobilizer, stability and traction control, post-collision safety system, adjustable head rests and tire pressure monitoring.
The 2015 Jeep Grand Cherokee starts at $29,995, while the 2015 Ford Explorer starts at $30,700. The price difference isn't that significant, but when you factor in all the additional perks that the Grand Cherokee offers, it is clear that it is the better value.