2016 Dodge Challenger – American Muscle Car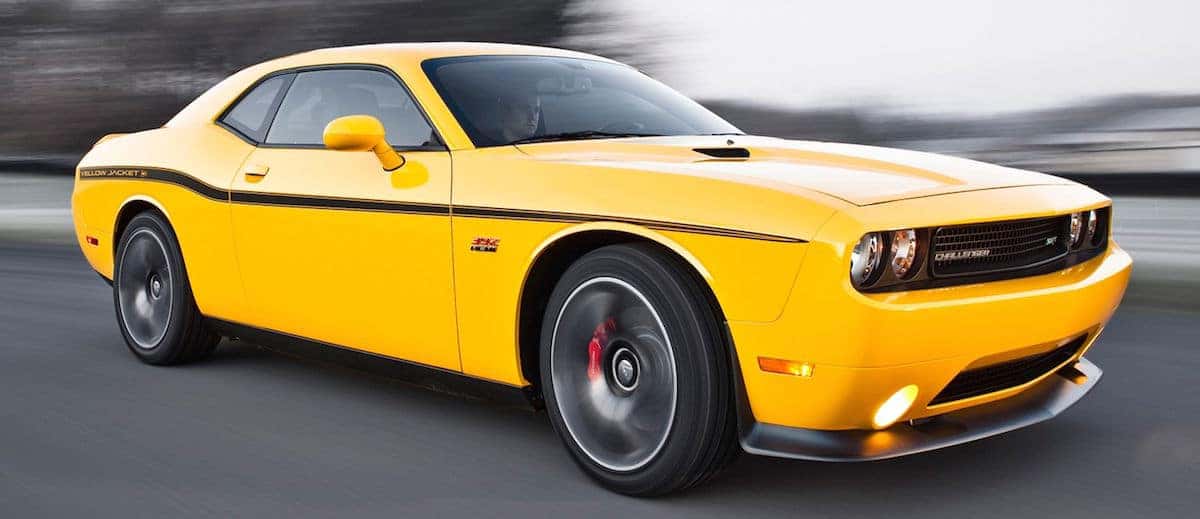 There are some cars that are easy to talk about. There are some cars that are fun to talk about. Then there are those cars that you want to take home and never be without.
The 2016 Dodge Challenger is that car.
It's the kind of car that you look at. No. You stare at it. I'm sorry but certain cars actually have personality and you can hear speak. The Challenger speaks to you in a rough and ready voice.
"Come on….let's play" – Dodge Challenger
It's a classic American muscle car that doesn't need to apologize for anything. It doesn't need to be all kinds of "politically correct". Haven't we had enough of that.
It's going to chew up the road. It's going to drink gas and light up the tires. It's a muscle car. It needs to do those things. Your Prius will be afraid. Very afraid. It eats Priuses.
Let's take a look at the exterior. The 2016 Dodge Challenger features a new larger, bulging hood that looks quite intimidating. For a little added classic look, you may want to choose the available SHAKER hood with high-flow cold air induction. Just the hood alone shows you that this is not a muscle car that is wimpy.
Plenty of customization options are available for the 2016 Dodge Challenger. Consider adding "The Scat Pack" front chin it's designed to mimic the look of the iconic 1971 model. Retro cool.
The Dodge engineers have tried to maintain the classic look of the old school Challenger with modern updates. You'll notice the LED split taillamp with high-gloss black trim and dual exhaust. It keeps that classic muscle car look but adds the modern look and safety of LED lights. The two compliment each other very well.
Another modern compliment to the overall retro look is the New projector headlamps. They feature quad LED halo surrounds and projector fog lamps. Again, these modern additions compliment the overall retro look and feel quite well. Often times you notice car makers attempting to add a little modern update without thinking of how it fits in the overall design. Luckily, Dodge thought every inch through.
We certainly are emphasizing the fact that Dodge is maintaining that "classic look" for the 2016 Dodge Challenger, but that doesn't mean they haven't updated the overall tech in the vehicle. After all, a lot has changed since the iconic Dodge Challenger first come off the assembly line.
For example, the gauge display is like no other. Dodge Challenger sports a 7-inch reconfigurable digital cluster display. Everything is at your fingertips. Gas display, tach information, trip display, even a timer for when you are checking your lap stats.

Inside the 2016 Dodge Challenger right on the center console is the U-Connect system. Another large touchscreen with voice command and navigation. Simply, set your destination on the 8.4-inch touchscreen and away you go with accurate guidance to get you wherever you need to go.
2016 Dodge Challenger thinks it is KITT from Knight Rider. The navigation system not only guides you to your destination but will also render 3-D graphics of real-world buildings when marking your route. We are talking high tech stuff.
Place the 2016 Dodge Challenger in reverse and the ParkView Rear Back-Up Camera kicks in to help you navigate while backing up. The system also includes popular apps like Pandora, Yelp, and even turns your car into a mobile Wi-Fi Hotspot.
The Dodge Challenger keeps you updated with real-time traffic updates, weather, movies, sports, and even gas station prices. The technology in the 2016 Dodge Challenger really does revolve around you.
This is the most futuristic Dodge Challenger yet.
With Bluetooth streaming of your favorite sounds from your mobile device, you should probably listen as loudly as possible. With that said, the 2016 Dodge Challenger comes standard with six Alpine speakers and a 276-watt amplifier. If that isn't enough upgrade to the next level which gives you nine alpine speakers, a subwoofer, and a 506-watt amplifier. Still not satisfied??? Push it with the ultimate in car audio 900-watts with an available 18-speaker Harman Kardon premium system.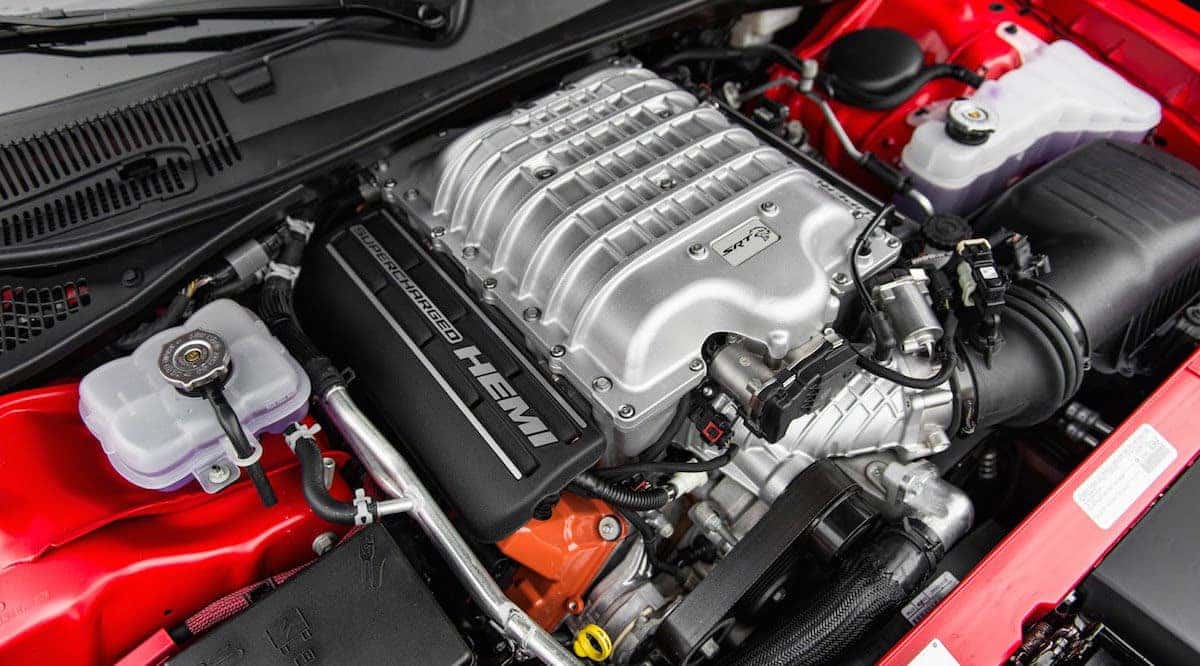 Performance
SUPERCHARGED 6.2L HEMI SRT HELLCAT V8 ENGINE – Pure muscle car at the extreme level of awesomeness.
6.4L HEMI V8 ENGINE – 485 horsepower, 475 lb-ft of torque, 0-60 mph in the low 4-second range and a top speed of 182 mph.
5.7L HEMI V8 ENGINE – 375 horsepower and 410 lb-ft of torque at your command.
3.6L PENTASTAR V6 ENGINE – 305 horsepower and 268 lb-ft of torque.
Eight-speed automatic transmission with paddle shifting.
Top of the line shifting and sport mode creates up to an 11 percent fuel economy improvement.
Sport shifters on the steering wheel are created with die-cast metal which gives increased strength and overall feel.
If you prefer a manual shift Dodge Challenger has you covered there as well.
SIX-SPEED MANUAL TRANSMISSION Choose the TREMEC six-speed manual transmission. A six-speed manual transmission with a leather-wrapped shifter.
Safety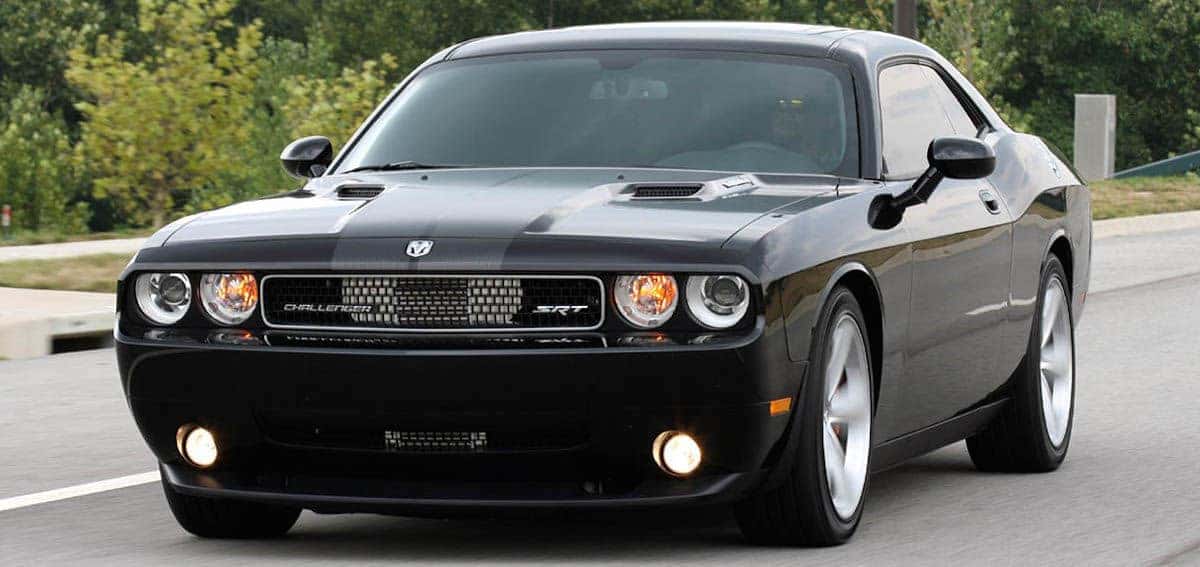 Nobody wants to get into an accident. There is a lot of power behind the engine of a 2016 Dodge Challenger. It has been said with great power comes great responsibility. In other words driving responsible goes hand in hand with safety. Dodge has created safety features in the new Challenger to keep you safe during anything that you may be faced with.
For example, the Challenger is loaded with accident avoidance technology. This technology will help keep you in control of your vehicle when it senses you are getting into trouble. It will actually take over your brakes, suspension, etc. Other safety features include All-Speed Traction Control, Electronic Stability Control (ESC) and the available ParkSense® Rear Park Assist System.
No vehicle would be safe if it did not include a plethora of airbags. Not just any airbags will be found in the Challenger. Inside find advanced multistage driver and front passenger airbags, supplemental front, rear and side-curtain airbags and front seat-mounted side airbags. These come standard in every 2015 Dodge Challenger.
Finally, in keeping the entire cabin safe all precautions must be met. To that end, Dodge Challenger is designed with active front head restraints that will actually move during a rear-end collision. This will decrease the space between the headrest and head. It is designed to reduce or eliminate dramatic injuries such as injury to the spinal cords.
A Dodge Challenger in Miami fits into the lifestyle and backdrop of Miami. Kendall Dodge Chrysler Jeep Ram wants to help you be part of the tradition of an American muscle car. We have plenty of them in stock and are there to help you with all the available packages and customization that helps you create your own version of the 2016 Dodge Challenger.
You have a lot of available choices: Packages like R/T Classic, Scat Pack, Appearance Group, and Super Sport Group. Not to mention your choice of tire and rim packages, exterior color and design, transmission, engine, and interior.
Talk to a member of our sales team today at Kendall Dodge Chrysler Jeep Ram located on 13355 SW 137th Ave Miami, FL 33186 and get scheduled for a test drive. Talk about financing and experience how easy it will be for you to own a true American muscle car….Dodge Challenger.