The 2016 Dodge Charger Miami – Redefining the Sedan Segment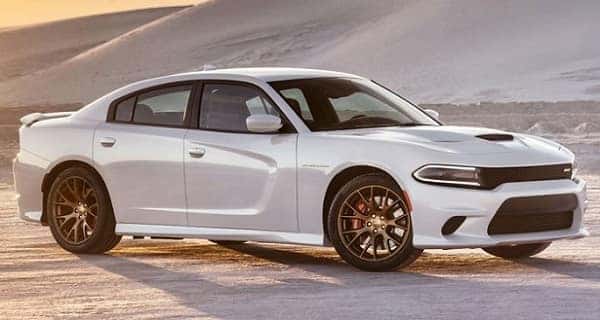 This year's refreshed Dodge Charger Miami has arrived and is ready to roll off the lot whenever you are. Full-sized and full of fierce fun, the 2016 Dodge Charger is the latest version from Dodge to convince consumers that now is the time to get out there and "Grab Life."
See what that looks like in this quick overview highlighting the best of this year's new Dodge Charger.
The Deets on the 2016 Dodge Charger
This is a full-size sedan that is shaking up the segment in seven trim levels. Starting with the entry SE, consumers can move up the ranks the to top speed demon sedan, the SRT Hellcat. Those in between are badged the SXT, R/T, R/T Road & Track, R/T Scat Pack, and the SRT 392. You're sure to find something to suit your daily needs and charge up your driving desires.
What makes one 2016 Dodge Charger different from its siblings? Well, to start with, all of the new Dodge Chargers are configured for rear-wheel drive; however, the SE and SXT can be purchased with available all-wheel drive, an option worth considering, depending on your geographic location.
The standard transmission on all 2016 Chargers comes from the eight-speed automatic, but engine options vary across the line. For instance, the SE and SXT are equipped with a 3.6-liter V6 that generates 292 horsepower and 260 lb.-ft. of torque. You can enhance this muscle to 300 horsepower and 264 lb.-ft. of torque, thanks to available Rallye Group. These two trims share an EPA-estimated fuel economy of 19 city, 31 highway, or 23 mpg combined. Those numbers drop slightly with the all-wheel drive configuration to 19 city, 31 highway, and 23 mpg combined.
If the Charger R/T and R/T Road & Track are more your speed (get it?), then you'll be behind the wheel of a 5.7-liter V8, able to produce 370 horsepower and 395 lb.-ft. of torque. Fuel economy suffers a bit, falling to 16 city, 25 higway, and 19 mpg combined.
Fly even faster with the Charger R/T Scat Pack and SRT 392, both outfitted with the 6.4-liter V8, which gets 485 horsepower and 475 lb.-ft. of torque, with EPA estimates of 15 city, 25 highway, and 18 mpg combined.
But the real speed demon awaits as the Charger SRT Hellcat, roaring with the strength of 707 horses and 650 lb.-ft. of torque. Granted, EPA estimates are only 13 city, 22 highway, and 16 mpg combined, but really…who cares?
If you're looking to burn rubber in the SRT Hellcat, you're not necessarily overly concerned with fuel economy. The Hellcat raced from zero to sixty mph in a pulse-racing 4.1 seconds.
Perhaps you'll be surprised to learn that all of this impressive performance is actually matched by excellent safety ratings, with the 2016 Dodge Charger awarded the Insurance Institute for Highway Safety's top rating of "Good."
Other fun features to consider in the higher trims, like the SRT 392 and SRT Hellcat are the enhanced leather interior and HD radio, both of which come standard.
The 2016 Dodge Charger is priced to start at $27,995 for the base SE and ranges upwards of $65,000 for the Hellcat.
Whichever 2016 Dodge Charger you choose, you're sure to have an amazing time when you get behind the wheel and "Grab Life."