2016 Dodge Dart
Meet The 2016 Dodge Dart

Are you in the market for a new or used vehicle? Have you been to dealership after dealership, only to be left feeling discouraged? We understand that it can be a struggle to find a dealership you feel comfortable with, and it's important that you don't choose just any dealership you come across.
Researching where you will buy your new vehicle, is just as important as researching what vehicle you will purchase. Here at Kendall Dodge, we understand that car dealerships get a bad reputation – which is why it is our goal to change customer's perceptions about the entire car buying process. Whether you are looking to purchase the 2016 Dodge Dart, or a quality pre-owned Jeep Wrangler, Kendall DCJR is a dealership that is setting a new industry standard.
5 Things That Make Kendall DCJR Different
We encourage every person who is considering a new vehicle purchase, to do their homework before choosing a dealership. A car is a big investment, and it's important that you feel comfortable with who you are buying your car from. Don't trust what may be the biggest purchase of your life, to a dealership that leaves you with a bad taste in your mouth.
At Kendall Dodge, we pride ourselves on being different from the rest. We stand out from area dealerships, because we understand what customers want out of their car buying experience.
Check out our list of what our actual customers have told us, makes Kendall DCJR different from the rest.
A Custom-Tailored Experience: Here at Kendall Dodge, our exceptional team members will work to help you with your new vehicle purchase, regardless of your circumstances. If you aren't able to make it to the dealership for any reason, we will work with you to get the best deal on the car you want, so when you do make it in to see us, there are no surprises. Whatever your unique needs our, Kendall DCJR is committed to helping you every step of the way.
Best Prices On New and Used Vehicles: Whether you are purchasing a brand new 2016 Dodge Dart, right off of the assembly line, or are interested in a pre-owned vehicle, Kendall Dodge has the best prices in the Miami area. We are consistently told by our customers that after shopping multiple dealerships, Kendall DCJR offered the best price on the vehicle they wanted.
Hassle Free: The second most common feedback we receive from our customers is that Kendall DCJR is a hassle-free car buying experience. Our entire staff goes above and beyond in every sales situation, to provide an exceptional experience that is hassle free, and to the point.
Convenience: Our customers are our first priority, which is why we offer sales hours seven days a week, and extended hours on the weekdays. We are open Monday through Friday from 8:30AM until 9:00PM, Saturday from 9:00AM until 8:00PM, and on Sunday from 10:00AM until 7:00PM. Whether you work nights, weekends, or weekdays, Kendall DCJR has hours to work around your unique schedule.
Complete Transparency: It can be intimidating to walk into a dealership and not know where you are going, or what to expect. Some dealerships thrive on this weakness, and use it to coerce people into sales. At Kendall DCJR, we want our customers to feel as at-home as possible. That is why we have a virtual tour of our entire dealership, online for you to view prior to coming in. Familiarize yourself with your facility, so you can feel confident when you walk through our doors.
These are just some of the ways we think Kendall DCJR stands out from other area dealerships. Because our goal is to provide every person who walks through our doors with the best possible experience, we hope that you come down and see for yourself what makes Kendall Dodge different from all the rest
Test Drive the 2016 Dodge Dart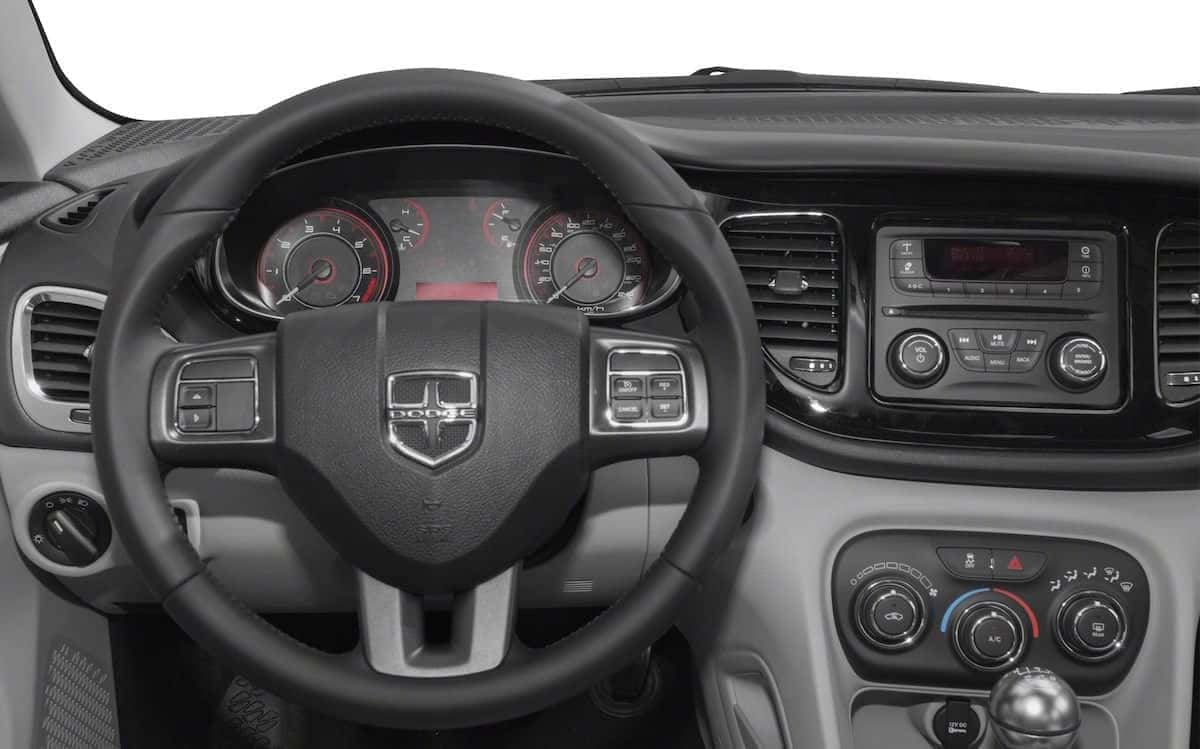 The Dodge Dart was first produced from 1960 to 1967, and after taking a long hiatus, was brought back to market for the 2013 model year. The compact car has been a popular choice in its segment, thanks to its sporty handling, budget friendly price-tag, and list of standard and available features.
The 2016 Dodge Dart is making quite the impression on the compact car segment, with plenty of options for buyers to choose from. The four-door sedan is offered in five different trim levels, ranging in price from budget-friendly, to high-end.
Check out the list of each 2016 Dodge Dart model, and the starting MSRP for each one, by exploring below:
Dart SE: This base model offers a 2-liter four cylinder engine, and starts at just $16,995. This entry-level trim features an audio jack for mobile devices,and seating for five passengers.
Dart SXT: Starting at an even $19,000, the SXT offers a 2.4-liter MultiAir engine standard, with an electronic vehicle information center, UConnect Voice Command with Bluetooth, and automatic headlights.
Dart Aero: This mid-level model starts at $20,445, and features an advanced 8.4-inch touchscreen display, leather-wrapped steering wheel, and a premium instrument cluster with tachometer.
Dart GT: With a starting MSRP of just $21,995, this Dart model offers plenty of standard features at a great price. Equipped with the same engine as the previous two models, the GT offers Sirius XM Satellite Radio with a one year subscription, a heated leather-wrapped steering wheel, and heated front seats, all standard.
Dart Limited: This high-end 2016 Dart model starts at just $23,795, and comes standard with a power express open/close sunroof, GPS navigation system, 17-inch Satin Silver aluminum wheels, and a remote start system.
Come down to 13355 SW 137th Ave right here in Miami, FL, to take one of the newest Dodge Dart models for a test drive. If you are looking for a quality, dependable, and affordable vehicle, the 2016 Dodge Dart may be JUST the car for you!