2016 Jeep Cherokee: All Trims Loaded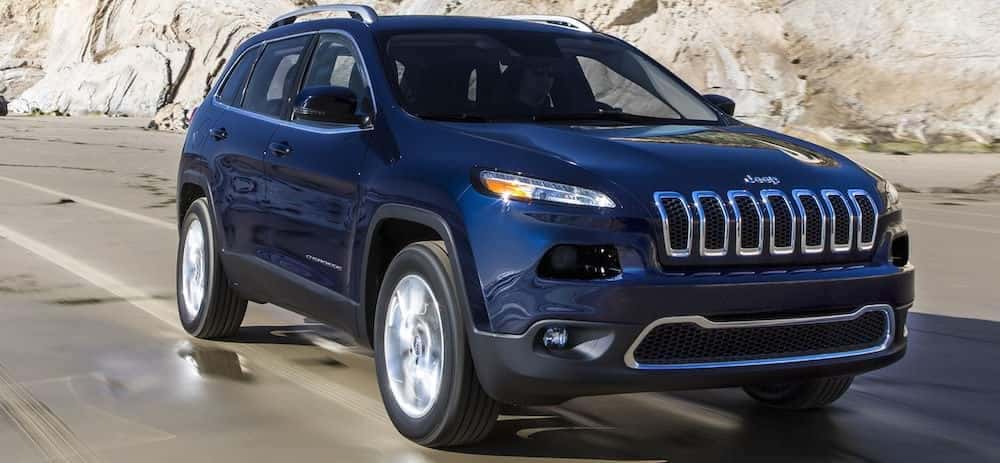 There is no questioning that Cherokee's new design is different and has been met with different reviews. While purists question its new design, other say that it reflects Jeeps renewed commitment to the Cherokee. Equipping all trims with new base features raising the standards of Jeep, it's important that these styles now demonstrate the difference of the 2016 Jeep Cherokee.
With improvements made across the board to style, luxury, versatility, and their Trail-Rated Capability, there is no question that the Jeep Cherokee has evolved into something bigger and better. Versatile enough to keep you going through the toughest winter to the hottest summer, the Cherokee has the trim to fit your lifestyle and to keep your life moving forward.
With four trims to choose from the Cherokee comes as a base model in the Sport then moves through its development into the Latitude, Limited and ends at the Trail Rated Compatible Trailhawk.
Versatile Trims Levels
Knowing that you'll be using this Cherokee for everything from picking the kids up from school and sports to weekend getaways at the beach, the interior comes already fit for your lifestyle. Yes, leather is luxurious and it feels amazing when you take that first long drive and never tire of your seat, but more than comfortable, leather is versatile. A quick wipe down from the weekend's adventure with sandy-footed kids, a wet dog, and ice cream treats and it's brand new. That's what Cherokee provides for you: the ability to live your life as you need without compromising style, design or integrity of your vehicle.
Cherokee Sport
The Cherokee Sport is for those enthusiasts who will always love Jeep for its go anywhere attitude. The Sport has a utilitarian design that keeps its style a bit more edgy, streamlined and not too showy.
The Sport is powered by a 2.4L Tigershark Multiair 2 Engine that works with Jeep's nine-speed automatic transmission. As a Multiair 2 Engine, it can get up to 489 highway miles on the tank.
It uses Jeep's Uconnect 5.0 for all of its infotainment needs and while it caters to the athlete in us all, we all know that staying connected wherever you go is important. Whether it be to get the latest scores or updates on draft picks, the Uconnect system keeps all passengers connected and together while staying connected to the outside world. Taking advantage of all the space that can be offered, the rear seats split 60/40 to fold flat revealing extra cargo space for golf, hockey or baseball equipment. Should you be transporting a carload of exhausted athletes after a game, the rear seats also recline, providing more comfort and ease of ride.
In the rear of the SUV, Jeep as included Jeep Brand Cargo Management System which ensures that any situation you get yourself into, Jeep can help get you out of. Understanding how important it is to stay organized in life, they provide the Cargo Management System which allows you to use however you see fit. With hooks to attach to keep grocery bags from falling or baseball bats from rolling over your back, Jeep is keeping your cargo safe.
Available in both 4×2 and 4×4, the Sport starts in the low to mid $20s and moves up depending on your needs and wants.
Cherokee Latitude
Coming in seven color choices, your options remain open as you decide how to outfit your Latitude. Featuring 17-inch painted aluminum wheels, body-color mirrors with matching door handles and roof rails donned in silver paint to perfect accent whichever body color you choose, one this is certain: the Latitude is always going to be stylish no matter what you do to it. Safety issues are always important with the Parkview Rear Backup Camera. Now teaching your daughter to back into her parking spot just became much easier. The Backup camera turns your touchscreen into the rear view when in reverse, designating grid lines making it easier to operate.
Cherokee Limited

With bigger tires and a bigger touchscreen, this trim lets you know it's all about you, the driver. Whatever it is that you need to make your experience a better one, Jeep has already considered it. Knowing that your cold weather winter is going to be another tough one to get through, Jeep's heated leather seats will keep your heat ruminating throughout your body and your journey. The heated leather steering wheel is another highly appreciated perk. Spoiled? Yes, definitely, but if you've ever had to drive those early mornings with cold hands, you'll understand how nice it feels to hold onto something warm.
Updating the touchscreen and interface to an 8.4 interface allows you to keep the focus where it most belongs, the road. Bluetooth connectivity and Voice Command provides the ability to dictate texts, calls and access playlists from any connected mobile cell.
Cherokee Trailhawk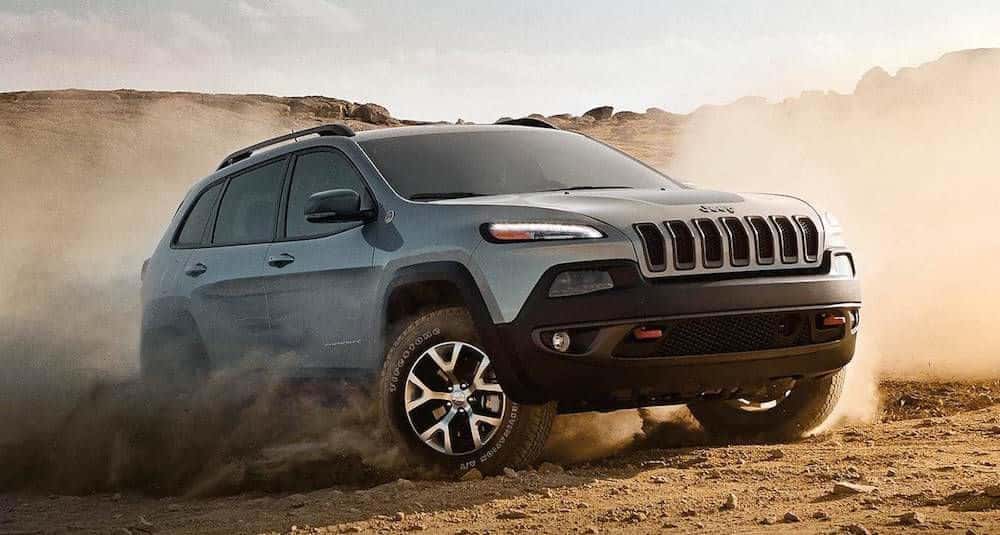 As the top tier trim on the 2016 Cherokee, the Trailhawk leaves nothing out. Fully loaded to take you anywhere, on or off-road, it's Trail Rated Capabilities ensure safety and confidence no matter the path you choose. As a trail-rated Jeep, the Trailhawk comes standard with 4×4 capability, Jeep Active Drive Lock 4×4 system, a locking rear differential and Selec-Terrain Traction Management System with four drive modes to choose from.
The Trailhawk also features a 1-inch lift with off-road suspension and standard skid plates to protect your guts from the undergrowth of plants, rocks, and brush that could potentially be dangerous or damaging to your Jeep. As the only Cherokee to come standard with 17-inch jet black off-road aluminum wheels and all-terrain tires, you're guaranteed that nothing stands in your way.
Fully equipped with the latest in navigation to ensure you never get lost on any excursion, the Trailhawk offers up to minute the latest technology on their UConnect system.
When you want a Jeep, you want a vehicle that can get you anywhere. Whether it be through the cold winter snow or hot summer beach days, you want the cargo and passenger room to get through everyday life and the luxuries that carry us through the weekend journey. These are the reasons you get into a Cherokee. The 2016 Cherokee is making everyday life fun, exciting and comfortable again.