2016 Jeep Renegade Specs

he Jeep Renegade has taken the industry by storm. Not only is it the newest Jeep, but it's easily the unique Jeep to date. Moving forward with the 2016 Jeep Renegade, there haven't been many drastic changes, but there have been plenty of improvements made to ensure Jeep sells only the highest quality vehicles.
At Kendall DCJR, that mindset is applied to selling the new Jeep Renegade in Miami. With a great selection, a highly-trained staff, and a customer-centric business model, you'll feel right at home buying a car from us.
Ready to jump into a new vehicle for a world of new experiences? Let's find out what the 2016 Jeep Renegade has to offer!
The Newest and Coolest Jeep
Released in 2015, the Renegade is the newest Jeep model on the market. It's the first Jeep to be considered subcompact, competing against other small SUVs like the new Mazda CX-3, Chevy Trax, and Honda HR-V. The demand for small SUVs has skyrocketed in recent years, as buyers want an option that's small, affordable, fuel efficient, yet capable enough to include 4WD and extra space.
In this new segment, the Renegade is one of the stand-out models thanks to its Jeep roots. It's got everything going for it that the competition doesn't: there's a real 4WD system that allows owners to select terrain for maximum performance, a removable dual-panel sunroof, and a state-of-the-art nine-speed transmission that allows for incredible fuel efficiency.
On top of being the most capable subcompact crossover, the Renegade is also one of the most interesting. The Renegade's designers included a ton of Easter eggs in the Renegade's interior and on the exterior of the car. For instance, the 'X' shape within the tail lights and other parts of the car are a throwback to World War II Jeeps, which were often used to transport gas cans.
Small details like this make the 2016 Renegade a really special vehicle to own. Being the newest Jeep, it also stands out from the crowd here in Miami. Given the great weather, beaches, and plenty of off-roading spots, it's also the most functional and fun subcompact crossover for South Florida.
Become the Renegade

There's a lot to love with the new Renegade, but one of its best qualities is its affordable entry-level price and massive list of options. So if you're just looking for a reliable, modern crossover, you can have that. But if you want something more, with every comfort and technology feature possible, you can have that as well.
Here's a detailed look at each trim level of the 2016 Renegade and what you can expect when you choose one over another:
Sport
The Jeep Renegade Sport is an entry-level model with a starting price of just $17,995, making it one of the most affordable Jeeps in the current line-up. But don't let the starting price fool you because you get a lot for your money with the Renegade Sport.
It comes standard with one of the most powerful base engines in its class, a 1.4-liter turbocharged MultiAir four-cylinder engine. That may not sound like much, but it packs 160 horsepower and 184 lb-ft. of torque. Compared to its competition, that's a lot of power for a small SUV. The Honda HR-V sits at 141 horsepower and 127 lb-ft. of torque, while the Mazda CX-3 gets 146 horsepower and 146 lb-ft. of torque.
Again, these differences are small in the grand scheme of power; however, when you need acceleration, the Jeep Renegade Sport's turbocharger will kick in and provide you with more boost than any of its direct, subcompact crossover competitors. This should be a huge selling point if performance is a key decision factor in buying a new car.
What the Sport lacks in options, it adds in overall value. If you just want an affordable 4×4, you can finally have it with this Renegade model. Adding Jeep's legendary four-wheel drive system brings the total price to just over $20,000. This means you can get your feet wet in the off-roading world for less than ever before!
Latitude
It's understandable to want a little refinement added to your new car, which is exactly what you'll get from the Renegade Latitude. This mid-tier trim is a step above the Sport, but offers a ton of added features that make the Renegade a more comfortable and visually appealing vehicle.
This starts with 16-inch aluminum wheels, a huge step up over the standard black wheels on the Sport trim. On the inside, you're greeted by a 5-inch Uconnect system that gives owners more control over their in-car entertainment. And for a higher-quality feel while driving, the Latitude trim features a leather-wrapped steering wheel.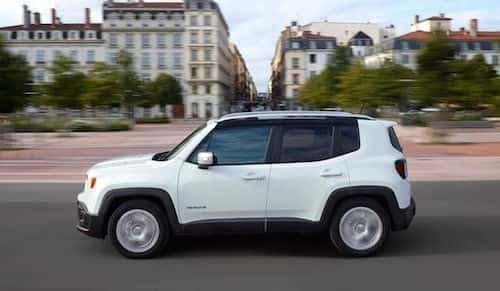 On top of this, the Latitude opens up prospective owners to more options compared to the bare-bones Sport trim. Starting at $21,395, the Latitude does to the overall cost of the Renegade, but if you want the best features and the freedom to further customize your vehicle, it's a great place to start.
Limited
Starting at $24,795, the Renegade Limited is top choice for buyers looking for comfort and convenience over anything else. By choosing this trim, you'll be treated to 18-inch aluminum wheels that give the Renegade a completely new look compared to lower trim levels.
The interior features leather, heated seats that will make your car the envy of your friends, even here in Miami. On hot days, you can avoid the warm leather by using the remote start system to run the A/C before you're ready to head out for the day.
And speaking of A/C, you probably hate traveling with someone who runs at a different temperature and demands control of the controls. Well, you can forget those problems with the Limited, as it comes with dual-zone climate control.
Trailhawk
While affordable and luxurious trims are great, the Renegade is still a Jeep at the end of the day. That's why the brand created the Trailhawk. Considered the top-of-the-line Renegade, this trim is similar to the Cherokee Trailhawk, as it focuses on taking a modern SUV and giving it everything it needs to become an offroad-ready vehicle.
For the Renegade, that means coming standard with Jeep's Active Drive Low four-wheel drive system, offroad suspension, a 0.8-inch lift, and tires optimized for any type of weather or terrain. Thanks to these features, you'll have a vehicle that's not only comfortable for city driving, but more than capable of hitting the trails.
Find Your Inner Renegade at Kendall DCJR
When shopping for a new vehicle, you probably think there's no difference between one dealership and another across town. But you'll think differently once you visit Kendall Dodge Chrysler Jeep Ram in Miami.
Not only do we have the best selection of Renegade models, but we're constantly getting new ones based on customer feedback. This has allowed us to become the best Jeep dealer in Miami to buy a Renegade from to get the model you want.
And why settle on price from another dealer when Kendall Dodge Chrysler Jeep Ram is always ready and willing to work with you to get the car you want on the budget you've created. We're in the business of selling cars, so if you're in the business of buying we want to deal with you today!