2016 Jeep Wrangler Off-Road Specs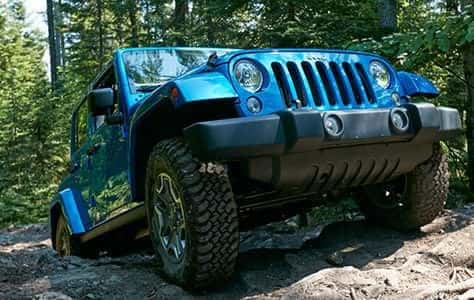 The Jeep brand began 75 years ago in 1941 and its original vehicles were Jeep Wranglers made purely for military use. However, in 1945 Jeep released the first Civilian Wrangler, also known as the Wrangler CJ. Since then, the Jeep Wrangler has evolved into an icon. While it has done some growing up to keep up with modern trends, the Wrangler still maintains the same classic look, feel and off-road functionality of the first Jeep models ever made.
Even in 2016, all Jeep Wranglers are 4X4 vehicles. Today, there are two Wrangler models, the Wrangler and the Wrangler Unlimited. The biggest difference between these vehicles is the Wrangler is a two-door that has seating for four people, where the Wrangler Unlimited is a four-door, five-passenger vehicle.
Engine and Trims
For the 2016 model year, there are ten Jeep Wrangler trims and six of them are limited-edition models. The standard Wrangler trims include the Sport, Sport S, Sahara, and Rubicon. The limited-edition Wrangler trims are the Willys Wheeler, Black Bear, Freedom Edition, 75th Anniversary Edition, Backcountry and the Rubicon Hard Rock.
Regardless of trim, all Jeep Wranglers are equipped with a 3.6-liter Pentastar V6 engine paired to a 6-speed manual transmission, but buyers can opt for a 5-speed automatic transmission if they prefer. The standard engine and transmission configuration produces 285 horsepower and 260 lb-ft of torque and gives the Wrangler a fuel economy of 17 mpg in the city and 21 mpg on the highway.
4×4 Systems
All Jeep Wranglers are Trail Rated, which means the vehicle is able to perform well in off-road conditions. In addition to a variety of extra equipment that can be added to a Wrangler, all Wranglers have standard off-road features that prepare the Wrangler for mud, rocks, dirt, sand, and snow.
System and internal features that help to make the Wrangler a strong off-roading vehicle include the standard Command Trac 4X4 system, available Rock-Trac 4X4 system, hill start assist and hill descent control.
All Jeep Wrangler trims (with the exception of the Wrangler Rubicon and Rubicon Hard Rock) have the Command-Trac Shift-on-the-fly Part-Time 4WD system. This unique 4×4 system evenly divides the vehicle's torque between the front and rear axles to create more traction in needed off-roading situations.
The Jeep Wrangler Rubicon and Rubicon Hard Rock are equipped with the 4:1 Rock-Trac Part-Time 4WD system. This system takes off-roading capabilities a little bit further because of the 4:1 low gear ratio allows for more control, especially in situations like rock climbing.
When challenged with steep inclines, hill start assist, and hill descent control, provide drivers with more control over the vehicle. Both of these features allow for a smooth and controlled ascent or descent on steep hill conditions. Hill Descent Control helps drivers monitor throttle, speed, and braking when traversing down a steep grade, and hill start assist keeps the brakes applied for a short time after the driver has removed their foot from the brake to help the vehicle accelerate without rollback.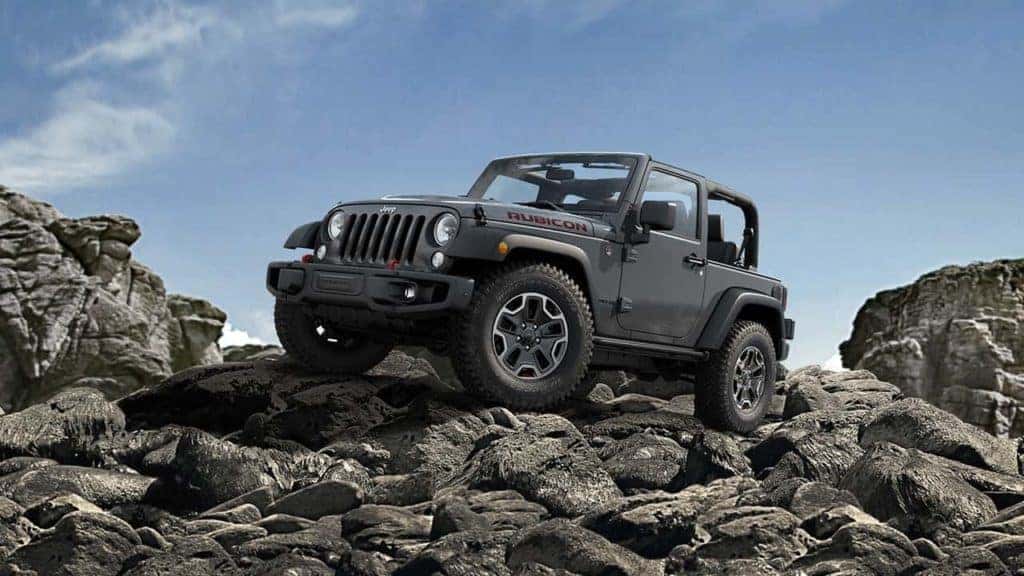 Exterior Features
The Jeep Wranglers of today still look as rugged as they did when they were being used for the military. The Wrangler still sports the iconic seven-slot grille and round headlights in the front and the visible spare tire on the vehicle's tailgate. Almost all Wrangler trims have a black Sunrider soft-top, however, buyers can upgrade to a the Freedom Top black or body-colored 3-piece hard top that comes standard on some of the Wrangler trims. The Wrangler is available in nine different colors, and this year a tenth color, Verde Toscana, was added to the Wrangler 75th Anniversary Edition color options.
The Wrangler's exterior has some special exterior features that make it capable enough to keep up with its 4×4 equipment. The Wrangler is equipped with front and rear stabilizer bars, front and rear tow hooks, and fuel tank and transfer skid plates to protect the underbody of the vehicle. Wheel power distribution is also import for off-roading to prevent flipping and other off-roading concerns. The Jeep Wrangler has a 50/50 split front and rear wheel distribution to keep a healthy balance when off-roading.
Interior and Technology
The base trim level comes standard with cloth seats, reclining low bucket seats, and rear folding seats for extra space. Higher level trims options include leather seats, heated seats, sport mesh seats, standard wash-out interior plugs for draining mud and water and more.
Steering wheel mounted audio controls, and eight-speaker system, and an audio jack all come standard for each Jeep. Other technology features available include UConnect, a touch screen, an Alpine premium nine-speaker system with a subwoofer, a USB port, Bluetooth voice command, navigation, and SiriusXM satellite radio.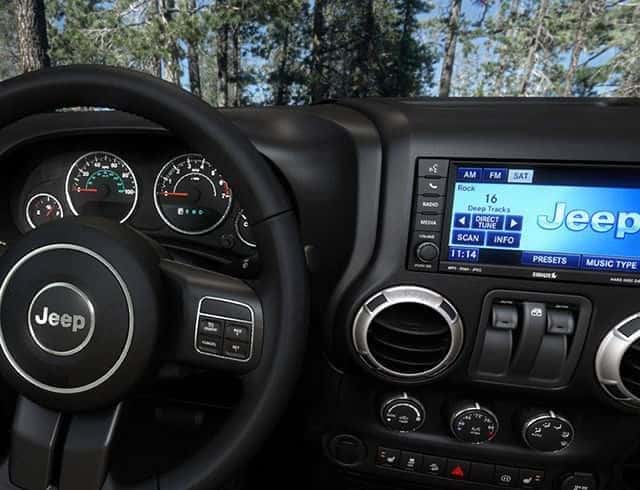 Safety and Warranty
A vehicle that is most likely going to be used in some tough terrain needs to be safe. That is why Wranglers come loaded with safety features. The Wrangler comes standard with features like fog lights for better vision at night, a post-collision safety system, passenger sensing airbags, and much more.
The base Wrangler, the Wrangler Sport, starts at $23,895 and the most expensive Wrangler trim, the Wrangler Rubicon Hard Rock, starts at $37,995. Warranties for the Wrangler include a three-year or 36,000-mile basic warranty and a five-year or 60,000-mile powertrain warranty.
Photo source: jeep.com