The 2016 Ram 3500: Best Truck Interior Around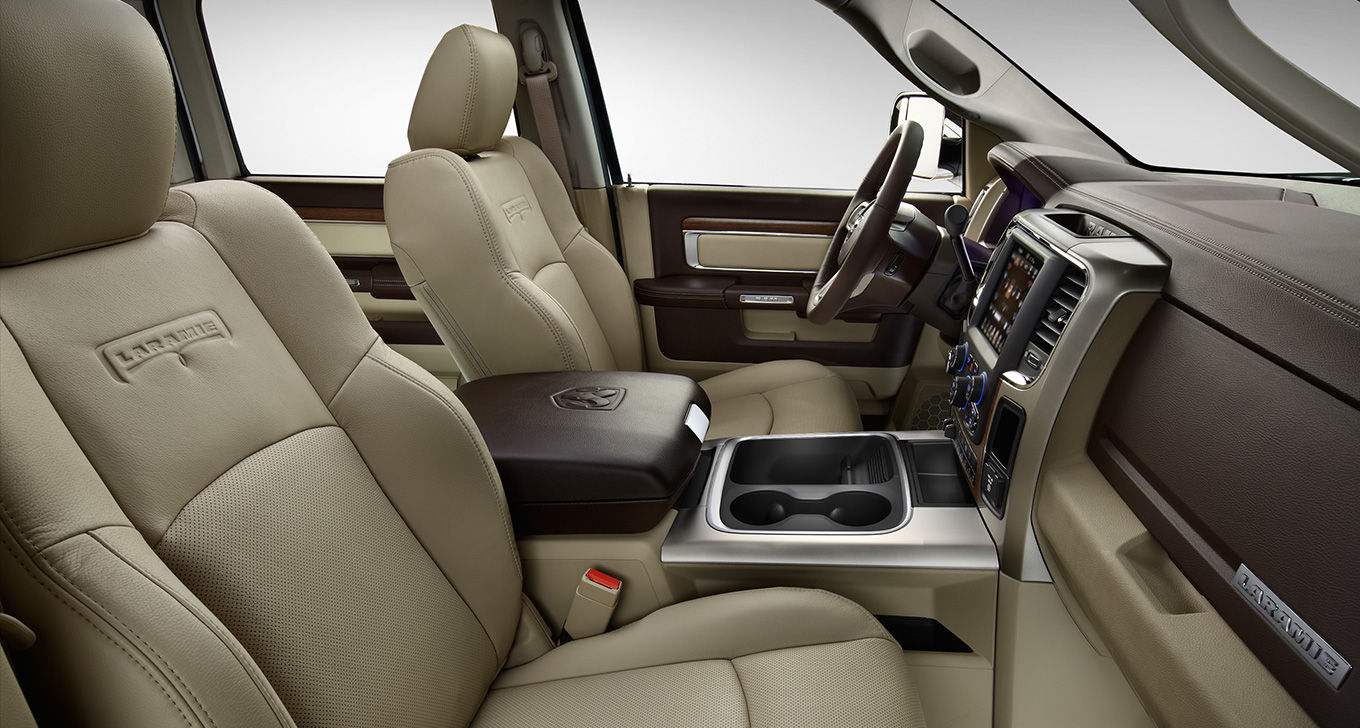 What do we talk about when we talk about trucks? Often, it's performance power, or maximum towing capability, or even sheer size – but rarely, it seems, do we discuss the one part of the truck you'll actually be spending the most time in: the cabin.
While power and capabilities are surely the key elements to a utility vehicle, how comfortable the cockpit feels for its passengers is also a key part of any modern consumer vehicle, and when it comes to providing a comfortable and spacious interior few trucks really deliver. Often, cargo space and premium materials give way to wheel wells, long beds, or simply smaller cabs -all of which, while helpful on the worksite, don't exactly add to your truck's abilities as a useful cruiser for long trips on the road. Few, that is, except for the 2016 Ram 3500.
Proudly featuring premium materials, driver-oriented technology, and intuitive cargo options, the Ram 3500 offers what we're ready to call the best truck interior available today. If you're ready to transform your truck from a basic utilitarian tool to a ride-ready vehicle to be proud of, consider checking out a Ram 3500 – it might be exactly what you've been looking for.
Premium Comfort
For those looking to get their toughest work done in the lap of luxury, there's no better combo than that found in the Ram 3500. Enjoy the premium cloth seats, available heated in the front and rear, or the driver can opt for premium leather bucket seats for that added level of comfort and style. Power outlets spread throughout help you and your passengers stay powered and connected, while leather accents on the steering wheel and shift knob help give your Ram 3500 an air of class that only compliments its impressive power. On cold days, the driver can stay toasty with a heated steering wheel, while a power sunroof helps circulate air on those scorching summer afternoons. Whatever your usual drive, the Ram 3500 is ready to make it comfortable – all at your benefit.
Cutting Edge Tech
Whether you're swayed more by the premium 9-speaker Alpine audio system or the available 8.4-inch touchscreen display on the center console, you're bound to be impressed by something included in the Ram 3500's impressive tech lineup. Integrated Voice Command with Bluetooth and a USB media hub all let you connect to your phone or MP3 device seamlessly, while Wi-Fi internet throughout the cabin helps you and your passengers stay connected no matter where you find yourselves. And for those serious music lovers, the standard subscription to SiriusXM satellite radio offers hours of music enjoyment on the road.
Cargo Ready
The Ram 3500 is one of the few trucks to truly deliver when it comes to interior cargo as well. Not only does the 3500 come with the impressive RamBox Cargo Management system, which can store just about everything you need in a locking container in the back bed, but it also features plenty of hidden cargo storage spots within the cabin itself. That means you can bring more to enjoy while on the road, and not just what you can fit in the bed and haul away. For the truck-loving daily driver, this cargo space is crucial – and there's no truck that does it better than the Ram 3500.
So whether you're looking for a truck with serious workplace power or off-road capability, it's easy to forget how important the interior can be – but in a Ram 3500, you'll see what it means to have an interior that's truly unforgettable.