2016 Ram 3500: Built to Haul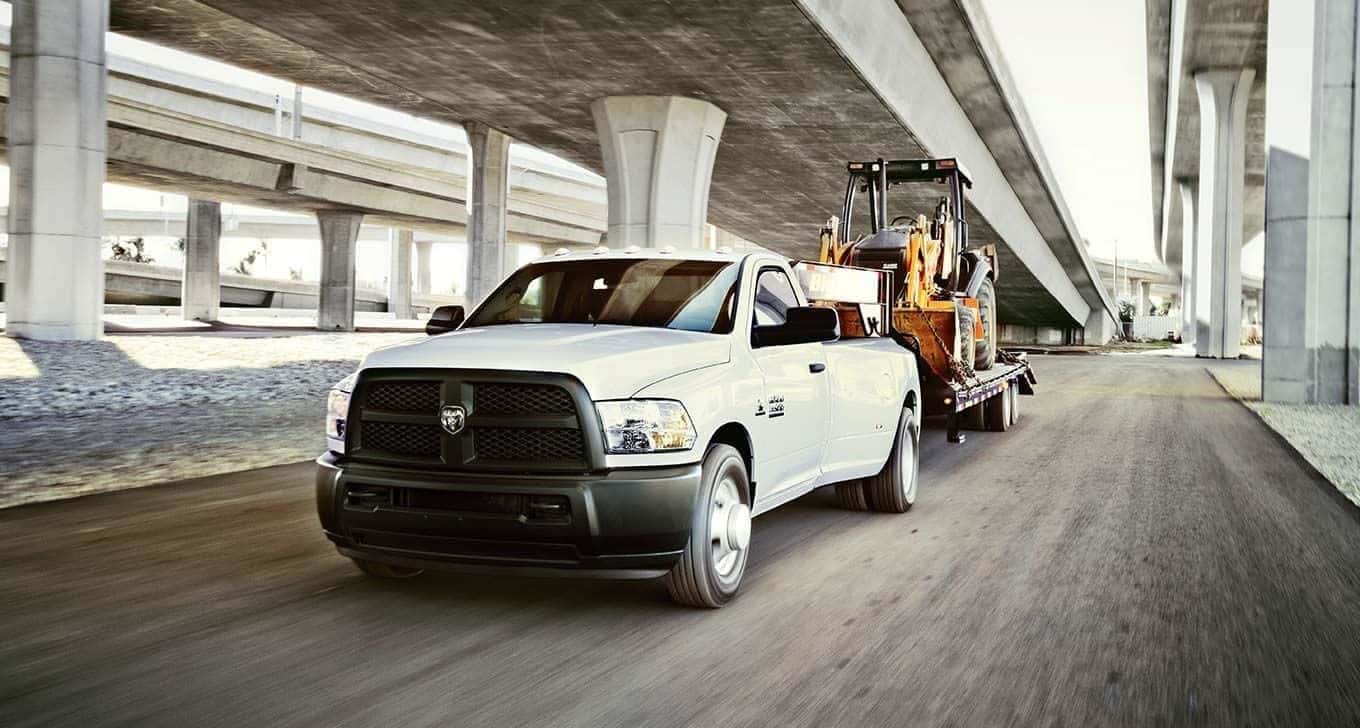 Unless you've been living under a rock, you already know the 2016 Ram 3500 for sale has a best-in-class towing capacity of 31,210 pounds when properly equipped. Which means this truck was obviously built to haul. But, a lot more than you may think goes into the design of a truck when it comes to towing heavy weight like this. It's a lot more complicated than just slapping a powerful engine and transmission under the hood. The frame needs to be strong enough to withstand towing enormous weight, which also means having an available gooseneck for the 30,000-pound trailer — because the regular tow hooks/trailer ball won't cut it. The truck also needs to sit on a proper suspension in order provide a smooth and safe ride when towing. Finally, modern conveniences like a cargo bed camera and rear back up camera ensure that you are able to hook up to your trailer on the first try.
All of these elements play a key component in the ability to properly tow up to 31,210 pounds. And while the cameras aren't necessarily needed, they are still nice to have.
High-Strength Hydroformed Steel Frame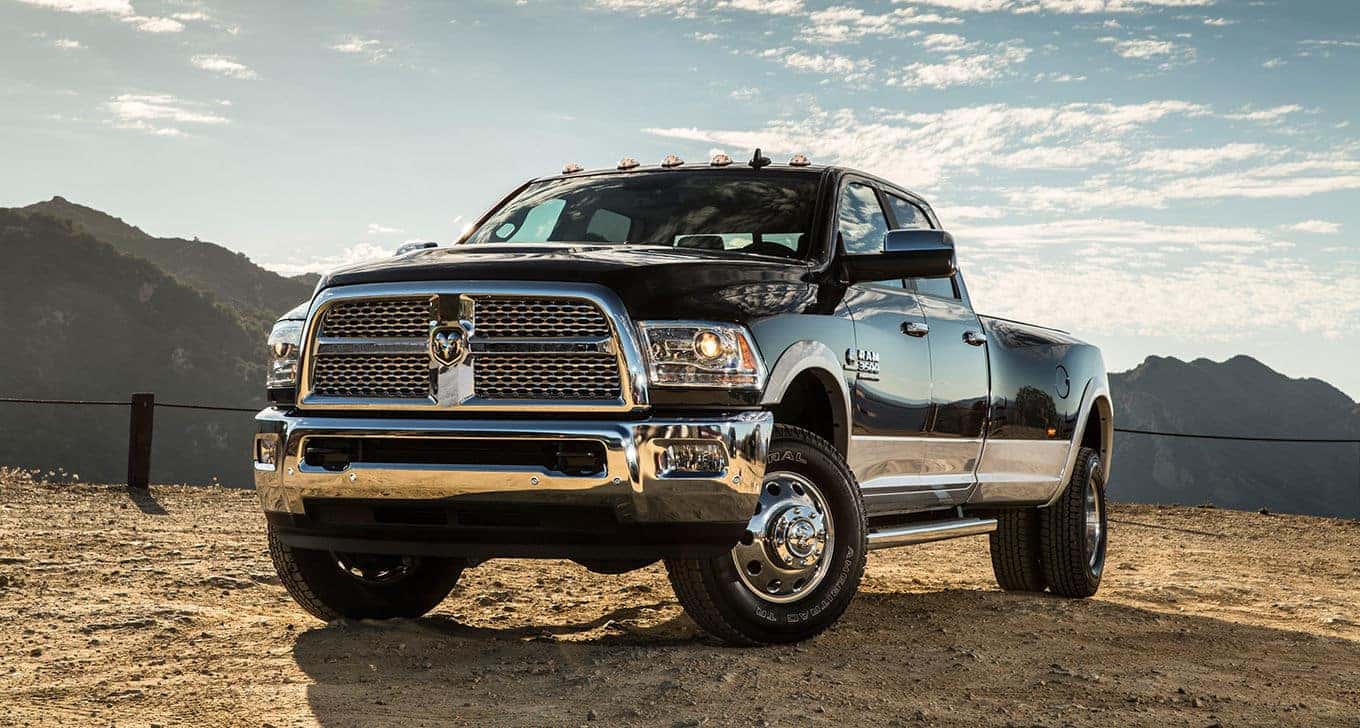 Since the frame is the foundation of a truck, that's where the majority of its strength and durability comes from. If the frame was weak or broken, the truck would have a tough time in general when it comes to towing.
Therefore, Ram made sure the foundation of their 3500 was made out of a 50 KSI hydroformed high-strength steel frame. Through the complicated hydroforming process, the steel gains an extra measure of strength and rigidity, and it's been proven that it won't bend or buckle under the same weight a typically built frame would — which is perfect for a truck that will be towing over 30,000 pounds.
Apart from the increased strength from the hydroforming process, the durability of the truck is also thanks to additional cross members that have been added on. This increases the mass efficiency, which then provides the 3500 with a more stout structure. Piggybacking on this concept, there are also front and rear rail contours that have been thrown on to help secure the placement of suspension components and mounts, which enhances their function and strength as well.
As you can see, this hydroformed frame is a key component of the Ram 3500's towing ability, and overall well being. It is a direct contributor to the overall durability of the vehicle and also helps keep the suspension components and mounts in place.
6.7-liter Cummins I6 Turbo Diesel Engine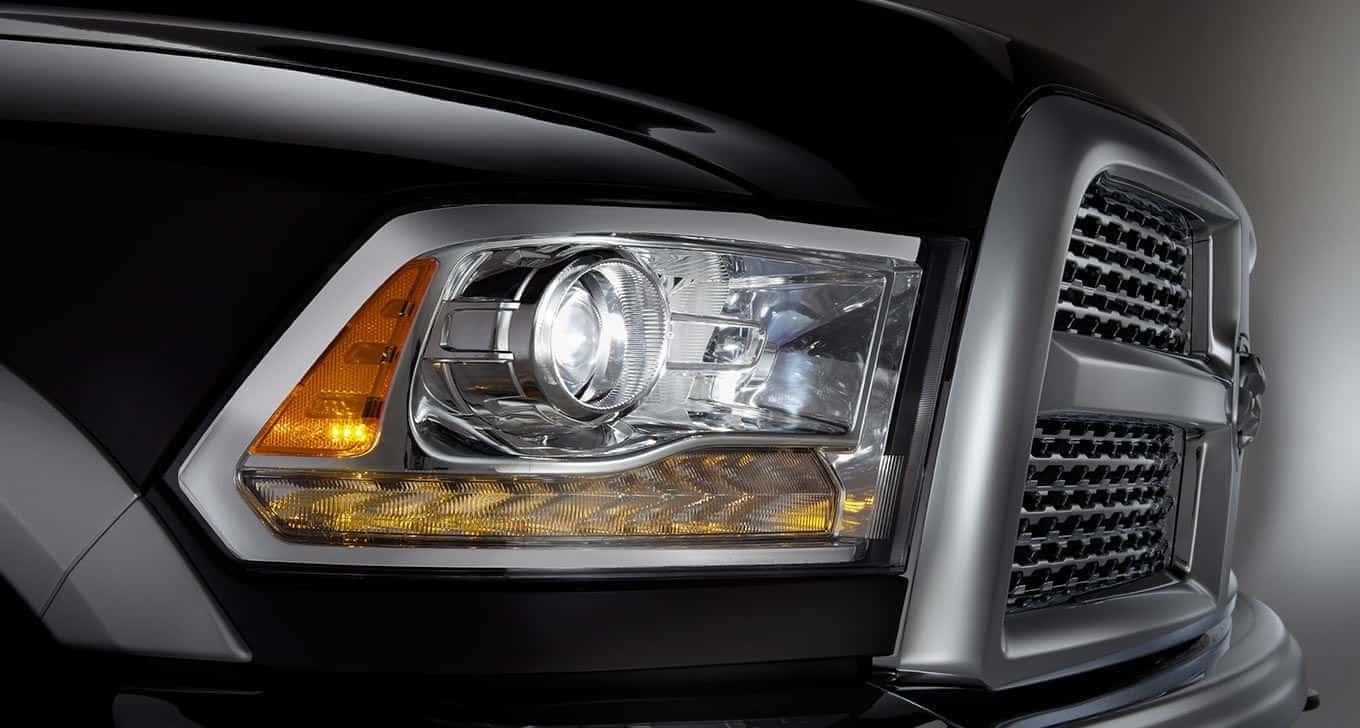 While it's not the only important part of the towing capability the 2016 Ram 3500 has, it's definitely the main one. The 6.7-liter Cummins I6 Turbo Diesel engine is able to generate a massive 385 horsepower and 900 lb-ft of torque. That torque gives it the power needed to grab a best-in-class towing capacity of 31,210 pounds.
Class-Exclusive Smart Diesel Exhaust Brake
This engine can't do it alone though, and also comes with a couple other components to help with hauling that type of weight. A class-exclusive smart diesel exhaust brake comes standard with the Cummins engine and works a lot like cruise control. It uses a variable nozzle (which controls the air flow) on the turbo to maintain smooth and less aggressive braking while providing better stability and reduced wear on the disc brakes. That's a fancy way of saying the 3500 is able to slow down without touching the brakes while towing a heavy load, because the diesel exhaust brake chokes the air flow in the turbo, thus reducing the power and speed.
AISIN Transmission
The AISIN AS69RC is paired with the 6.7-liter Cummins I6 engine and is the only transmission in the lineup that is able to properly transfer the insane amount of torque put out by that engine. It's an electronically controlled automatic rear-wheel drive transmission, and along with handling higher engine output, it's also designed to increase vehicle weight ratings. The wider gear ratios found exclusively on this transmission provide enhanced drivability.
The engine provides the power required for this type of hauling, but without the diesel exhaust brake and AISIN transmission towing this much weight would be unsafe and most likely impossible.
Suspension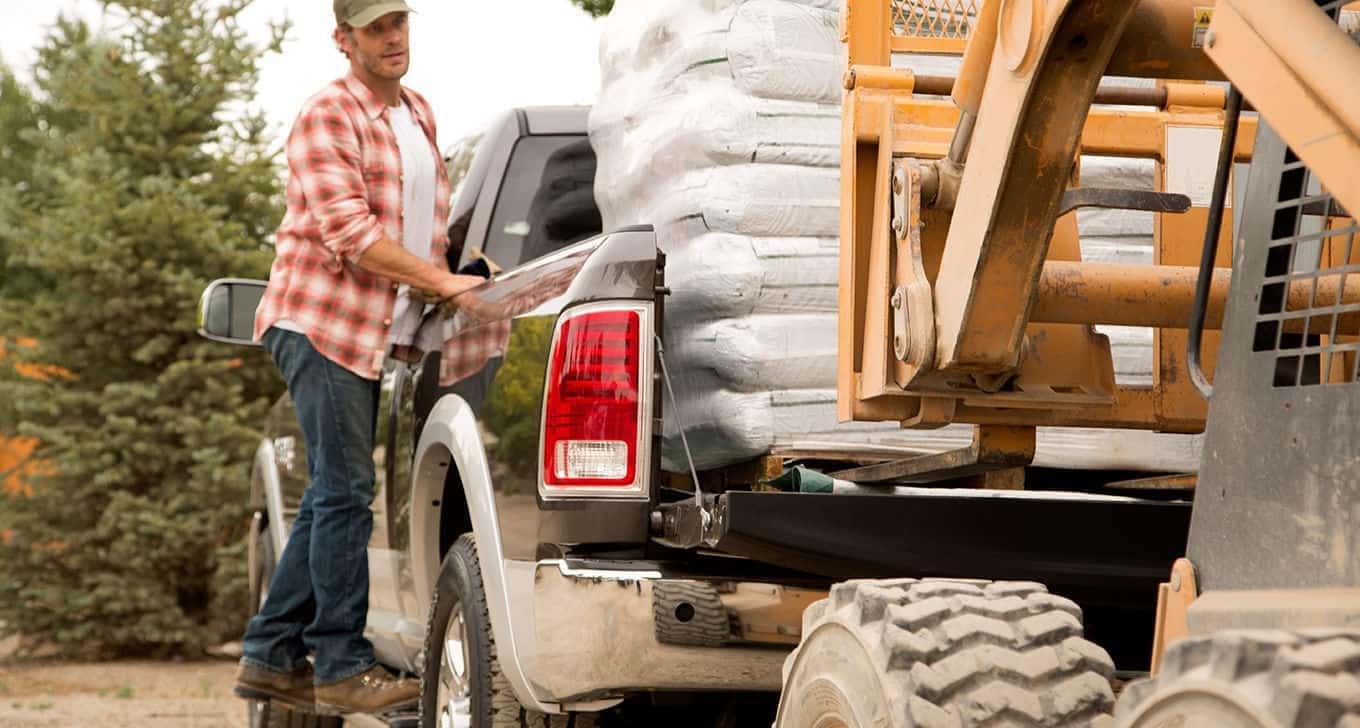 Just as important as the engine and frame are the suspensions. Without a good suspension, your ride quality would not only be uncomfortable, but potentially harmful to your truck. Which is why the 3500 comes with a three-link front suspension with auxiliary leaves in the back of dually models, and an available rear air suspension.
Front Suspension
The three-link front suspension is designed to work with both two- and four-wheel-drive models, and contributes to the best-in-class gross combined weight rating of 39,100 pounds. The suspension is set up to have a wide frame, with a large stabilizer bar to help with stability in the front. It uses more outwardly positioned springs and stronger-than-average shocks to provide not only a comfortable and cushioned ride but a smooth one when hauling a heavy payload.
Leaf Springs
On the back of the 2016 Ram 3500 dual rear wheel model, you'll find separate auxiliary leaves as part of the spring package. These leaf springs go back to the more simple and old-school suspension concept, and you'd see a lot of these on your older trucks from the 90s. But, the purpose of them remains the same in 2016: to provide exceptional rear handling and high payloads. Therefore, these leaf springs are a direct contributor to the effectiveness of the 3500's towing.
Rear Air Suspension
An optional choice on the 3500 is the class-exclusive rear air suspension, which uses air pressure to ensure level loads regardless of what your hauling or how uneven the terrain is. The best part is, it's completely electronic. With the push of a button, you can choose between two different smart ride height options, Normal or Alternate Ride Height. The latter of the two providing better alignment with a trailer and electronic adjustments to maintain a level load.
Whether it's the old-fashioned leaf springs or the innovative rear air suspension, the 3500 has all the components underneath you could possibly need when tackling a big trailer.
Fifth Wheel/Gooseneck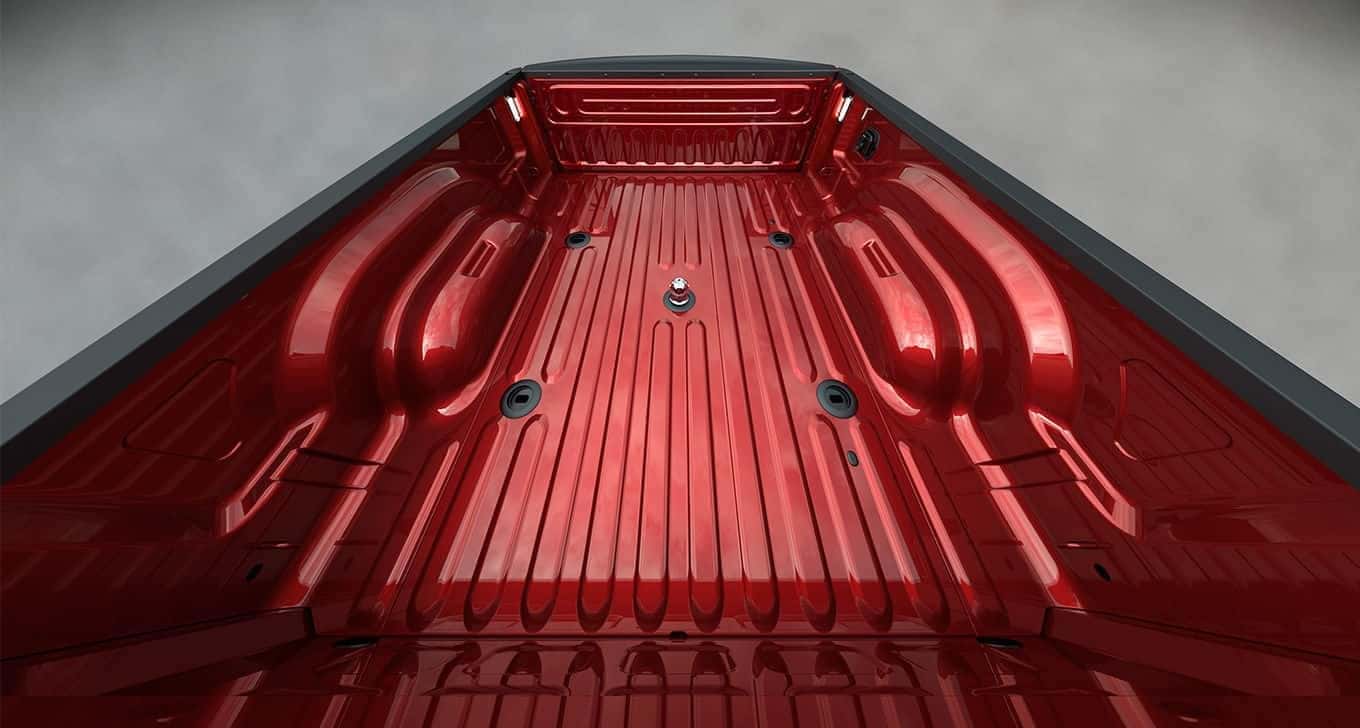 Speaking of big trailers, those tow hooks and ball in the back aren't going to cut it. Which is why Ram offers a factory-installed rear axle structural cross member on their 3500. This cross member is built to work with a fifth wheel and gooseneck hitch and sits on the truck bed for added support. After all, having close to 31,210 pounds resting on the back-end of the truck like your typical boat trailer wouldn't work too well. Instead, that extra weight will be secured and sitting on the trailer ball located halfway up the truck bed, which is now part of a stronger cross member that's meant to handle that type of weight.
What about the wiring harness, you ask? The seven-pin connector inside the truck bed takes care of that for wiring hook ups. That way, you can still have brake lights and turn signals.
Convenience Features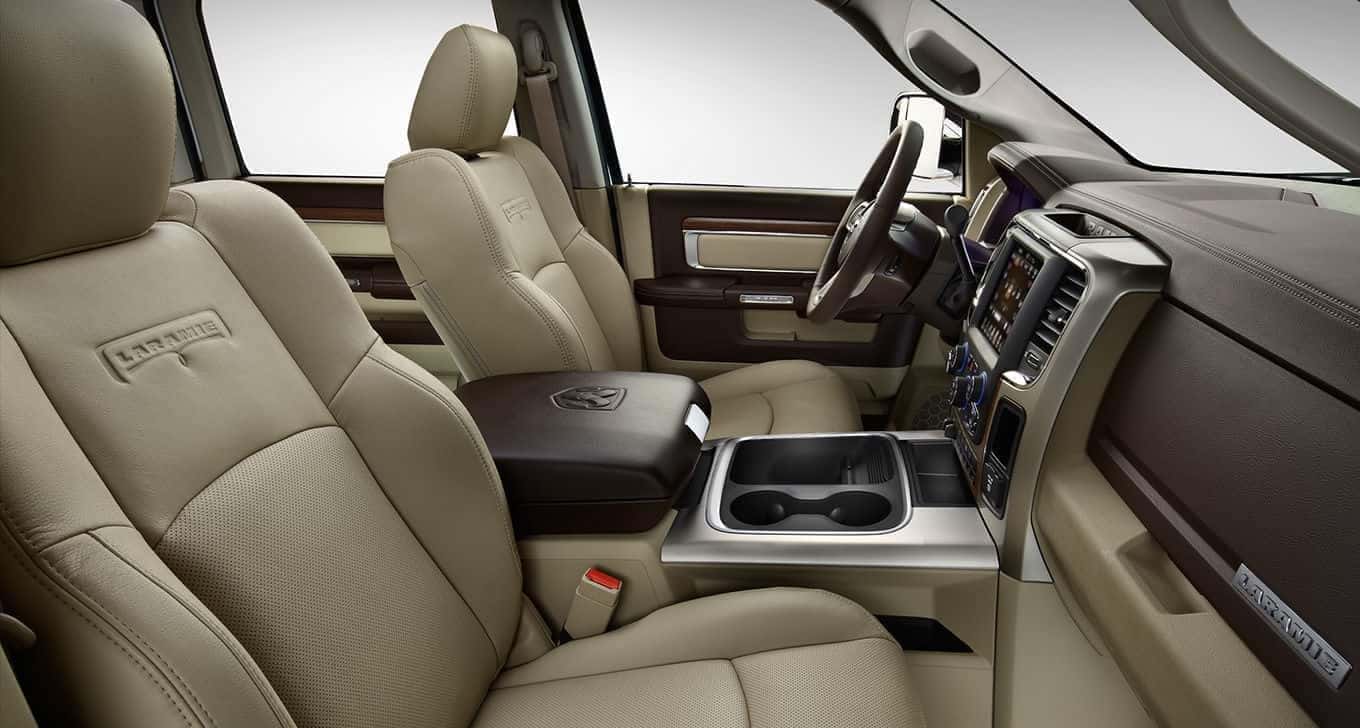 Last but not least, we have what I like to call convenience features. Granted, while growing up I learned how to hook up a boat trailer without electronic aid, but times and towing practices have changed. Therefore, for those who might have missed out on that experience, a rearview backup camera and cargo bed camera are available.
The backup camera not only detects objects behind you but is a great way to line up the trailer ball with the trailer hitch in one shot. Have a gooseneck installed for heavy hauling? That's where the cargo bed camera comes in and gives you the same type of convenience. Both of these pop up on the infotainment display located on the center stack, and with the 8.4-inch touchscreen installed, it will feel like you are standing at the back of your truck and looking directly at the trailer you are hooking up to.
While these may be convenience features, the others are not. For heavier loads, a sturdy frame, rear-leaf spring suspension, and a gooseneck are required to ensure that your 3500 is stable and strong enough to handle hauling 31,210 pounds. Without the AISIN transmission, smart exhaust diesel brake, and 900 lb-ft of torque being delivered to the wheels, it wouldn't even be plausible to tow that type of weight. My point is, all these components come together to provide the 2016 Ram 3500 with its legendary best-in-class towing capacity — so make sure you have a good understanding of each before you decide to tackle loads like this.