2016 Ram 3500 – Miami, FL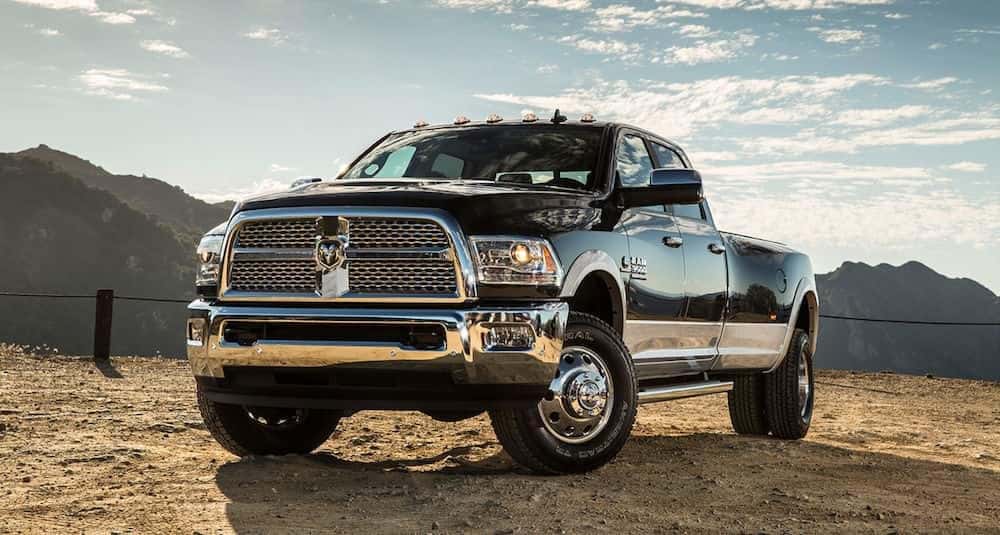 It's a common misconception that "utility" is synonymous with "powerful." Sure, everybody wants to have the most powerful truck on the block, but even if you could push out a thousand horsepower it wouldn't help much if it didn't have the right equipment and right capabilities to get the job done. That's why, when we talk about a "utility" vehicle, we really mean a vehicle that can perform several functions – whether it's hauling cargo or towing a huge trailer, or by providing a comfortable ride.
If you're a truck lover with your eye on the industry, you already know that there's no option more worthy of being called a utility truck than the 2016 Ram 3500. Not only is this full-size incredibly powerful, it is also smartly designed to provide the optimal cargo storage, a supremely luxurious interior, and some of the best handling capabilities available. With so many amazing features, the Ram 3500 is ready to take on any job you throw at it – and then it'll be ready for more.
Interested in seeing everything the Ram 3500 can do for you? Here's a look at this truly utilitarian work truck, and why it might just be the tool that your workplace has been missing.
Plenty Of Power Under The Hood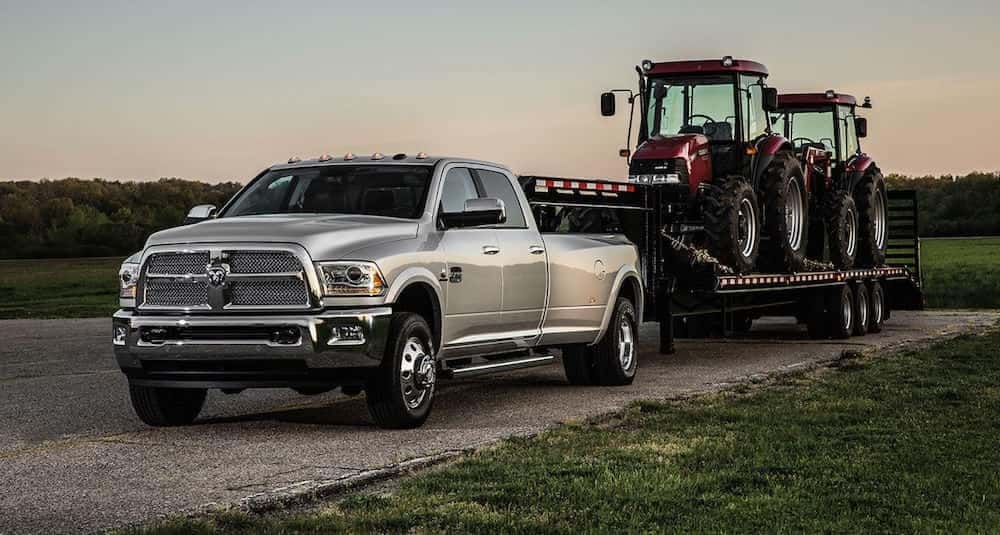 If there's one thing the Ram 3500 can certainly do, it brings just about all the power you'd need to the table with its impressive range of engine options. Each offers a distinct combination of power and efficiency to help maximize usefulness to the driver, allowing you to pick the Ram that's perfect for your worksite. Combine that with a solid construction and excellent handling and you've got a truck that's built for anything.
Robust Engine Options
Those in search of a scrappy, efficient engine option will be happy with the standard 5.7L Hemi V6 found standard in the Ram 3500. This system can push out 383 horsepower and up to 400 lb.-ft. of torque for plenty of power on lighter workloads. With a max. towing capacity of 13,910 lbs and a payload capacity of 4,480 lbs, this option is great for those who prioritize fuel economy over raw power.
To take a step up, there's the 410-horsepower 6.4L Hemi V8, a commanding presence on the road with a 16,520 lb max towing capacity, 7,390 lb payload, and 429 lb.-ft. of torque. With power like this, your Ram 3500 will be ready to handle some seriously heavy-duty jobs, and with Fuel Saver technology it won't burn through gas nearly as fast as some of its competitors.
Finally, there's the massive 6.7L Cummins engine, a hugely powerful piece of machinery capable of pumping out 900 lb.-ft. of torque alongside 385 horsepower, and with a towing capacity up to a whopping 31,120 lbs – plus a max payload of 6,720 lbs – there's simply nothing this truck can't accomplish.
Built To Handle The Worst
Any experienced trucker will tell you a powerful engine's no good if you can't get control over it – which is why Ram stepped up the handling in the Ram 3500 to handle these impressively capable machines. Between its high-strength steel frame and its three-link front and available rear air suspension, this full-size is more than able to handle the roughest rides, even with a huge payload in the back. That, in our opinion, is a true utility.
The Ram 3500 also features an Electronic Range Select, which allows the driver to manually or automatically select the right gear for downshifting or engine braking, making hauling heavy payloads that much more efficient. Plus, with a dashboard-mounted trailer brake controller, there are few challenges your truck won't be ready to take on safely.
Intuitive Cargo Space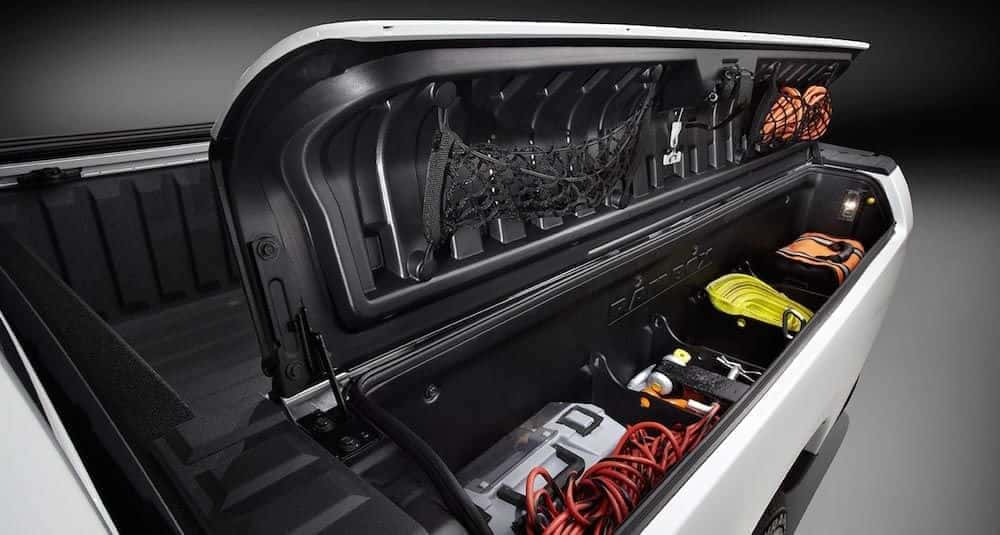 Simply put, the Ram 3500 is a truck that's built for cargo – but you might not know it over all the commotion around its engine strength. The fact is, the 3500 offers some of the most intuitive, useful cargo space available n a modern truck, and with so much thought put into the details we are simply floored by how easy it is to store and bring what you need in this simple system.
RamBox Cargo Management
One of the key players in the cargo aspect of this truck is the RaBox Cargo Management system incorporated into the side rails of the 3500's truck bed. These handy compartments feature easy-access and organization arrangements and even remotely lock for safety when not in use. Also featuring a cargo bed extender, bed rails with four adjustable tie-down cleats, and box lighting, this truck is built for easy hauling just about anywhere.
Interior Storage
Check out the Crew Cab on the Ram 3500 and you'll find plenty of interior cargo space as well, including standard in-floor and under-the-seat compartments that allow for easy access to your most valuable cargo. These turn your cab into a useful cargo space without intruding on the comfort of the luxurious interior.
A Cab That Never Feels Tight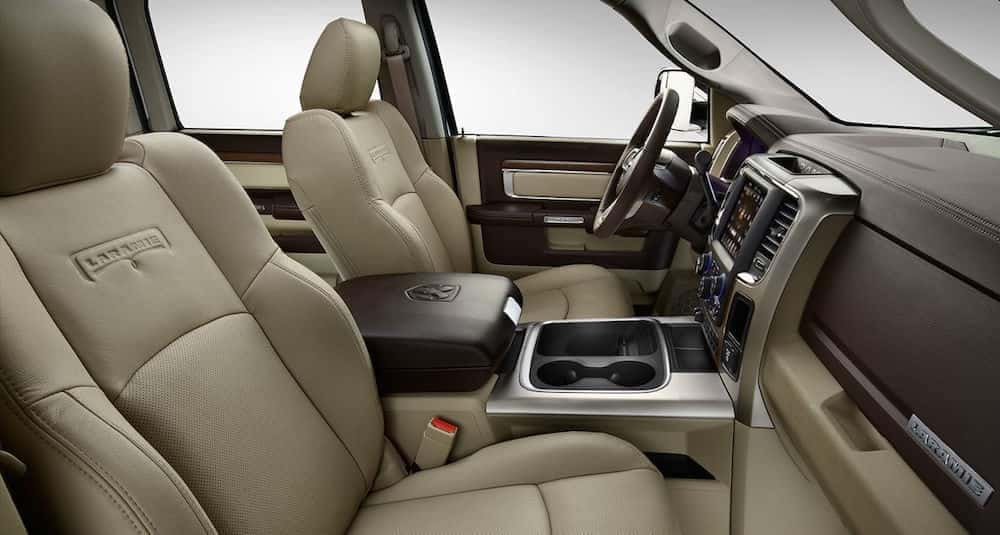 If you're as sick as we are with being cramped in a tiny truck cab that's made small to fit a bigger bed, have no fear – the Ram 3500 brings no such discomfort to the table. With one of the roomiest and most comfortable interiors in its class, the Ram 3500 offers a luxury one might not expect given the power under its hood.
Premium, Comfortable Seating
While the comfortable cloth upholstery is more than enough comfort for those day-to-day runs around town, those with long drives ahead may want to consider the premium leather seating in their Ram 3500. Match that with ventilated, heated power front bucket seats and you've got an interior set up to please just about anyone.
Tech For All Your Driving Pleasure
Whether you're looking for a truck that can provide hours of entertainment or that can simply get you home safely, the Ram 3500 is there with all the tech you'll need. Music lovers can rock out to the available nine-speaker Alpine premium audio system, pumping your own music through Bluetooth or MP3 connectivity or simply enjoying some SiriusXM Satellite Radio all available on Ram's 8.4-inch touchscreen UConnect control panel.
From here, passengers can also set the available navigation system, check vehicle diagnostics, and even contact emergency services if the need arises. Plus, with available Wi-Fi connectivity throughout the cab, you and your passengers can stay connected no matter where your Ram 3500 brings you.
The Ram 3500 also features the largest driver display in its class, a 7-inch, full-color Multiview display that offers the driver a safe and easy view of just about all the diagnostics and reading he or she could need on the road.
Get Your Next Truck At Kendall Dodge Chrysler Jeep Ram
When you've decided it's time to finally get into the Ram 3500 that's been waiting for you, there's no better place than Kendall Dodge Chrysler Jeep Ram to find that special truck. With a friendly and knowledgeable staff who are willing to work with you, and at your pace, to find the vehicle for you, there's simply no better dealer in the Miami area to help you find that perfect Ram truck. Head on over soon and see the impressive Ram 3500 for yourself – but act fast, before they're all gone.