2016 RAM Laramie Limited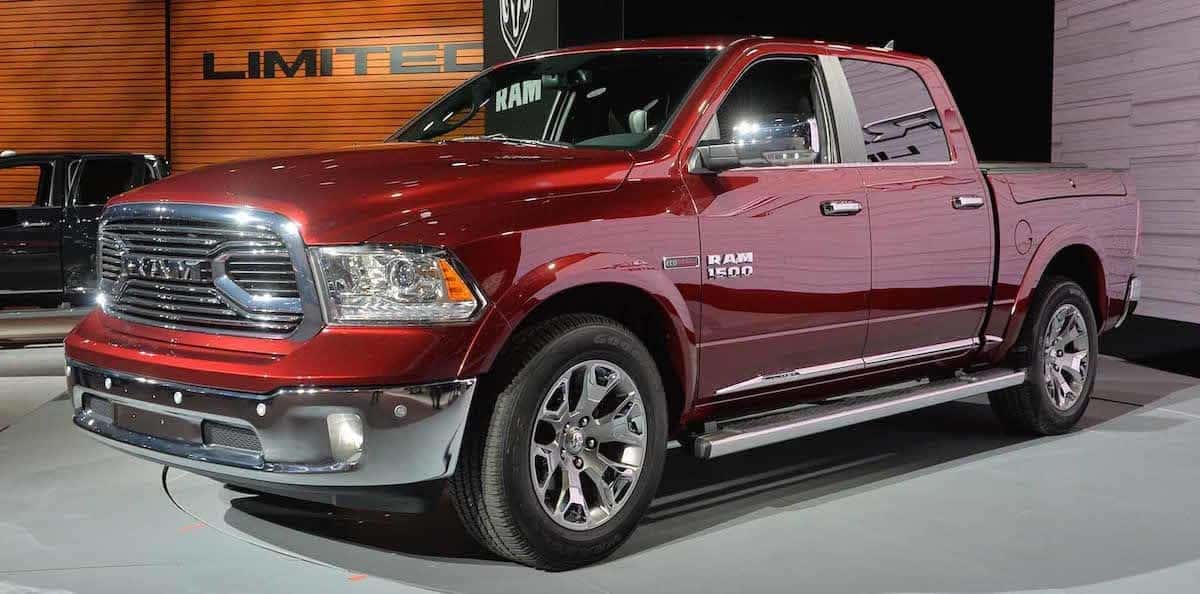 Many who buy powerful trucks do so at the cost of luxury. You might find a truck that can haul heavy loads or cut through off-road trails like they're nothing, but the truck is likely to have a spare but practical interior with few extra features that make driving it fun and comfortable. Not so with the 2016 RAM Laramie Limited. This truck combines both power and luxury, giving drivers the best of both worlds so that they do not have to sacrifice any of the features that they want. Here's what we know so far about everything this special edition has to offer:
Styling
The 2016 RAM Laramie Limited looks as good as it performs thanks to updated styling. The special edition has a bold look that will certainly stand out on the road and turn heads. The bulky front end is the most notable aspect of the Laramie Limited's design, and it loudly announces the truck as it drives down the road. The muscular hood is fronted by an oversized grille that has geometric, chrome accents flanking the large RAM letters (also in chrome). A large chrome bumper underscores the grille, framing the front end. Chrome accents are used liberally throughout the exterior, including the running board, door handles, and trim borders. The rear end tells a similar story on the front. The tailgate features a chrome bar under a very large RAM name-plate that stretches across the rear. There are a large chrome bumper and chrome trim around the tail lights.
Inside, high-quality materials are used for the seating and trim, including leather and Argento wood. Accent stitching complements the upholstery, console, and paneling. Soft LED lighting illuminates the cabin. A large center stack includes an infotainment display and numerous knobs and buttons controlling everything from the audio system to the automatic transmission. A rear seat looks as comfortable and spacious as what you might find in a smaller sedan, and the four doors allow easy access for all passengers.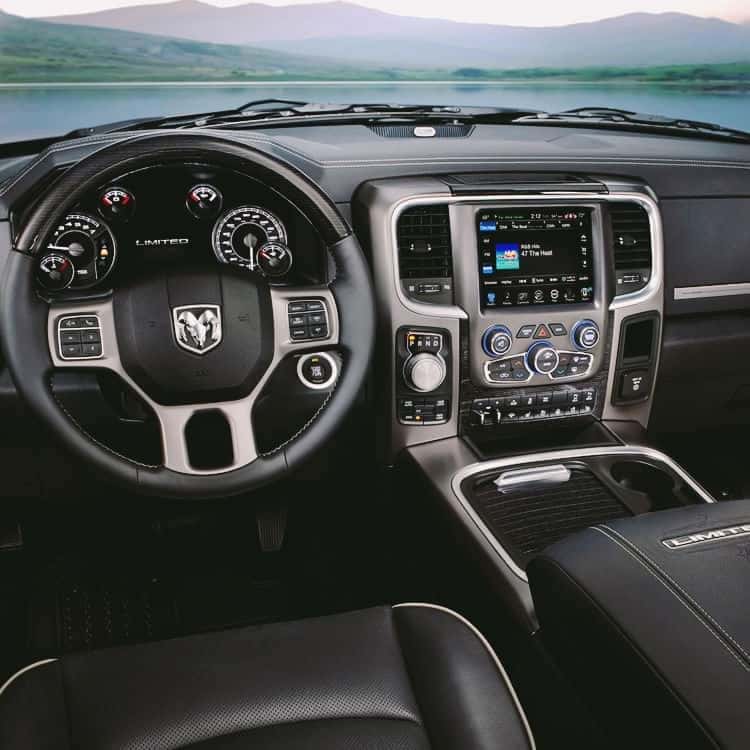 Convenience Features
On many trucks, the standard convenience features include little more than an air conditioner and basic audio system. However, the 2016 RAM Laramie Limited offers much more. The Uconnect infotainment system comes standard with the truck, and it is displayed on an 8.4-inch touchscreen. Navigation, satellite radio, and emergency services are all available, depending on subscription choices.
The console includes a knob to shift the transmission, instead of a traditional shifting lever or gear stick. Audio controls are mounted on the steering wheel, and there are USB and auxiliary ports for charging and streaming personal devices such as smart-phones. There is also a specialty bin for holding smart-phones and tablets, and there is a 12-volt outlet for charging. Other features include power adjustable seats, heated and ventilated seats, power adjustable pedals and a heated steering wheel.
Under the Hood
Of course, a discussion of any truck will turn to its power and performance specs. The 2016 RAM Laramie Limited delivers. What is under the hood of the Laramie Limited matches its impressive facade. The Laramie Limited comes standard with a 5.7-liter HEMI V8 engine that puts out 395 horsepower and 410 pounds per feet of torque. The engine includes variable cam timing, hydraulic lifters with roller followers, and 16 pushrod-operated overhead valves. An optional 3.0-liter Ecodiesel V6 engine is available that puts out 240 horsepower and 420 pounds per feet of torque. The engine is less powerful, but it offers an estimated 28 mpg fuel efficiency on the highway. Industry insiders say that the Laramie Limited may also offer an even more powerful third engine option, which would be a 6.4-liter V8. The two engines that have been confirmed will be paired with an eight-speed automatic transmission with a two-wheel drive or four-wheel drive system. Numbers have not been released about the towing capacity of each, but just one look at the Laramie Limited is enough to know that this beast is capable of towing heavy loads.
Safety Features
With such a heavy-duty truck, safety is even more important. The larger truck is capable of inflicting significant damage within and without thanks to its size and power. The 2016 RAM Laramie Limited will come with a number of features to improve safety for you and other drivers on the road. A backup camera will make it easier to see rear traffic and obstacles even from the massive seating position. A navigation system and hands-free calling options make it easier for you to keep your eyes on the road when you are getting directions or making calls. Air-bags, traction and stability control, anti-lock brakes and many other features make the truck safer to drive, protecting all passengers.
Pricing
A number of configurations will be available for the 2016 RAM Laramie Limited, which will influence pricing. The Laramie Limited trim level is available on all RAM models, including 1500, 2500 and 3500. It will also be available with a crew cab or mega cab, and with a short or long wheel-base. The starting price for the RAM Laramie Limited is $50,675. Optional configurations can send the price as high as $60,000, depending on choices for the engine, cab, and interior technology. The EcoDiesel engine is the more expensive of the two choices. An additional $1,195 destination charge is also applied to all configurations.
The Laramie is currently available for the RAM 1500, but the special edition versions of the RAM 2500 and 3500 will not be available until later this fall. The heavy-duty versions are the official 2016 models. The RAM 1500 Laramie Limited is being sold as a 2015 model. The Laramie Limited is being referred to as the black-tie version of the RAM, and it offers buyers a unique opportunity to enjoy both power and luxury in one truck. Visit your local RAM dealership today to check out the current Laramie Limited models and to be the first to test drive the heavy-duty 2016 models when they become available.