2017 Jeep Trailhawk Models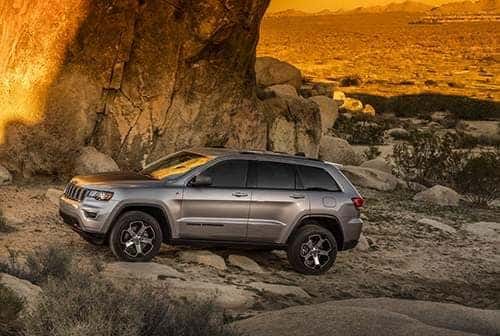 The Jeep Trailhawk trims are Trail Rated Jeep models known for off-road capability and unique features, and they are becoming increasingly popular on the Jeep lineup. It started with just one Trailhawk trim a few years ago, today the Jeep lineup currently includes four Trailhawk trims, the Compass Trailhawk, the Renegade Trailhawk, the Cherokee Trailhawk and the Grand Cherokee Trailhawk.
Engine and Power
Since the four Trailhawk trims are on four different Jeep models, they don't all have the same engine. The Renegade Trailhawk and Compass Trailhawk both come standard with a 2.4-liter 4-cylinder engine that produces up to 180 horsepower and 184 lb-ft of torque.
The Grand Cherokee Trailhawk comes standard with a 3.6-liter V6 engine and it is also available with a 3.0-liter V6 diesel engine (late availability) and a 5.7-liter HEMI V8 engine. Depending on the engine, the Grand Cherokee Trailhawk produces between 240 and 360 horsepower and 260 and 420 lb-ft of torque respectively.
The Cherokee Trailhawk comes standard with the 2.4-liter 180 horsepower 4-cylinder engine, but is available with a bigger 3.2-liter V6 engine that produces 271 horsepower and 239 lb-ft of torque.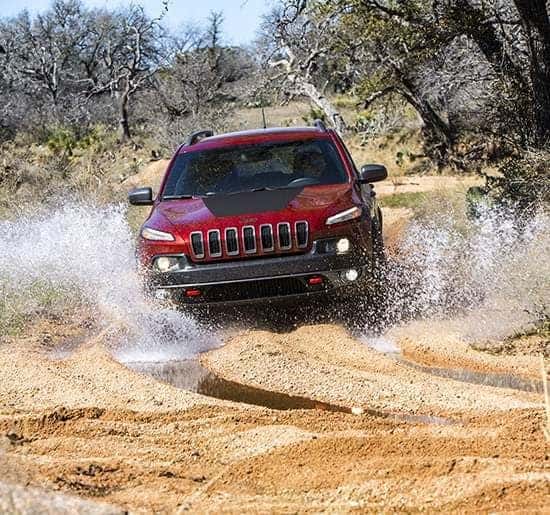 Off-road Features
All Trailhawk models are Trail Rated, which means they have gone through a series of tests to ensure their off-road capability on trails and obstacles. One of the keys to off-roading successfully is higher ground clearance, which is why all Jeep Trailhawk trims come standard with larger wheels and tires than the base trims. Each Jeep Trailhawk model also comes with an upgraded suspension, which makes for a smoother ride and also increases ground clearance.
All Trailhawk trims are equipped with a variety of accessories to improve their off-road capability, like skid plates and red tow hooks. There are two tow hooks in the front and one in the back and their red color gives them an aggressive appearance and allows them to be easily spotted, even when in mud. Skid plates protect important vehicle components from brush or debris and all Jeep Trailhawk trims have skid plates on the front suspension, fuel tank, and underbody of the vehicle.
4X4 Systems
Off-road features and accessories aren't all that make the Trailhawk models capable, 4X4 systems add a lot of capability as well. The Compass and Renegade Trailhawk trims come with the Active Drive Low 4X4 system. The Active Drive Low 4×4 system is able to manipulate traction control and has a 20:1 crawl ratio. In addition, the system comes with the Selec-Terrain system which allows drivers to pick from one of five driving modes (auto, sand, rock, mud, or snow), that are specific to different types of terrain.
The Cherokee Trailhawk comes with a similar system, but this system is the Active Drive Lock 4X4 system. The system comes with all the features previously mentioned as well as a rear axle lock system that works to prevent flipping off-road.
The Grand Cherokee Trailhawk comes with its own unique system. The system is known as the Quadra-Drive system with rear ELSD. Just like the other systems, this system allows for traction control, but it also has a quadra-lift suspension and its own unique electronic slip differential.
No matter which vehicle and off-road system you end up with, they all come with some common features for off-road safety. These features include hill descent control and electronic speed control. Hill descent control brakes for you when going down a steep decline, it does so by delivery extra traction and braking to whatever wheel needs it the most. Electronic speed control will allow you to set a steady speed so you don't get carried away off-road (which is easy to do for any extreme off-roader!).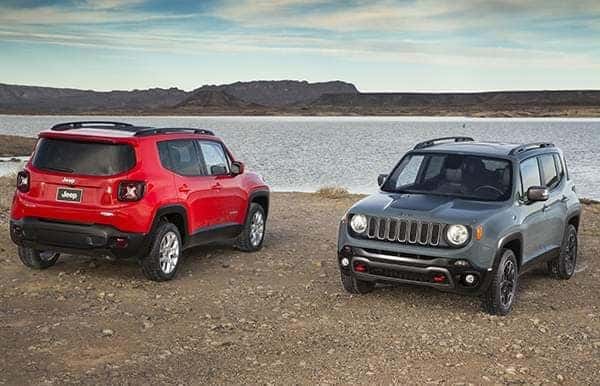 Price
Price varies depending on the vehicle. Check out each Trailhawk models MSRP below:
Jeep Grand Cherokee Trailhawk – $43,095
Jeep Cherokee Trailhawk – $31,195
Jeep Compass Trailhawk – $28,594
Jeep Renegade Trailhawk- $26,895
Interested in a Jeep Trailhawk? No matter which vehicle you want, we have one for you. Check out our Jeep inventory at Kendall Dodge Chrysler Jeep Ram here and find your Trailhawk.