2018 Chrysler Pacifica vs 2018 Chevy Tahoe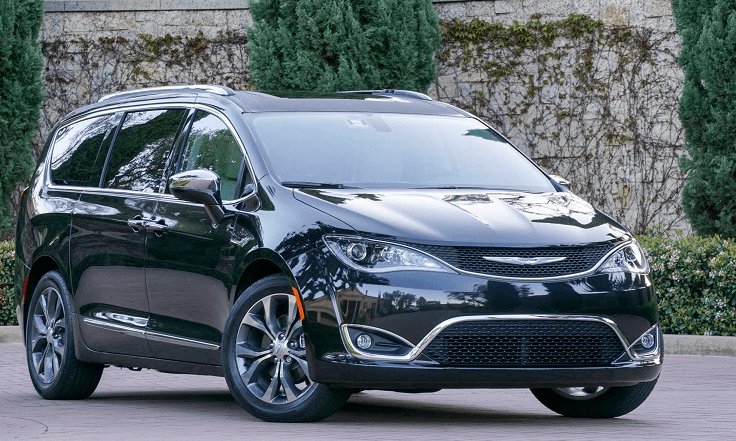 If you're looking for a large vehicle for you and your family to use regularly, versatility and space are important. We're going to examine the size, price, and performance features of two large family vehicles, the spacious and modern 2018 Chrysler Pacifica and the strong 2018 Chevy Tahoe.
Pricing
Price is important and usually the first thing any potential car owner wants to know. The 2018 Chrysler Pacifica L (base model) is nearly half the price ($26,995 (plus destination fee)) of the price of the 2018 Chevrolet Tahoe LS (base model) ($47,500 (plus destination fee)). With that being said, let's see if the extra cost for the Chevy Tahoe makes sense if you're looking for a vehicle for your family.
Interior Space
Interior space is important when deciding between these two vehicles. The 2018 Chevrolet Tahoe has available seven or eight passenger seating, depending on the options selected. The standard setup on the Chevy Tahoe seats eight passengers and it consists of a second-row 60/40 split-bench seat and a 60/40 split-bench third-row seat. The Tahoe is also available with second-row bucket seats, and that option reduces the vehicle's seating capacity to seven people. If both rows of the rear seats are folded down, consumers get 15.3 cubic feet of cargo room, 51.7 cubic feet with the third row down and owners can make use of 94.7 cu. ft. of cargo space when all rows are down.
The 2018 Chrysler Pacifica also provides seating for seven or eight passengers as well. The minivan comes standard with second-row bucket seats and a standard third-row bench seat, but buyers can opt for three passenger seats in both the second and third rows as well. The Chrysler Pacifica is equipped with Stow 'n Go seating which makes it easy for users to fold the vehicle's seats into build-in storage compartments to make room for cargo when needed. The Pacifica has 32.3 cubic feet of storage in the trunk, and 87.5 cargo space with the third row down and when the second- and third-row seats are folded down there's 140.5 cubic feet of cargo space.
Interior Entertainment
The difference between the infotainment options between the Chevy Tahoe and Chrysler Pacifica is considerable as the 2018 Pacifica provides more advanced options.
The 2018 Chevy Tahoe has an available 10-speaker Bose audio system, which is 10 speakers less than the available 20-speaker Harman Kardon Premium Surround Sound System offered in the 2018 Chrysler Pacifica.
The 2018 Chevrolet Tahoe has Chevy's MyLink infotainment system that provides an 8-inch touchscreen and Apple CarPlay and Android Auto integration. The available rear entertainment system offered by Chevy includes digital headphones, a drop-down screen that includes an HDMI connection to play anything on the drop-down screen when connected.
The 2018 Chrysler Pacifica is available with the Uconnect Theater Package and it has some advantages that the Chevy Tahoe doesn't offer. From wireless streaming, WiFi is available throughout your minivan. The Uconnect Theater Package also comes with two 10.1-inch HD touch screens with Blu-Ray players and wireless headphones that let users listen to what is playing on the HD touchscreens and other passengers to listen the radio. Standard Dual HDMI inputs, wireless streaming and even games that anyone in the back seats can play are remarkable features that can entertain for hours on end.
Powertrain Differences
The 2018 Chevy Tahoe is available with two V8 engine options, a base 5.3-liter with 355 horsepower and 383 lb-ft of torque and the optional 6.2-liter with 420 horsepower and 360 lb-ft of torque.
While the 2018 Chrysler Pacifica has loads of entertainment options for passengers, the powertrain isn't as strong by comparison against the Tahoe. However, every Chrysler Pacifica model is equipped with a strong 3.6-liter Pentastar V6 engine.
Fuel Economy
Looking for remarkable gas mileage? 18 mpg in the city and 28 mpg on the highway provided by the 2018 Chrysler Pacifica is better than the 16 city and 26 highway mpg offered by the 2018 Chevy Tahoe, and fuel economy is even lower when the Tahoe is equipped with the 6.2-liter V8 engine (14/22 MPG). When all things considered between price, infotainment options and fuel economy there's only one choice here.
Where To Find Your Own 2018 Chrysler Pacifica
Stop by to Kendall Dodge Chrysler Jeep Ram where our professional staff is ready help you test drive any of our new or pre-owned vehicles, including the new 2018 Chrysler Pacifica. If you're looking to sell or trade-in, we can help you out get into a vehicle we currently have available.
Kendall Dodge Chrysler Jeep Ram provides a full service experience and can handle almost any job your vehicle should need from oil changes to rotating tires, checking and replacing brakes and everything else to make sure your vehicle stays running well. With a simple appointment we can take the steps to make sure you're ready for any servicing to get you back on the road quickly.