2018 Dodge Challenger SRT Demon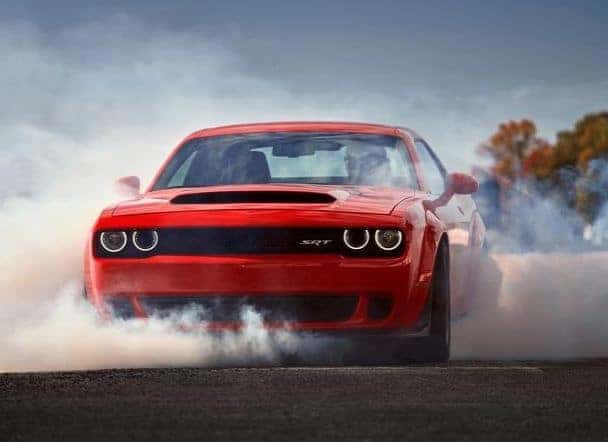 There's no doubt that the Dodge Viper and Charger/Challenger SRT Hellcat models are fast, but their new sibling, the 2018 Dodge Challenger SRT Demon, is even faster. Chances are by now you have heard all about the Demon, maybe you even watched the teasers leading up to the reveal. If you haven't heard all about it, prepare to be amazing. The SRT Demon is just about as close as a vehicle can get to a pure race car while remaining street legal. Check it out. All the additional performance features in the Demon allow it to produce much more horsepower than the other performance engines available in other models. The 6.2-liter HEMI V8 engine that usually produced 707 horsepower is able to produce up to 840 horsepower in the SRT Demon. The Demon shoots from 0 – 60 in just 2.3 seconds and finishes the quarter mile in 9.65 seconds. Wow!
Engine and Performance features
The engine in the SRT Demon sounds similar to the SRT Hellcat engine, but it is way more advanced and all of those advancements make it much more powerful than the SRT Hellcat. The engine in the Challenger SRT Demon is a supercharged 6.2-liter HEMI V8 Demon and it produces up to 840 horsepower and 770 lb-ft of torque. In contrast, the engine in the SRT Hellcat is a supercharged 6.2-liter HEMI SRT Hellcat V8 engine, but it produces 707 horsepower and 650 lb-ft of torque. So what extra performance gear allows the Challenger SRT Demon to go so fast? There are several modifications and one of the most important performance features is the unique intercooling system called the SRT Power Chiller, and the Challenger SRT Demon is the first-ever factory-production car with this piece of equipment. The SRT Power Chiller is a complex piece that is almost like an air conditioner for the engine and it is a very advanced way to keep the SRT Demon cool, even when working at very, very high speeds. The SRT Demon is also equipped with the Air-Grabber, which is an induction system includes the largest functional hood scoop (45.2 square inches) of any production car. What else? Other performance features include an upgraded torque converter, a first-ever factory produced TransBrake (transmission brake) to improve launches from the starting line.
Style
SRT knows a true performance car isn't just a performance engine, but that a car needs a carefully crafted exterior to reach its maximum potential. Considering that, SRT made a lot of changes to the Challenger's exterior and interior and those changes as well as the engine enhancements are big factors that help the vehicle achieve its record-breaking track times. The Challenger SRT Demon is the first Challenger model to be produced with a wide body design and this was done to house the vehicle's very wide 315/40R18 tires Nitto street-legal drag radial tires. These special tires give the Challenger SRT Demon 40 percent more launch force compared to SRT Hellcat tires. Weight reduction was a big factor in helping the Challenger SRT Demon achieve its speed records and one of the most notable ways SRT reduced weight was by removing all seats except the driver's seat. SRT also removed 16 speakers, the spare tire cover, floor mats, carpet covering as well as some other things. The Challenger SRT Demon is like a true drag car. However, buyers that aren't worried about weight can opt to add in some of the removed features with various packages. Want leather seats? The Dodge Demon offers a "Leather Front Seat Group" package which comes with Laguna leather and Alcantara suede covered seats, a Demon head logo embroidered on the seats, a front passenger seat so the driver can bring a rider, heated and ventilated leather front seats, a heated steering wheel, premium floor mats, a power tilt/telescoping column and bright pedals for additional style. This package is $1,595. If you are looking to further modify the exterior of your Demon, there is a package for that as well. The "Painted Black Satin Hood Graphics Package" comes with (as you would assume) a painted black satin hood for $1,995. Or, you can get the whole package with the hood, roof, and decklid all contained black satin graphics for the price of $3,495.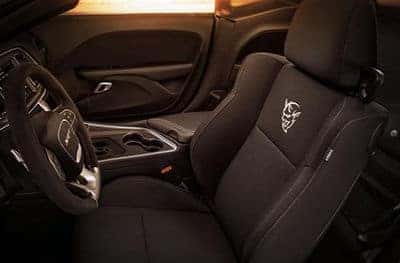 Technology
As you would probably expect, the technology in the SRT Demon is insanely advanced. The SRT Demon's UConnect system has a feature known as performance pages. Performance pages has several features drivers will love. It has three driving modes to choose from including street mode, drag mode, and custom mode. The system will also track how much torque and power you used on the drag strip, which is something any racer would like to know. Finally, the system also has a feature with RPM-adjustable launch control. For entertainment technology, the UConnect allows you to stream music via Bluetooth, use the GPS system, speak on the phone handsfree and more. There is a standard two-speaker system that is plenty loud. However, if you want to fit the aggressive vibe of the SRT Demon, there is a package available known as the "Comfort Audio Group." This package is an additional $995 and comes with an 18-speaker Harman Kardon audio system, two subwoofers, and a 900W amplifier. Of course, you'll be adding some weight with all those speakers!
Demon Crate
Owners can purchase the Demon Crate, which is a $6,140 value package, for just $1 (no joke!). The crate has everything one needs to make it ready for the drag strip. Items in the crate include a foam case to carry the crate that fits in the trunk of the Challenger SRT Demon, direct connection performance parts, and Demon branded track tools. You are probably wondering what direct connection performance parts and track tools come with the Challenger SRT Demon. The direct connection parts include two narrow, front-runner drag wheels, performance powertrain control module with high-octane engine calibration, a replacement instrument panel switch module with high-octane button, a personalized Demon ID badge, a conical performance air filter. two valve stems, and a passenger mirror block-off plate. The track tools that come with the crate are a hydraulic floor jack with a carrying bag, a cordless impact wrench with the charger, a torque wrench with an extension and socket, a tire pressure gauge, fender cover and tool bag according to an FCA press release.
Price
The price for the Dodge Challenger SRT Demon was recently announced and it is reasonably priced considering it is a top-notch performance vehicle. The MSRP of the 2018 Dodge Challenger SRT Demon is set at $84,995. Production of the 2018 Dodge Challenger SRT Demon will be limited to 3,000 models in the U.S. While the 2018 Dodge Challenger SRT Demon isn't available yet, the other Dodge performance vehicles like the Dodge Challenger/ Charger SRT Hellcat and the 392 models are currently available at Kendall Dodge Chrysler Jeep Ram. Come by and test drive them today or search all of our Dodge inventory online here.