2019 Dodge Challenger SRT Hellcat Redeye Rolls Out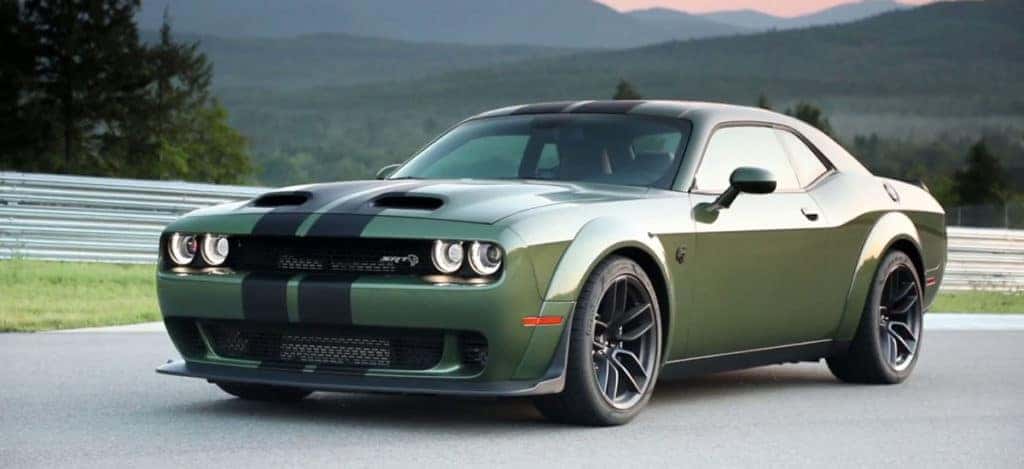 Photo credit: Dodge
Know what it feels like to drive a Hellcat? Dodge has crafted some of the most impressive muscle cars ever made and production has just begun on the latest example. The first units of the new 797-horsepower 2019 Dodge Challenger SRT Hellcat Redeye muscle car have been made and are being delivered to dealerships across the country. Production of the latest SRT (Street Racing Technology) product began in October 2018 at the FCA US Brampton Assembly Plant in Ontario, Canada. This run of Hellcat Redeye muscle cars is expected to far exceed the production of 2017's incredible Dodge Challenger SRT Demon, that the Redeye supersedes. In fact, many of the parts that made the SRT Demon so special can be found in the SRT Hellcat Redeye. Ready to learn more about this incredible Dodge muscle car?
How Does the SRT Hellcat Redeye Stand Out?
On the surface, there's not a huge difference between the SRT Demon and the SRT Hellcat Redeye. Both carry the incredible supercharged 6.2-liter HEMI high-output V8 engine, which produces that remarkable figure of 797 horsepower and 707 lb-ft of torque. The 2019 Dodge Challenger SRT Hellcat Redeye is utterly fantastic looking, striking in every way, and quite simply the fastest muscle car available from Dodge today. Staggering performance includes 0-60 mph acceleration in just 3.4 seconds, a quarter-mile time of merely 10.8 seconds at 131 mph, and an extremely agile top speed of 203 mph.
Part SRT Demon, All Redeye
In what other ways has the SRT Demon formed the Redeye? The factory SRT power chiller and factory after-run chiller found in the SRT Demon accommodate the SRT Hellcat Redeye to calm the stalwart V8 engine. In total, the 2018 Dodge Challenger SRT Demon had restricted production and only produced a grand total of 3,300 vehicles made. Though the wicked SRT Demon was capable of producing 840 horsepower, there's no denying the strength of the SRT Hellcat Redeye. Aside from the same giant supercharger engine, the Demon's Torque Reserve, high-speed connecting rods, pistons, and valvetrain are all included in the 2019 Dodge Challenger SRT Hellcat Redeye. Make no mistake, this is part of the reason the speed of the Hellcat Redeye is so exciting and remarkable, like the SRT Demon.
Drive With A Permanent Smile
A notable look for the 2019 Challenger SRT Hellcat Redeye incorporates a new fully functional, dual-snorkel hood that gives homage to the distinguishing Dodge design themes of some of its most well-known muscle cars. Owners of the Dodge Challenger SRT Hellcat Redeye can note the distinctive new badging, including a sinister red eye featured on the Hellcat fender badges, instrument panel, key fobs, and supercharger housing. The new badges are all over the Hellcat Redeye as a way of showing off the uniqueness of this special muscle car. Drivers will note the performance interior highlights a new 220-mph red speedometer as well as a Redeye logo splash screen. (Not too shabby!)
To our readers, the thought might creep in that this astonishing muscle car must cost as much as the Dodge Challenger SRT Demon then, right? Wrong! While most muscle cars are expensive, luckily, the cost of the 2019 Dodge Challenger SRT Hellcat Redeye is $71,045 MSRP (plus destination fee). Expect to be able to drive away with one of these incredible vehicles as soon as fall 2018, and there's one place that will definitely have this bad boy.
Come to Kendall Dodge Chrysler Jeep Ram!
Stop by for a test drive today. Our professional staff will help with any buying, selling or leasing options to help you drive away with a Dodge muscle car. Our entire lineup of new Dodge Challengers, like the 2018 Dodge Challenger SRT Hellcat, is ready for those who want excitement in their lives. Experience the difference in how we treat all our customers at Kendall Dodge Chrysler Jeep Ram.
If you're looking for any future maintenance or repairs, trust our knowledgeable service team and we'll get your vehicle back to you quickly. We hope to see you at Kendall Dodge Chrysler Jeep Ram for all your automotive needs!