The 2020 Jeep Gladiator Pickup Has Been Revealed!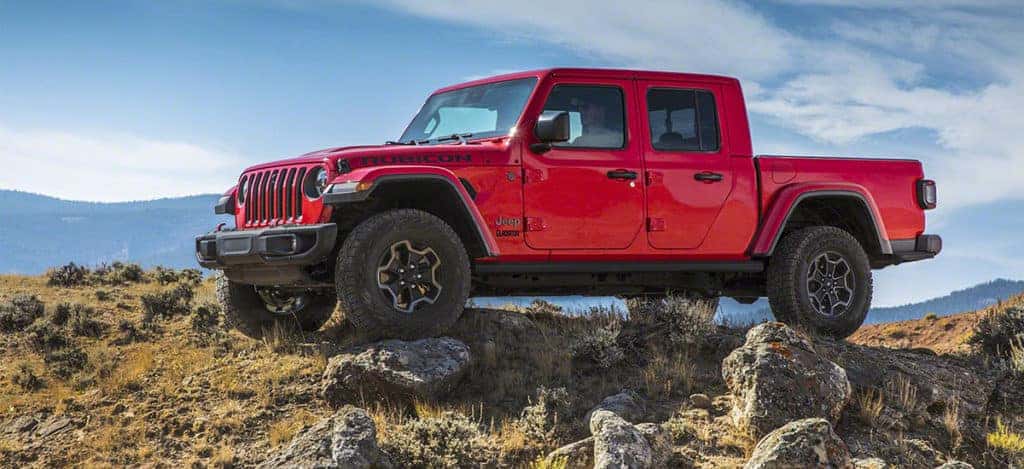 Photo credit: Jeep
Jeep® fans can rejoice; the 2020 Jeep Gladiator has arrived as it properly debuted to fanfare and buzz at the 2018 LA Auto Show. The first Jeep pickup in nearly three decades, the all-new 2020 Jeep Gladiator made further waves by announcing class-leading towing and 4×4 payload capabilities. Partly influenced by the Jeep Wrangler, the frame of the Jeep Gladiator is 31 inches longer than the Wrangler JL and has a wheelbase that's 19.4 inches longer. Ready for an off-road experience? The Gladiator is equipped with a suspension that contains a lateral and four longitudinal control arms up front, while the rear rides on a five-link coil suspension restricted to the Jeep pickup for enhanced on-road ride satisfaction. All signs point to a pickup capable of becoming a real success for the Jeep brand that has already been trending upwards for several years in terms of sales and growth globally.
"The Jeep brand is as strong as ever. It is the best-selling SUV in America. Now they are going to move on to pickup trucks to add to that portfolio," said Jeremy Acevedo, an analyst for auto website Edmunds.
What To Expect Inside the Jeep Gladiator
Owners of the Gladiator will be able to feel the power with the reliable 3.6-Liter Pentastar V6 engine. The Pentastar V6 will provide 285 horsepower and 260 lb-ft of torque and is paired with a six-speed manual transmission, standard; an eight-speed automatic is optional. The Jeep Gladiator offers four-wheel drive on all trim levels (Sport, Sport S, Overland, and Rubicon). Jeep declared it'll also offer class-leading tow capacity of up to 7,650 pounds and a 4×4 payload of up to 1,600 pounds. Thanks to its off-road abilities, an approach angle of 43.6 degrees, breakover angle of 20.3 degrees and a departure angle of 26 degrees, this pickup is ready to handle vasts terrains of off-road adventures. The Gladiator also has a ground clearance of 11.1 inches, nearly a foot of height to handle going over rocks and avoiding any potential damage to the vehicle.

"We absolutely wanted it to look different, bold and stand out from anything else, but give you everything that the truck buyer was looking for and everything that Wrangler has always been known for," said Tim Kuniskis, president of the Jeep Brand for Fiat Chrysler.
Upcoming Powertrain For The Jeep Gladiator
Those drawn to the announced 3.0-liter turbocharged diesel will have to wait for the powertrain option that will be added in 2020. This engine will provide 260 horsepower and a muscular 442 pound-feet of torque. Unlike the gas engine, the diesel is paired with an eight-speed automatic. The wait has officially begun for the 2020 Jeep Gladiator to hit stores! While the Gladiator is expected to come out in late 2019, there's plenty of wonderful Jeep vehicle options and a large selection of pickups that are waiting for a test-drive at Kendall Dodge Chrysler Jeep Ram.
Find The Vehicle You've Always Wanted
Come test-drive the newest Jeep vehicles, like the 2018 Jeep Wrangler JL. We have a fantastic Jeep collection of both new Jeep vehicles and pre-owned Jeep vehicles that are in excellent condition. For those looking to drive away with an awesome pickup or Jeep vehicle, our dedicated sales team is ready to help with all buying, leasing or trade-in offers.
Experiencing any issues or any maintenance issues with your current ride? Get back on the road quickly with our experienced service staff with a simple service appointment. Our friendly service team will help your vehicle problems be resolved in a timely fashion. We hope you visit us today!