2020 Mopar Dodge Challenger Drag Pak Edition Hits 7.50-Second Quarter-Mile Time!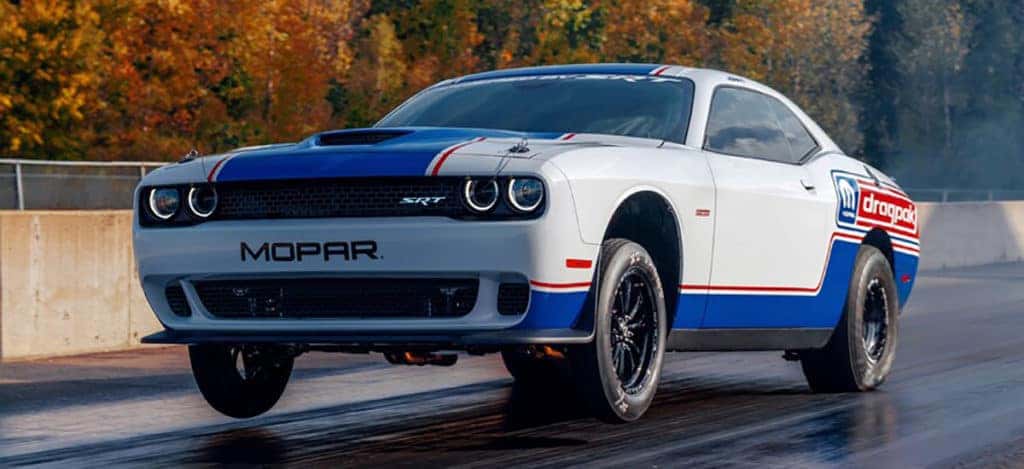 Photo Credit: Motor1
Among the many fantastic SEMA 2019 vehicles that came to debut at the famous Las Vegas aftermarket show, the 2020 Mopar Dodge Challenger Drag Pack Edition stole the show. While few drivers will ever get a chance to experience the sheer speed of this remarkable Challenger, many can witness the beauty and appreciate its power. This muscle car is not street legal and runs through a quarter-mile at a mindblowing 7.50-second mile clip. The trap speeds of 170 mph barrelling down the strip are the stuff Dodge is made of. With Mopar fixing this concept vehicle with an augmented SRT hood complete with scoop and air extractors, this is a sleek, speedster that can't wait to blow the competition away.
Where Can Drivers Get Their Hands On This Dodge?
Mopar has not announced if orders will be made available for the 2020 Challenger Drag Pak, but the good news is most of the enhancements added by Mopar are readily available on their website for individuals to upgrade their current ride. However, kind in mind this vehicle is built solely for drag racing strips and isn't a daily commuter vehicle. This vehicle received a certification from the National Hot Rod Association as well as the National Muscle Car Association competition. There will only be fifty of these vehicles made and the price point is not known, but the closest vehicle Dodge has made that comes close to this is the lone year the 2018 Dodge Challenger SRT Demon was available. The starting price of that vehicle was just a bit under $90,000 MSRP and was street legal (barely!). This is the vehicle for a pro's pro and we are excited to see the vehicle shown off at SEMA 2019.
More On This Wicked Fast Dodge and Mopar Collaboration
This Mopar muscle care provides an unlocked fuel management controller and power control module in its 354-cubic-inch V8 powertrain. This is actually the fourth-generation Dodge Challenger Drag Pak. Its SEMA debut gave no definite details of horsepower or the actual top speed, but Mopar is allowing certain customers the lucky chance to hop in and launch the car with no assembly required. We also love the "All-American" color scheme of red, white, and blue body color paint job. The power of the vehicle and the appearance were something Dodge thought a lot about and the results speak to all the thought placed into this exceptional Challenger muscle car.
"We want this to look so cool that when the customer buys a Challenger Drag Pak he or she wants to run these graphics because they are so iconic and stand out," Mark Trostle, Head of Performance, Passenger Car, and Utility Vehicle Design for FCA North America, said in the model's announcement.
Find the Newest Dodge Muscle Cars With Our Help Today!
Thinking of stepping into a new Dodge muscle car? How about the latest Dodge Challenger? Those with the need for speed, we don't blame you. Come check out the quality of vehicles that are going to put a wide smile on your face! We're all about helping our customers enjoy their entire shopping experience. We have a friendly and passion sales team that will make your buying, leasing or selling needs easy for any of our newest vehicles. We're happy to be your dealership home. Considering a used vehicle? We have a whole bunch for others to choose from.
Don't forget we have a trained service team that can help with an online appointment to get started on all maintenance work and repairs. At Kendall Dodge Chrysler Jeep Ram, we know what it takes to provide a worthwhile experience. Allow us the pleasure to help you today!