2020 Ram Power Wagon, 2020 Jeep Gladiator Earn "TFLtruck Gold Winch Awards"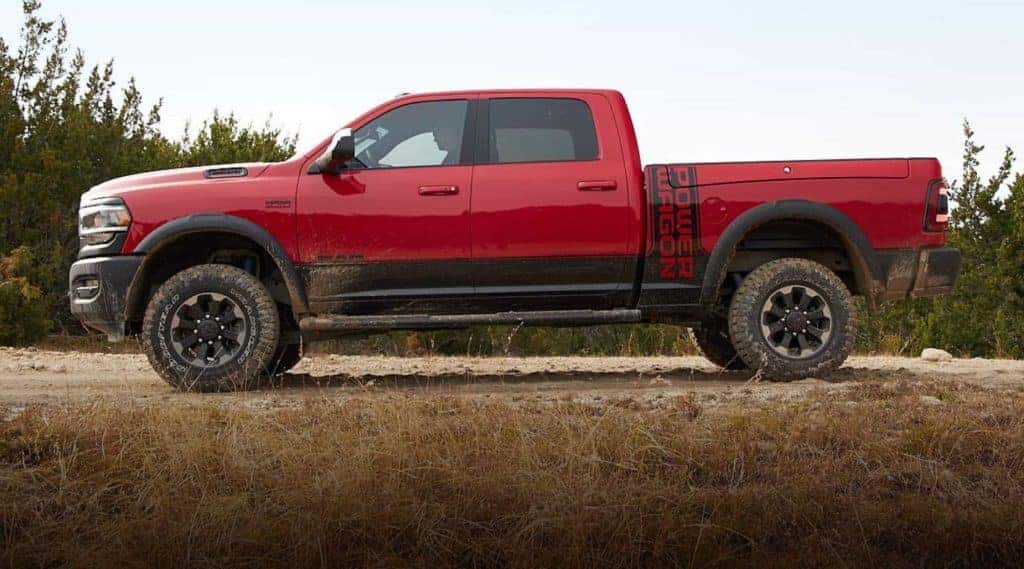 Photo Credit: FCA
Despite the continued battle against COVID-19, not everything has stopped. Kendall Dodge Chrysler Jeep Ram is still open and in business to help our customers. Along with our business, various companies in the automotive world have remained working and one of them just awarded two Fiat Chrysler Automobiles (FCA) vehicles with awards. It's always nice to know award season doesn't stop after all, either. The Fast Lane Truck (TFLtruck) is well-known thanks to its numerous online video reviews of vehicles. They have a following that includes millions of viewers that enjoy their vehicle testing and signature "TFL Ike Gauntlet" extreme towing challengers. This month, The Fast Lane Truck has named two FCA vehicles as winners of its 2020 Gold Winch awards. Both the 2020 Jeep Gladiator and 2020 Ram Power Wagon won this year after going through TFLtruck's rigorous testing. Both vehicles were able to show off its high-performance capabilities.
2020 Jeep Gladiator Continues To Amaze
The 2020 Jeep® Gladiator won this year's Gold Winch award, honoring the Best Mid-size Off-Road truck segment thanks in large part due to its off-road readiness and versatility. The attention to detail Jeep has its engineering team deliver is highly noted. Not many pickups can provide as much fun to its customers. The other  FCA winner is the 2020 Ram Power Wagon. The Ram truck received the Gold Winch award as the Best Heavy Duty Off-Road truck of the year. Of course, this is not the first award for either Jeep or Ram pickups in 2020.
"The competition was very tough this year. In the end, the Jeep Gladiator Rubicon stood above the rest based on its raw off-road capability and the fun aspect of top-down doors-off adventure driving. The final decision was unanimous. The Ram Power Wagon won the 2020 Gold Winch award due to its laser focus on off-road capability and equipment. It still has the best suspension flex, many trim options and an included winch to boot," said Andre Smirnov, managing editor at TFLtruck.com. 
More On Gold Winch Award Testing
For Gold Winch evaluations, TFLtruck's editors got first-hand experience behind the wheel of these vehicles on grueling trails in Colorado. Drivers were able to explore how the vehicles drove in extreme conditions at high elevations. The various terrain included during testing ranged from gravel with snow to paths that required terrific suspension of the Jeep Gladiator Rubicon. Editors enjoyed the overall performance on-road combined with its legendary capability and open-air freedom unanimously helped the judges side with the Gladiator over the competition. The same testing was done for the 2020 Ram Power Wagon as well.
How the Ram Power Wagon Won Over Judges

Judges complimented the Ram Power Wagon's off-road capability and available equipment.  Standard features that help the Ram pickup are the revamped suspension, 2-inch factory lift, locking front and rear differentials, disconnecting front sway bar and a 12,000 lb. winch, placed the Power Wagon ahead of its respective category. After all, votes were determined, the 2020 Jeep Gladiator Rubicon and 2020 Ram Power Wagon were each winner of their respective segments. Gold Winch award-eligible trucks for the 2020 model-year include all 202 model year pickups (or trucks from previous model years that have not vastly changed). Trucks are only eligible for the award if they were tests conducted by TFLtrucks before the March 1, 2020 deadline. Curious what it would be like to drive either of these top of the line pickups? 
Where To Drive These Award-Winners Today
Whether you're in Doral, Kendall, North Miami, Homestead, we're happy to help our South Florida and local Miami customers. We're professional and happy to help our customers with any buying, leasing or trade-in offers towards any vehicle in our new vehicle inventory, including our brand new Jeep vehicles. We're here to help at Kendall Dodge Chrysler Jeep Ram. We are the place to buy the award-winning 2020 Jeep Gladiator and 2020 Ram Power Wagon. 
Trust us to help you get your vehicle up and running like new with an online service appointment and visit to our service center. We look forward to helping you during these unprecedented times to get back to normal. Count on us at Kendall Dodge Chrysler Jeep Ram!