2021 Ram ProMaster Adds New Technology and Safety Features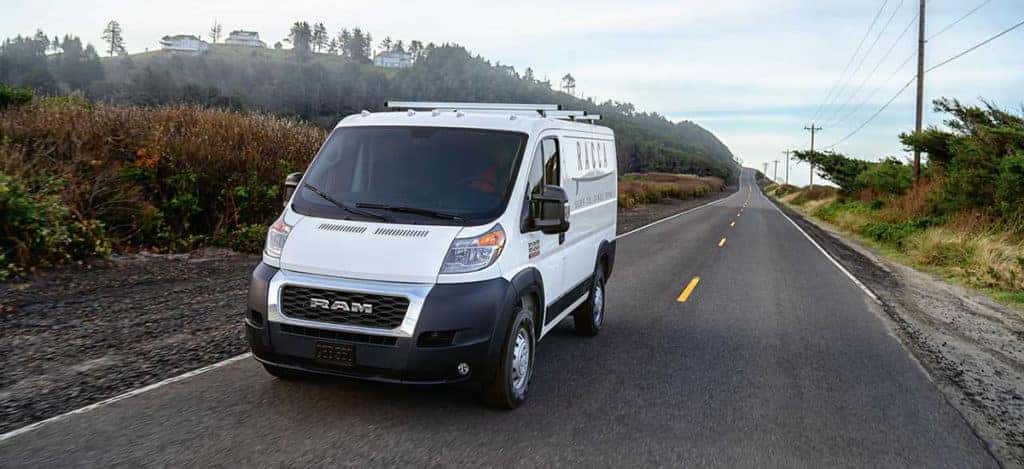 Photo credit: Ram
Ram has been working to bring its new 2021 Ram ProMaster to businesses and working people. The efforts have paid off with Ram ProMaster gaining upgrades all across the vehicle. Safety, technology and more are all going to see an upgrade. The new vehicle debuted this week at the National Truck Equipment Association's "The Work Truck Show®" in Indianapolis, Indiana this month. For customers that are looking for full-size van functionality, the Ram van is expected to be a wonderful choice for businesses and commercial fleets. We're going to get into all the updates and specifics in regards to safety features and updates for 2021 Ram ProMaster.
New For the Ram ProMaster
So what's new for the 2021 Ram ProMaster? A new class-exclusive digital rearview mirror option is an available feature that adds a 9.2-inch wide LCD monitor. Rather than the traditional mirror option, the display mounted on the rearview mirror adds a video cue that shows in real-time what is happening behind the vehicle. This feature is available across all models. 
Job sites are set to be safer with this technology when backing up the Ram ProMaster. A new feature known as Crosswind Assist is also standard equipment on all 2021 Ram ProMaster models and helps the driver keep the vehicle stable. 
"Ram Commercial was formed in 2014 and our full-size van customers have enjoyed Ram's benchmark durability ever since. Ram Commercial continues to focus solely on trucks and commercial vehicles, allowing us to deliver confidence for hardworking people every day, no matter their line of work," said Reid Bigland, Head of Ram Brand. 
Better Safety Features Than Before
New safety features have helped the Ram ProMaster out tremendously with available safety options that add Blind-spot Monitoring with Rear Cross Path detection, Forward Collision Warning with Emergency Brake Assist and Ambient/Courtesy Lights. These features are important to help drivers stay safer, they help customers avoid collision repairs, downtime, raised insurance premiums, and reduces liability exposure. New ambient/Courtesy Lights are available when packaged on all ProMaster models and enhance lower interior lighting with LEDs for customers who utilize ProMaster as a mobile office. LED bulbs last longer and provide more light with less energy being used to power the bulbs. 
New Ram ProMaster Upgrades Features Across the Board
The 2021 Ram ProMaster will contain 18 different wheelbase and roof height arrangements. The powertrain included is the popular 3.6-Liter Pentastar V-6 engine paired with a solid six-speed automatic transmission. All ProMaster models arrive with a class-exclusive front-wheel-drive system. ProMaster includes best-in-class features like standard V-6 power, turning radius, standard interior cargo height, load-floor height, cargo width between wheel wells and maximum cargo width. For those who have a need to add a van capable of repacing their current work station, we suggest the upcoming 2021 Ram ProMaster.  The debut of the vehicle is not yet named but is expected to come out later in summer 2020.
Shop Ram With Our Help Today
Kendall Dodge Chrysler Jeep Ram provides a full-service customer experience. There's no risk in stopping by to see our newest collection of new Ram ProMaster vehicles. For those who want to buy, lease or sell their vehicles, we can help today!
Thinking about restoring your current ride? We can handle almost any job your vehicle should need from oil changes to rotating tires, checking and replacing brakes and everything else to make sure your vehicle stays running well. All you have to do is make an online service appointment right here with us and we'll take care of the rest!