The 4 Dodge Cars You'll See in 'Furious 7'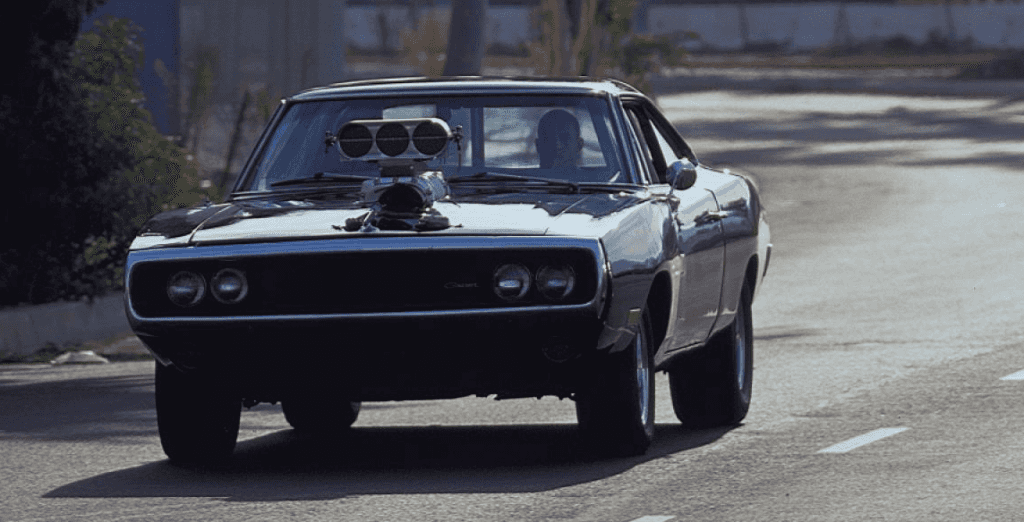 Vin Diesel and crew are back for the seventh installment of the "Fast and Furious" movies, and this time, they're defending themselves against a brother who is out for revenge.
In the last movie, the street racing crew beat Owen Shaw and gained amnesty for their crimes, allowing them to return to the United States and live somewhat normal lives.
Dom Toretto (Vin Diesel) tries to help Letty (Michelle Rodriguez) regain her memories, and Brian (the late Paul Walker) and Mia (Jordana Brewster) raise their family. However, that is all threatened when Shaw's brother swears to get vengeance.
Of course, the unfolding plot is packed with action that includes explosions, death-defying leaps, and lots of racing through the streets in some of the hottest and most powerful cars.
As it has in previous "Fast and Furious" movies, Dodge was featured prominently in the action. In fact, Dodge is the vehicle of choice for Dom Toretto, who drives the brand more than any other throughout the series.
While you won't be able to go to a Dodge dealership to buy some of the cars with the same street-racing specs as you see in the movie, you will be able to buy the base models, many of which are powerful and amazing all on their own.
Here are the four Dodge cars you'll see in "Furious 7:"
2015 Dodge Charger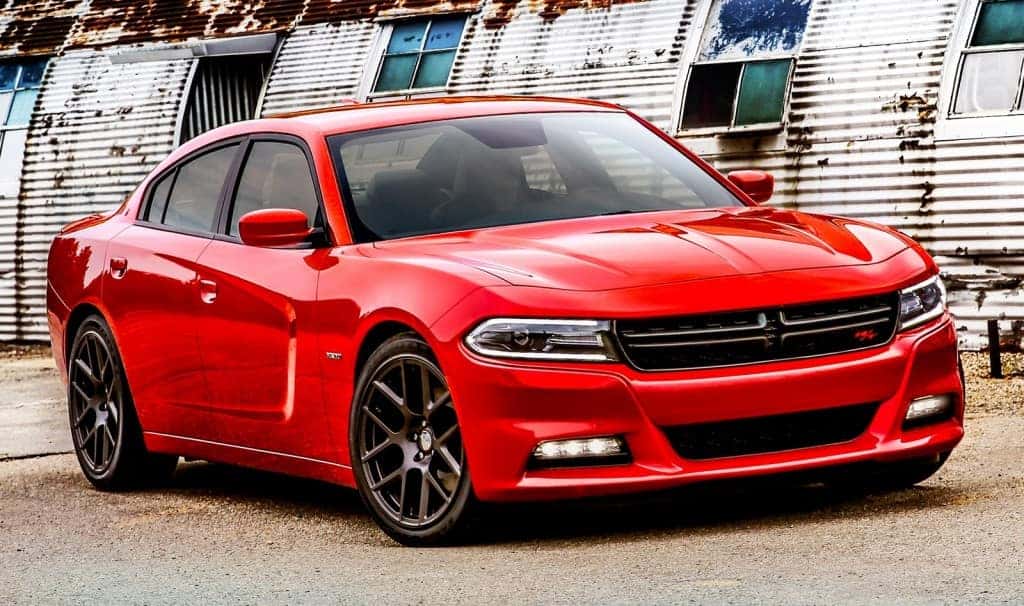 You would think the Dodge Charger Hellcat would be the star of "Furious 7," but the car wasn't released in time for filming. However, the standard version of the 2015 Dodge Charger was ready to go and up to the challenge. Vin Diesel's character drives a red 2015 Dodge Charger in several chase scenes in the movie.
While this stately sedan may seem like a conservative car that's more suited to business dinners than car chases, you shouldn't let the exterior fool you. The 2015 Dodge Charger has a 3.6-liter V6 Pentastar engine that puts out 292 horsepower and 260 pounds per feet of torque. The eight-speed automatic transmission ensures smooth performance, even if you aren't running from the cops.
Upgraded versions of the Charger have even more power, such as the 707-horsepower Hellcat. However, we're sure that you'll find the power of the base Dodge Charger to be more than enough.
1970 Dodge Charger R/T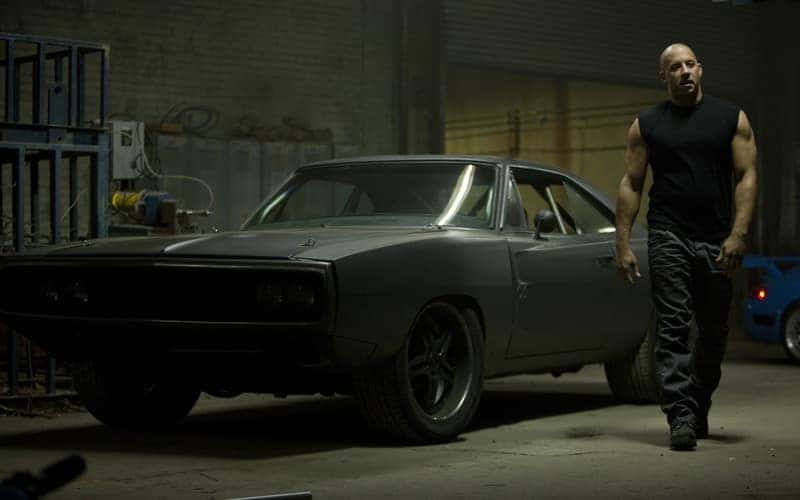 The 1970 Dodge Charger R/T is Dom Toretto's personal vehicle throughout the "Fast and Furious" movies. However, it is constantly getting destroyed in the course of the action. Toretto continues to fix it up and make it as good as new again.
Toretto uses his own 1970 Dodge Charger R/T in his showdown with Deckard Shaw (Jason Statham). In the Charger, Toretto outruns bullets and missiles and drives off a ramp to launch himself up to a helicopter.
Toretto drives another model Dodge Charger R/T in the famous scene in which cars parachute out of an airplane.
2011 Dodge Challenger SRT-8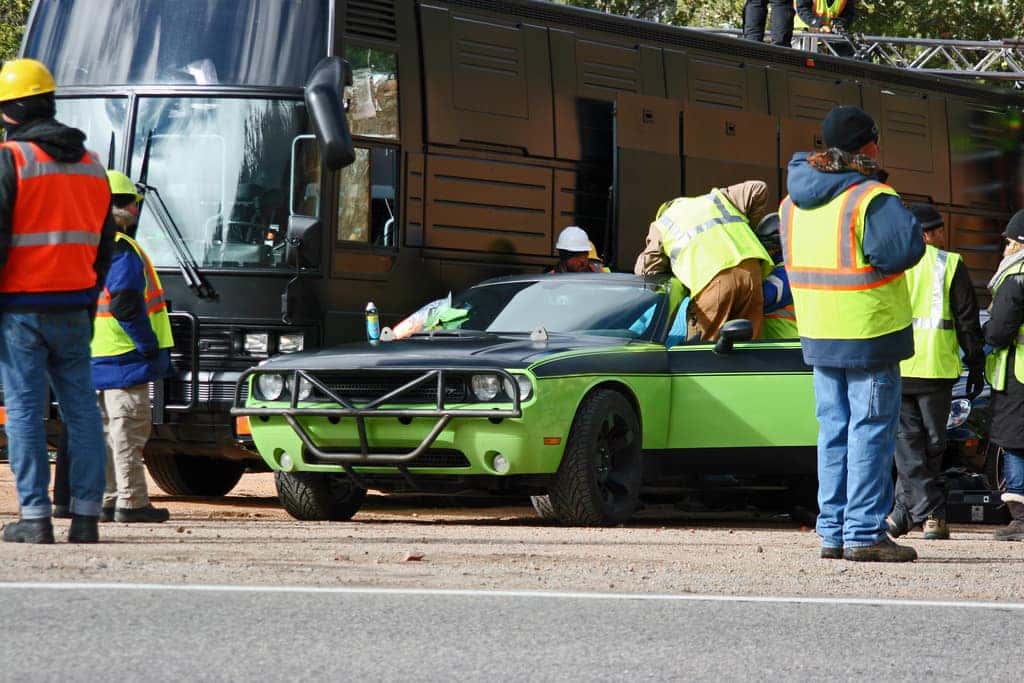 The 2011 Dodge Challenger SRT-8 gets some screen time in a couple of street races. It's one of the most distinctive cars on screen with its lime green body, black racing stripes, and black grille cage.
The 2011 Dodge Challenger SRT-8 has a 6.4-liter HEMI engine that puts out 470 horsepower and 470 pounds per feet of torque. Both a five-speed automatic and six-speed Tremec manual transmission were available on this model.
The car was styled to look like vintage models, giving it an impressive muscle car profile and lots of cool points. Now that it's been featured in one of the "Fast and Furious" movies, this car's cred will go up even more. Of course, driving it is just as satisfying as looking at it.
Dodge Viper SRT-10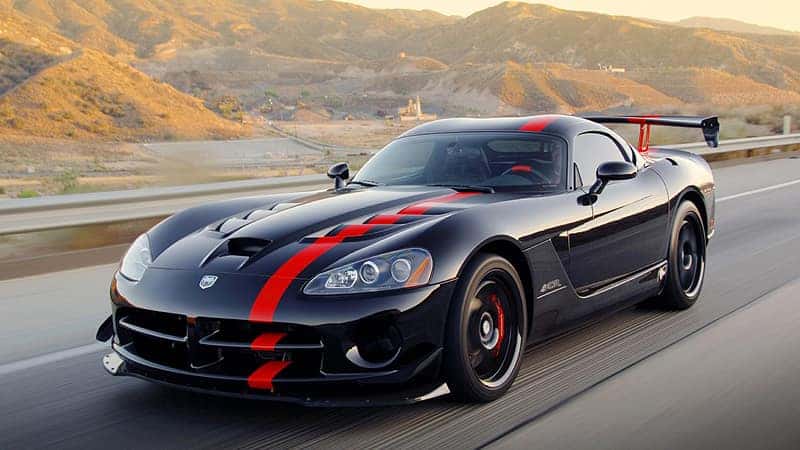 The Dodge Viper SRT-10 made its debut with the first "The Fast and The Furious" movie, and it was a fan favorite. It returns in "Furious 7" with its SRT-10 version. The gorgeous car appears in the teaser trailer for the movie, showing various cars pulling up to a starting line followed by their drivers getting out.
The most recent 2015 Dodge Viper has an 8.4liter V10 engine that puts out 645 horsepower. The car can go from 0 to 60 mph in just 3 seconds. Its power and speed definitely earn it a place in a movie about street racing and high-stakes car chases. 
You don't have to be a street racer or international criminal to enjoy what the Dodge Viper SRT-10 has to offer. Even if you are driving to the office, you'll feel excited by the power and the handling that this car offers. You'll also love the gorgeous styling and the luxury interior. Wherever you go, you'll be turning heads when you are in the Dodge Viper SRT-10.
Whether you love a powerful car that can take hairpin turns or reach top speeds — or you just want a reliable car that's not another boring sedan — these gorgeous models are ideal choices. You don't need to be a millionaire to afford these beauties. While some are luxury cars, they are all more affordable than the competition.
You'll be able to find some of these models at your local Dodge dealership, though you may have a little more trouble tracking down classic models like the 1970 Dodge Charger. You'll just have to try your luck on the secondary market or form a close relationship with a used Dodge dealership and hope for the best.
When you get behind the wheel of one of these amazing Dodge vehicles, you'll feel like the star of your own personal movie. You can pretend that you're dodging the paparazzi with every tight turn.
After you buy your new Dodge, you can drive it to the theater to see the new Furious 7 and take pride in the fact that your stunning new ride is featured on the big screen. If you still have a drive-in where you live, see the movie there. Crowds will soon start forming around your car as people forget about the movie and are distracted by the real star.