4 Strange, Yet Incredible Jeep Concepts

Concept cars are bittersweet. They're often incredible works of design and engineering, but rarely see mass production due to risk-taking and overall costs. But thankfully, the memory of concept cars of the past live on online, where we can dream and think how awesome it would be to own a specific model. In this post, we'll show you four of the strangest, yet amazing Jeep concepts the company has ever produced.
2005 Jeep Hurricane Concept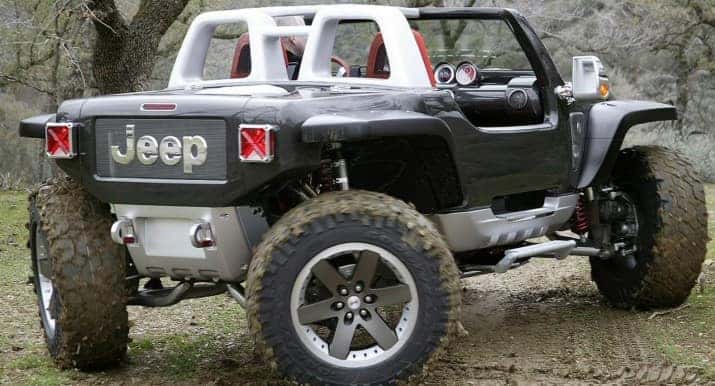 Easily the craziest concept Jeep has ever produced, the Jeep Hurricane was an offroad beast that reminded many of the fictional "Warthog" vehicle from the popular video game series Halo.
With two V8 Hemi engines, the Hurricane concept put out a total of 670 horsepower (335 from each engine). In its debut year of 2005, it won many awards, including a tech innovation award from Popular Science.
The vehicle remains an insanely popular concept due to its four-wheel steering capabilities, something we can only wish to see in the upcoming 2015 Jeep Wrangler.
2008 Jeep Renegade Concept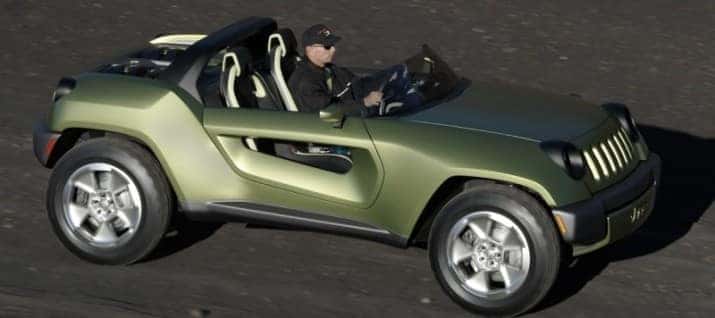 While we now know the Jeep Renegade as a very real compact Jeep vehicle coming in 2015, back in 2008 it was a hybrid electric topless, two-door vehicle.
Appearing to be a futuristic, sporty Wrangler, the 2008 Renegade Concept was reported to be made completely of recyclable components. It also featured a total of 3 different engines: two electric engines that produced 134 horsepower each, and a 1.5L diesel engine that produced 115 hp. The hybrid engines gave the vehicle an increased range of travel.
2002 Jeep Willys2 Concept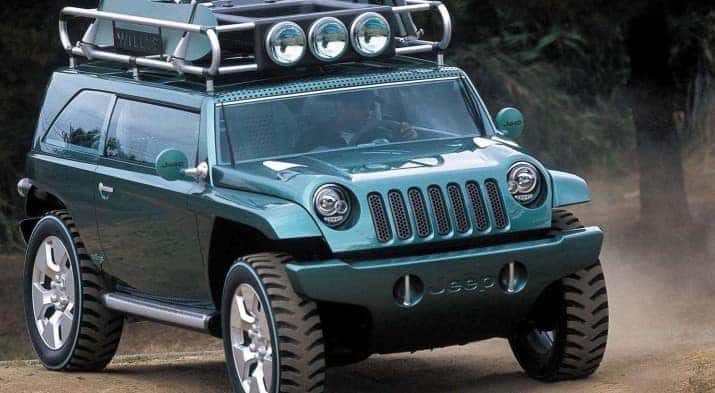 Unveiled at the 2001 Tokyo Motorshow, the 2002 Jeep Willy2 concept brought together the classic Jeep and modern car design for stylish offroading. Its large roofrack , fog lamps, and  metallic blue-green paint job make it very distinguishable as a Jeep concept.
Shaped similar to an FJ Cruiser, yet smaller than a full-sized Hummer, the Willy2 concept's exterior was crafted from a single piece of carbon fiber. While underpowered compared to the 2005 Hurricane concept, the Willy2 did appear to be efficient, featuring a four-cylinder supercharged engine with 160 hp.
1969 Jeep XJ001 Concept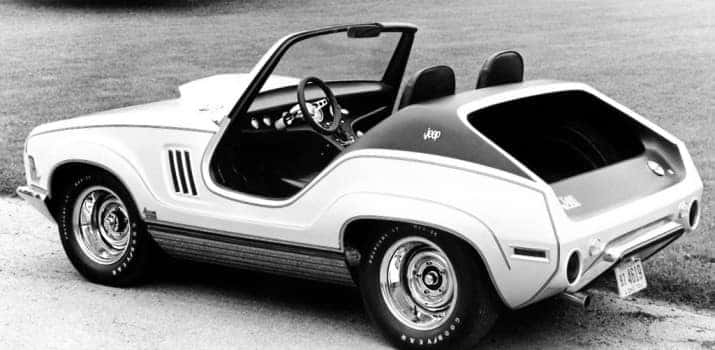 The 1969 Jeep XJ001 concept was an offroad-friendly sports car made in 1969. Yes, it was real. The idea of a sports car that could also double as an offroad vehicle came to life because offroading was beginning to become popular. The XJ001 was the answer to a fun offroad car that could also be a fun road car.
Unfortunately, the XJ001 was destroyed in an accident on route to an auto show. And while it did have a successor, the XJ002, the design of the XJ001 was something Jeep never managed to replicate in a future concept.