5 Reasons Enthusiasts Love the Dodge Magnum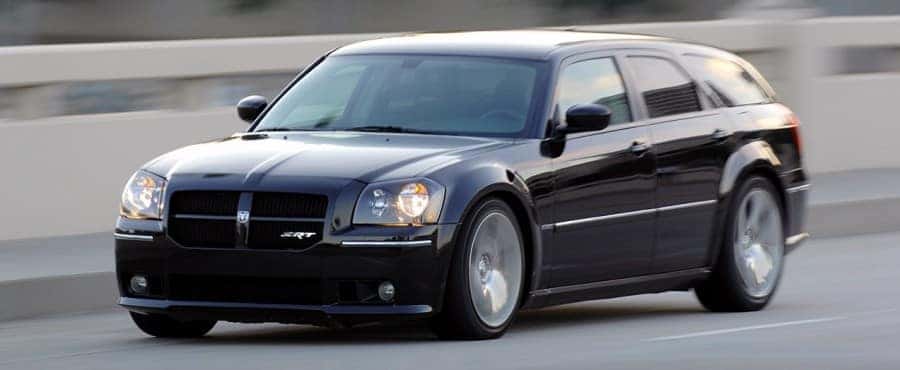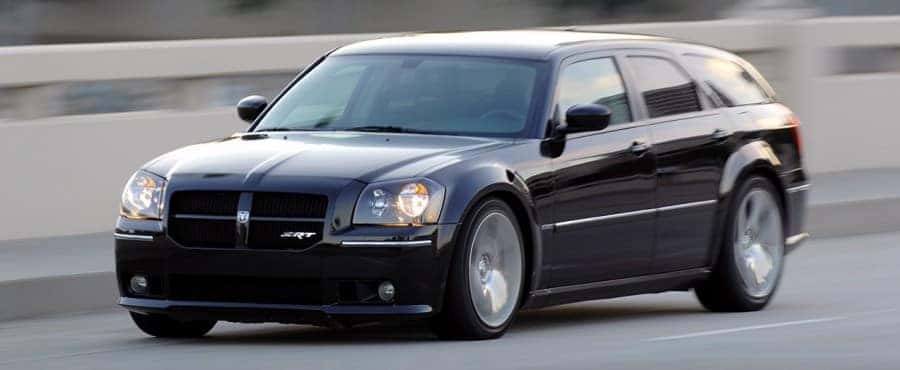 The Dodge Magnum line is Chrysler's attempt to make station wagons of the past cool again. You know, bring back the iconic family trucksters and surfboard-laden wood-paneled beauties of the 60s and 70s, but this time with an edge that the new and hip younger generation can dig.
Younger crowds, no matter the generation, appreciate speed, power, and style.
In short, a sports car.
Keeping this in mind, the engineers pushed the edgy envelope even further when they considered what might possibly be even cooler than a revamped wagon, but a suped-up wagon designed by the Street Racing and Technology Group.
The answer came in the unmistakable size and shape of the Dodge Magnum SRT.
Although now discontinued, pre-owned Dodge Magnums and even the SRT can be found at Dodge dealerships in Miami.
Yeah, that's right. Discontinued. So why even bother tracking one down?
The following five reasons should convince you that, at the very least, the Dodge Magnum SRT is worthy of a serious second look. If nothing else, you'll be looking at a car borne of legacy and soon to become a part of history. What discerning car consumer could possibly pass up the chance to own, or at least test drive, an automotive icon?
The Wagon, Redefined

Manufactured between 2005-2008, the Dodge Magnum SRT is a front-engine, rear-wheel-drive, 5-passenger, 5-door wagon. Sporting a build similar to that of its ancestors, this wagon is rounded, smoother, and packs a punch more powerful than ever before seen in a wagon from any generation.
Equipped with a pushrod 16-valve V8 iron block engine with aluminum heads and port fuel injection, the SRT boasts 425 horsepower at 6000 rpm with 420 lb.-ft. of torque at 4800 rpm.
Hardly a surprise, given its SRT status, the Magnum is capable of moving from zero to 60 mph in 5.1 seconds. It completes the quarter-mile in the mid 13s, and can also achieve 0-100-0 mph in about 16 seconds.
On the flip side, tests show the SRT is capable of decelerating from 70-0 mph in approximately 170 feet, capable of achieving 0-100-0 mph in about 16 seconds.
How?
The SRT features premium 14.2-inch front and 13.8-inch rear vented Brembo brakes, fitted within large 20-inch polished 5-spoke wheels, encased in 245/45 Goodyear F1 summer tires.
The handling is enhanced with SRT-special shocks, modified spring rates, different bushings, and huge anti-sway bars.
These are not the specs generally expected from or associated with a wagon.
Basically, we're talking about a muscle car disguised as a station wagon. Or, what some have called a muscle wagon. Either way, it's an engineering and styling feat yet to be replicated.
In fact, as wagons go, muscle or otherwise, the American-made wagons are routinely bested by their European contemporaries, the likes engineered by Audi, Mercedes, and Porsche.
An Alternative SUV
Ideal for drivers in cold-weather climates, the AWD version came standard with 5-speed automatic transmission and manumatic shifting.
Weighing in at 4,379 lbs, their heft and traction capabilities make them excellent alternatives to traditional SUVs, but they are not intended for the kind of towing tasks expected of their SUV counterparts.
Vintage Style

If making a wagon cool wasn't quite cool enough, the engineers decided that the SRT should include "shooting brake" styling. Basically, an antiquated term for station wagon, shooting brake, is a British phrase which refers to a vehicle able to transport a hunting party and all its gear. Think Downton Abbey meets NASCAR.
Long after hunting parties were all the rage, automakers, in search of new design ideas, harkened back to the original shooting brakes, all which featured only two doors.
From there, a lower, two-door version of the wagon was born, suggesting all the sexy sleekness of a sports car, but with room, 72 square feet of cargo space, to be exact, and practicality not usually associated with sports car styles.
Although it is a five and not a two-door vehicle, the Magnum SRT's sloping style reminds consumers of a classic coupe.
Like most vintage treasures, shooting brake-styled cars are increasingly hard to come by. Most cars simply fall into the wagon category. But some, like the Magnum SRT, are true to the original style and form.
Other examples include:
1960 Sunbeam Alpine Shooting Brake
1965 Aston Martin DB5 Shooting Brake by Harold Radford
1968 Reliant Scimitar GTE
1972 Volvo 1800ES
1992 Aston Martin Virage Shooting Brake
2004 Chevrolet Nomad Concept
2006 Volvo C30
2008 Volkswagen Scirocco
2008 Renault Mégane
2011 Ferrari FF
2014 Volvo Concept Estate
A Rare Find
Since it was discontinued in 2008, locating a pre-owned Magnum SRT these days is almost like searching for a needle in a haystack.
Not only does the Magnum SRT feature authentic vintage styling, beloved by car enthusiasts, but Dodge only sold about 4,000 models, and only 240 from the 2008 model year. Not impressive sales figures, for sure, however, the scarcity of these models has some in the automotive industry speculating that the SRT will soon be considered a classic car.
As is the case with supply and demand, scarcity has increased this car's appeal and value, even if only by emotional appeal.
From the Horse's Mouth

In keeping with the hunting theme, it's worth ferreting out consumer reviews. Let's keep in mind the fact that this is a Dodge. A Dodge muscle car dressed as a station wagon.
Maybe it's no surprise that it was discontinued not long after it launched. Muscle car enthusiasts want their muscle cars to look…well, muscled. The SRT might have fallen short of consumer expectations; however, though they are few, the consumers who purchased the SRT loved it and continue to sing its praises.
The praises echo similar sentiments: roomy, safe, outstanding performance. Many consumers from the Dodge community, a tight-knit  group of like-minded enthusiasts, complain that Dodge never should have discontinued the SRT and celebrate its unique look, fun style, practicality, and whisper-quiet ride.
Considering the fact that other manufacturers have released or are currently releasing their own wagons, Magnum SRT enthusiasts insist that those competitors do not match its eye-catching style or outstanding performance.
Dodge might want to seriously consider re-releasing another similar model, given the rave reviews and proven specs.
No matter what the experts or amateurs say, why not stop by a Dodge dealership in Miami, and put the specs and claims to the test? Be your own judge, keep your own counsel, but do not miss out on the opportunity to drive what could one day soon join the ranks of classic collectible cars.