5 Unexpected Features of Modern Pickup Trucks
When you think about buying and driving a truck, you likely think about the convenience of having a way to haul cargo, whether you are an avid gardener who needs large piles of mulch or to rent equipment or you are a hobbyist woodworker who regularly needs to pick up large pieces of lumber. You might also think about the power that a truck offers, allowing you to cut easily through mud and snow or to conquer rocky terrain — especially useful if you live in a snowy climate or enjoy camping and other outdoor activities.
What you might not expect when buying a pickup truck is heated and cooled seats or a sophisticated infotainment system. Pickup trucks are known for their practicality, not for luxury. When you shop RAM trucks, you get practicality and power in one stylish and sophisticated package.
Some trucks offer these luxury features on the standard models, but others offer them as upgrades. Here are the top five unexpected features you can find on modern pickup trucks:
Infotainment System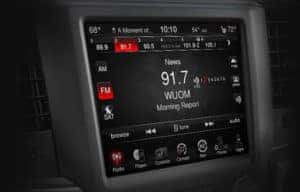 Instead of a variety of knobs and buttons on your truck's dash, you are likely to see a touchscreen that looks like a computer monitor or tablet. You have your very own command center.
The infotainment system can include controls for the vehicle, such as the radio system, the safety cameras, and more. The system can also display information about the vehicle, such as fuel efficiency, engine temperature, and more.
Many infotainment systems have much more advanced features, such as navigation systems, Bluetooth connectivity for making phone calls or uploading music, and a variety of apps for everything from checking the weather to finding the nearest gas station.
RAM trucks have Uconnect systems that also have wi-fi capability. You can turn your truck into a mobile office, connecting to it with your laptop or tablet. There may even be USB ports to charge your devices.
Collision Sensors and Cameras
Airbags are just the beginning for safety features. The most sophisticated trucks have a full line of collision sensors and cameras to give drivers more "eyes" on the road.
Amenities can include backup sensors, forward collision warning systems, rearview cameras, lane departure warnings and more.
Backup sensors and rearview cameras are attractive features for a pickup truck. The large size of the truck makes it harder for drivers to see behind them when they are backing out of a driveway or parking space, and the sensors and camera help them avoid backing up into another car or tree. The camera is especially useful when attaching items to a hitch since it provides a better view of the process from the driver's seat.
Lane departure warnings are also helpful in preventing collisions. Trucks often take up more of the lane, and it can be easy to drift over the line without knowing it. The system sounds a chime or vibrates the driver's seat to warn drivers when they drift out of the lane.
All of these sensors and cameras act like a navigator when you're driving, keeping you and your truck safe.
Electronic Side Step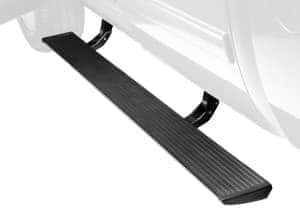 The side step makes it easier for you to get in and out of a truck that sits high off the ground. Yet the side step can also lower the truck's clearance.
An electronic side step automatically juts out when the door is opened, and it automatically retracts when the door is closed. The electronic side step gives you the convenience you want while also preserving the truck's clearance. You don't have to worry about driving over bumpy terrain and damaging the step.
Leather Seating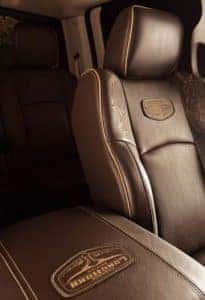 Leather seating is the height of luxury. Most trucks use a synthetic material that is not very pleasant to sit on. It can get very hot in the summer, very cold in the winter, and sticky and stiff throughout the year. Leather is soft and supple, providing a comfortable seat every time.
Some trucks have additional detailing that enhances the look. For example, the RAM Laramie Longhorn has embroidered seating that is designed to look like a saddlebag. Other trucks include contrasting colors for a unique and sophisticated look. Special editions also include unique badging on the seats and head rests.
High-quality materials are used throughout some truck models. In addition to the leather upholstery, you may also see leather-wrapped steering wheels and shift knobs, real wood trim, chrome accents and much more. Your truck can look as sophisticated as any luxury sedan.
Hidden Storage
Of course you know that trucks offer plenty of storage in the bed. But you might be surprised at how much storage is inside the truck. For example, the RAM 1500 Laramie Longhorn has multiple hidden storage compartments in the interior. Lift a rear floor mat and you'll find a space for gear. You'll also find storage in the console, the doors and along the side panels.
You won't be able to store a spare tire or a piece of furniture in these hidden storage compartments, but you will be able to stow tools, emergency equipment, some sports gear and more. You'll make your truck interior less cluttered, and you'll get more space for storing the things you need, clearing up room in your truck's bed and toolbox. The interior storage also allows you to keep the items you need most close at hand, as well as to keep them in a more secure location.
When you shop for a truck, you don't have to choose between style and practicality. Today's RAM trucks have some of the most sophisticated features available in any vehicle. You would be surprised at how luxurious today's trucks are and how high-tech the gadgets are.
Now is the perfect time to shop for RAM trucks that include some of the most powerful engines, the largest towing capacities, and the most high-end features. Visit Kendall RAM today to test drive one of our high-quality RAM trucks and to experience the power and luxury for yourself. You'll feel like a king on the road in your new truck.