707-Horsepower Jeep Grand Cherokee Trackhawk is Not Just a Dream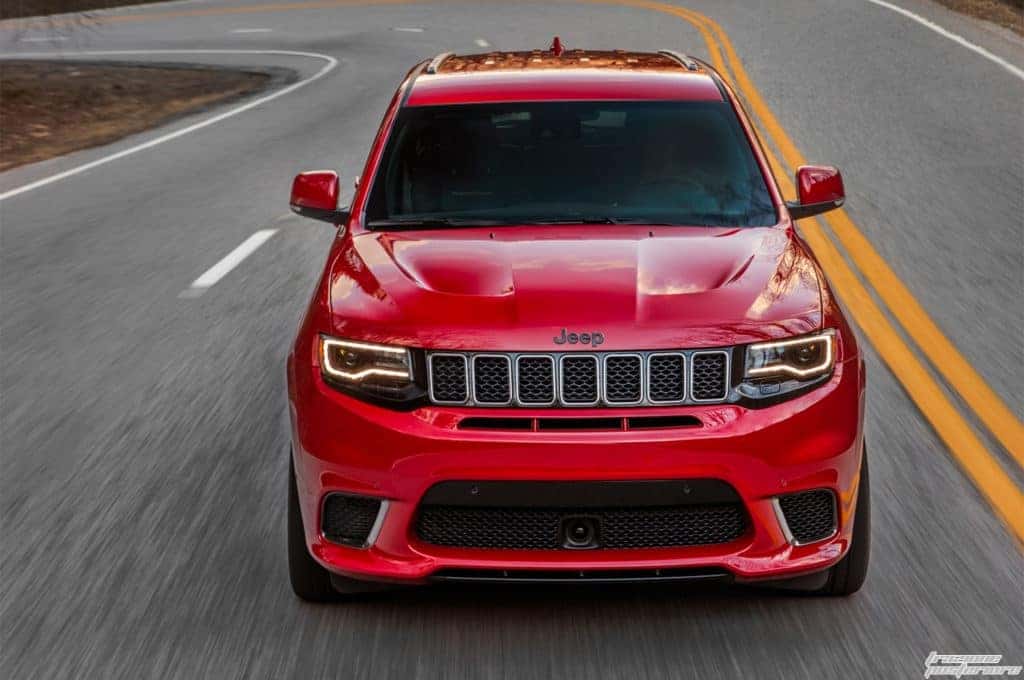 Jeep and SRT did it again — they have partnered up to make another record-breaking SUV, the Jeep Grand Cherokee Trackhawk.  The new Jeep is the most powerful and quickest SUV ever made. and no, you are not dreaming.
Jeep introduced the new model at the New York International Auto Show and it's safe to say everyone in the room was impressed. The engine in the Grand Cherokee Trackhawk is the 707-horsepower supercharged 6.2-liter HEMI SRT Hellcat V8 engine, which is the same engine in the Dodge Charger and Challenger SRT Hellcat models. The engine produces 707 horsepower and 645 lb-ft of torque.
So what does all of that power do? According to FCA, the Trackhawk goes from 0-60 mph in just 3.5 seconds, completes a quarter-mile in 11.6 seconds, and it has a top speed of 180 mph. Wow!
The engine isn't the only impressive and lovable performance feature of the Trackhawk. The SUV is equipped with Brembo brakes for serious stopping capabilities and it also has a TorqueFlite 8-speed automatic transmission. Like the Grand Cherokee SRT,  which was the first performance Jeep SRT made, the new Grand Cherokee Trackhawk has all-wheel-drive, which really makes it fly. Vroom vroom.
The Trackhawk is the most stylish Grand Cherokee yet (with the SRT being a close second). On the exterior of the Trackhawk is the class-c seven-slot grille surrounded with black trim, a twin-scoop hood, and rear quad-exhaust pipes, which add an aggressive look. Inside the Trackhawk is a luxury cockpit. The seats are Nappa leather and suede heated seats, and available features include dark ruby red seats and seatbelts and panoramic sunroof.
Of course, the Grand Cherokee Trackhawk is loaded with technology. The UConnect 8.4 system in the Trackhawk will be the first system so far to have Apple CarPlay and Android Auto and there are UConnect performance pages to help drivers maximize their driving experience. Since the Grand Cherokee Trackhawk has a top speed of 180 mph, the speedometer has been increased to a max of 200 mph.
We can't wait for this bad boy! How about you? Until then, check out our large inventory of Jeep Grand Cherokees at Kendall Dodge Chrysler Jeep Ram here.
Photo source: Motor Trend