A New Ram Dakota Is Expected To Join the Mid-Size Pickup Segment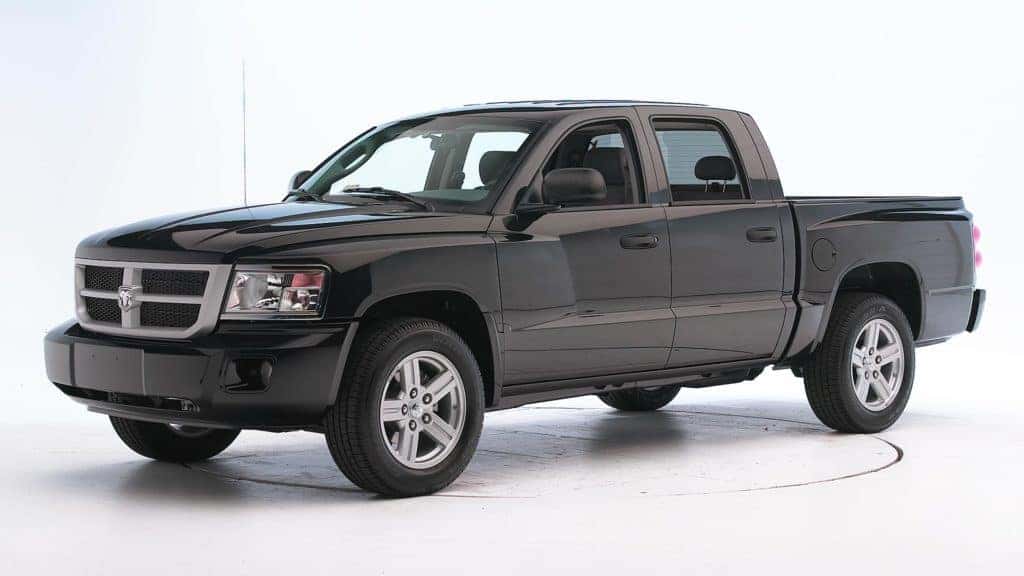 Photo Credit: IIHS
Fiat Chrysler has already done a lot to help customers out during the COVID-19 era that has dominated 2020. Generating hope is one of the ways FCA has helped customers out as well, which is something they have encouraged and promoted. Now, some Dodge enthusiasts will have hope a popular nameplate will return. The former Dodge pickup, the Dakota is slated to be built by fellow Fiat Chrysler Automobiles (FCA) brand, Ram. The new Ram Dakota will be made as Fiat Chrysler filed for a trademark application related to "parts for vehicles, namely, automotive exterior decorative trim". The company has wanted to relaunch the well-known nameplate for a while, but the mid-size truck will have company. The mid-size segment has grown and FCA has built the new Jeep Gladiator to compete. Eventually, the new Dakota will be set to enter the race. 
A Look Back at the History of the Dakota
The Dodge Dakota began its run 33 years ago back in 1987. Originally built with a V6 engine, the first-generation Dakota enjoyed a decade long run. An update in 1991 saw the addition of an inline-four engine. The second-generation saw a segment-first V8 powertrain option added. The Dakota also added better performance suspension and sales continued to do well enough through 2005. Dodge produced the first six years of the third-generation Dakota, which went on sale in 2004. Ram entered the picture of the third-generation Dakota in 2009 and the Dakota was last seen in 2011. Now, after a decade the nameplate and spirit of the vehicle are expected to be lifted and resume a new run that will aim to extend its legacy. After 25 years of production, its a safe-bet the Dakota will have a niche in the mid-size segment yet again. In its peak, the Dakota sold 177,395 Dakota pickups in 2000. In any given year up until 2006, the Dakota generated 100,000 owners. 
When Can We Expect the New Dakota?
FCA has previously announced intentions to offer a new mid-size pickup as early as 2022. The pickup could even debut earlier, but that depends on how slow the rollout takes for FCA amid the coronavirus outbreak that has slowed some FCA production thus far. While plants have started to begin production again slowly, the aim is still to push pickups in a big way. The Ram pickup will offer single and quad cab options that differ from the Jeep Gladiator, thus allowing different options for customers in the mid-size pickup markets. Options will be plentiful as FCA is doubling down on adding a greater truck variety for buyers. Thinking about adding a new pickup for business or lifestyle purposes? We're here to provide for our customers with exceptional deals and a new inventory of Ram 1500 pickups and Jeep mid-size pickups. 
Go With Kendall To Get the Vehicle You Want Online!
Buying from home is easier than ever with our staff fully ready to handle all sales, trade appraisals and providing a stellar customer experience the whole way through with leasing and buying options. Check us out right now on Kendall Dodge Chrysler Jeep Ram to find what you need for all things automotive. 
Not sure if your current ride is running well or needs some work? We're here! We are able to make sure you're back on the road fast with our experienced service staff. Make an online service appointment and we can help you with your vehicle problems. We look forward to being your center for all things automotive.