A pair of kings – 1968 Coronet R/T and Super Bee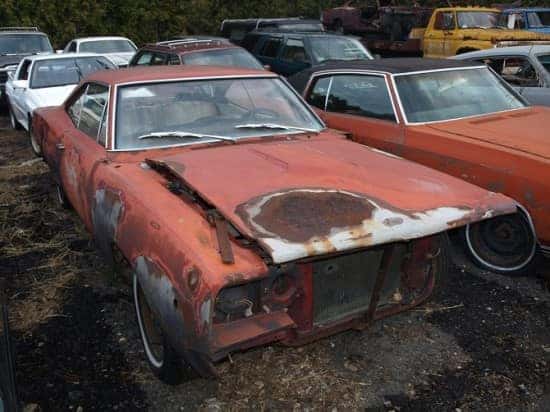 The above car might not look like much, but it was a model that has a lot of history behind it. We'd prefer to ride around in a 2015 Dodge Durango, but such minds as Steve Magnante seem to deem this 1968 Coronet R/T, as well as the Super Bee it was found with, as salvageable. We would love to see these babies back in their rightful form. Who would imagine finding a pair of '68 Coronets sitting in the same salvage yard in New England? We are just happy the owner of said yard could appreciate the Dodge history in those things. Let's take a look at said history.
We first saw the Coronet in 1949, and that was a big, big year for Dodge. Like the rest of the domestic auto industry, it took Dodge a few years to transition from making tanks, bomber engines and gun sights for four long years. The years immediately following saw warmed-over pre-war models. In 1949 however, we saw a new lineup of vehicles, and they weren't listed by their usual names. Dodge used one of those alpha-numeric naming systems that had stemmed from the very first Dodge offering in 1914. Models were finally adorned with chrome-plated external emblems and badges, a commonplace thing nowadays, but a big revamp back then. This breakthrough lineup in 1949 was home to the Wayfarer, the Meadowbrook, and our car of the hour – the Coronet.
The year of both of these Coronets, 1968, was also a big one for Dodge. With newer cars that we still see today, like the Charger and Dart, Dodge was delivering to the folks wanting excitement. Retail sales jumped a whopping 47% over the prior year's sales. One might assume that the young new Dart was responsible for such a happy increase, especially as they were and continue to be a mainstay at car shows, but it was not the main seller. The mid-sized Coronet contributed more sales and dollars to Dodge Division's bottom line than any other model. Amidst all the various types of Coronets, they accounted for 36.73% chunk of sales (out of 606,000 Dodge cars sold that year), while the Dart was in distant second with 28.35%.
It may have been the switch to the "Coke Bottle Theme" subtle curves over the sharp angles of the '67, but who can know for sure. Thankfully, both the Super Bee and Coronet R/T were found, and are awaiting restoration. A happy ending for an amazing set of cars.