A Wild Carbon Fiber Dodge Challenger SRT Demon Appears On Sale!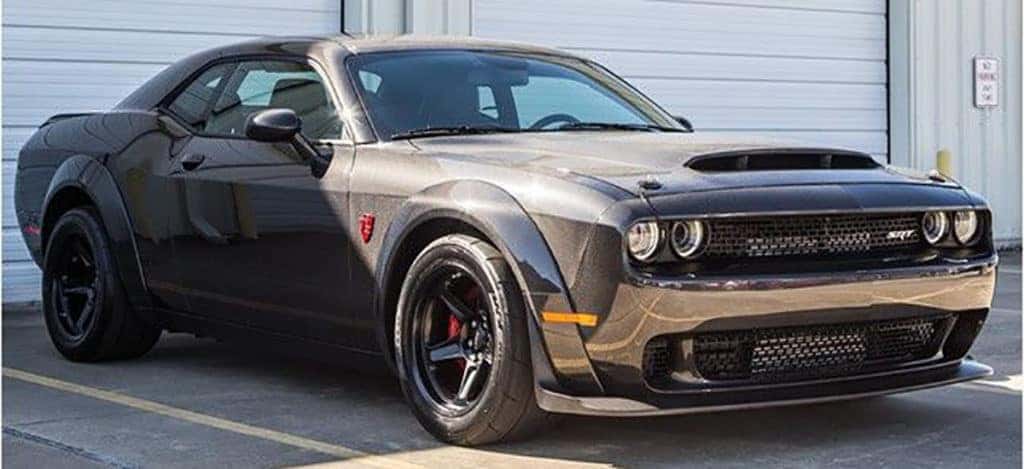 Amongst drivers that appreciate the muscle car segment, few recently produced vehicles are more sought out from racing enthusiasts than the 2018 Dodge Challenger SRT Demon. This exclusive muscle car was limited in its production and the hands at Speedkore, the firm well-known for rebodying muscle cars in real carbon fiber, created a 1200-horsepower twin-turbo Dodge Challenger SRT Demon for SEMA in 2018. Recently, the model Demon was one of four Demons that were upgraded with Speedkore's weight-reducing carbon treatment. The lighter a vehicle, the faster a vehicle can ultimately go. Among those few Demons, only one is left for grabs. 
One Dodge Demon To Rule Them All
The prized Speedkore 2018 Dodge Demon is currently listed on the DuPont Registry, sporting the same full carbon treatment as the first show car. Including all of the SRT Demon's factory body panels— the bumpers, roof, hood, fenders, and flares—have been replaced with identically shaped carbon fiber pieces. While the SRT Demon looks the same, it's actually 200 pounds lighter and ideal for drag racing on the track. That's the specialty of the Dodge Demon. 
Unlike the original show car, though, this Demon has retained its stock supercharged setup. That means a 6.2-liter V-8 pushing out 840 horsepower on race gas, sending power to the rear wheels via an eight-speed automatic transmission. Amazingly, this fantastic muscle car only has six miles on the odometer. We would guess the original owner had the car shipped directly to Speedkore for the carbon body treatment before hiding this monster away in a collection to sit and gain value, like a treasure waiting to be discovered. Apparently, the offer to find out how much just two years later is appealing!
Price of The Extremely Rare SRT Demon
The exclusive and elusive 2018 Dodge Challenger SRT Demon is currently being listed for a whopping $169,995. That's a lot more than the original MSRP, listed at $88,000 MSRP just two years ago. Keep in mind though, less than 3,000 of these vehicles were produced. For one lucky owner, they will have their hands on one of the rarest muscle production cars ever built. Today, as after the vehicle came out, Dodge holds they won't be making any more SRT Demon muscle cars again (The Dodge Challenger SRT Hellcat comes very close). Don't worry if this vehicle seems a little fast for your taste, there are many Dodge vehicles that have less than 840 horsepower. Check out our impressive line-up of the latest Dodge collection with us today at Kendall Dodge Chrysler Jeep Ram. 
Buy New Dodge Muscle With Our Help
Not every muscle car is the same and we can show you our entire lineup of new Dodge Challengers, including the 2020 Dodge Challenger SRT Hellcat. If you're curious if you should buy or lease, let us assist you to make the best decisions. We treat all our customers at Kendall Dodge Chrysler Jeep Ram like family. Come for help with any buying, selling or leasing needs. Feel free to ask us about trade-ins as well.
We don't want you to wait any longer if your ride has maintenance issues. Allow us to help return your vehicle to the road fast with our trusted service staff with an online service appointment and a quick visit to our service center. We hope to see you today!