Accessories To Reduce Truck Bed Drag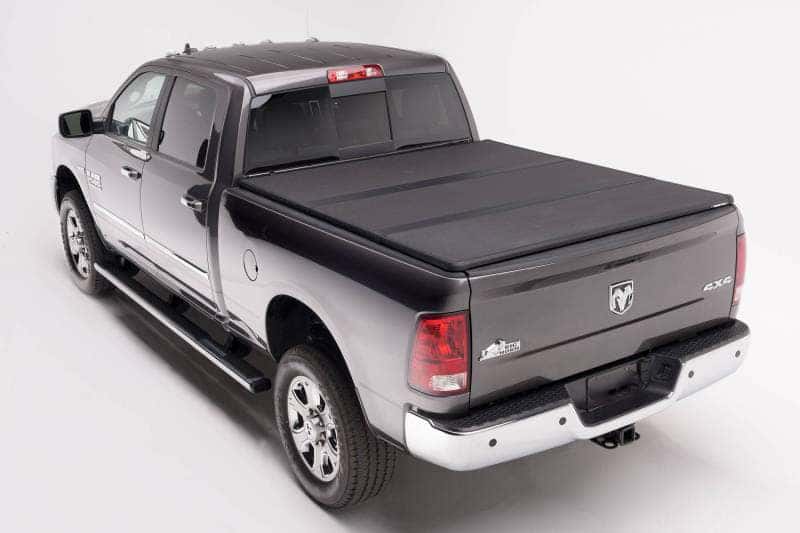 Photo credit: Extang
The reduction of drag is a very important challenge for all auto manufacturers today. Drag is the resistance caused by penetrating the atmosphere with a truck's leading edge, which creates turbulent airflow over, under and around a smooth surface. The biggest reasons to reduce drag is fuel efficiency and a to improve the performance of pickup trucks. Lower drag yields greater performance characteristics like a higher top speed and better stability. Manufacturers constantly seek to improve gas mileage for trucks as customers' need for larger, more powerful trucks increase. Lower drag also means lowered aerodynamic noise and a decrease of greenhouse gas emissions via the tailpipe.
Modern designs for most pickup trucks are often wider and higher up with high front fascias due to economic, aesthetic and functional requirements. Ram trucks have been on the forefront of designing a sleeker-coefficient aero package with each model. And yet, there are various aerodynamic add-on devices available to consumers that are able to be connected to pickup trucks and minimize drag. We'll go over some of those that drivers can get for their own truck.
Tonneau Covers: Known for being able to be rolled, slid and folded before being locked down into place, these retractable covers do their part to protect truck beds. Tonneau covers also help reduce any air from getting into the truck bed, thus slowing the vehicle down. The effect of drag will be reduced around 6% according to SEMA (Specialty Equipment Market Association) and this can help drivers save some money over time with better fuel efficiency. The amount of reduction is dependant on the cab style and bed length.
AeroCap: Aerocaps are essentially Tonneau covers, and these devices help drivers who are constantly moving heavy equipment and spending a lot of their time on the road. They help secure cargo and there are differences in sizes, but they all cover the entire bed of the truck. Some are more raised than others.
Abstract: This is a device that includes a main top panel and two opposed side panels, which are mounted to the cab of the pickup truck upon the aft facing, rearward surface of the truck cab that contains the rear window. Mounted to the back of the truck cab, installation of the aerodynamic drag reducing device helps the gas mileage by reducing the low air pressure region created behind the truck cab while moving. An abstract is pictured above.
Other Ways to Reduce Drag
Tune the grille and fascia openings, place spats or a small spoiler in front of the tire opening to reduce turbulence, tune the size and shapes of the outside mirrors, add a rear spoiler that rises at increased speeds, adjust the front fascia and air dam to reduce drag. We know the importance of having a reliable pickup that provides the most for their owners. Ram trucks have not only fantastic strength, but remarkable gas mileage. Check out what we have to offer today at Kendall Dodge Chrysler Jeep Ram.
Let Us Be Your Truck Provider
If you're looking for a new Ram of your own, look no further than Kendall Dodge Chrysler Jeep Ram. You don't have to watch on the big screen the latest and greatest Dodge Chargers. Our professional staff is here seven days a week and ready to help you find the vehicle you want. Stop by for a test drive on the latest 2019 Dodge Ram Trucks and we'll ensure your shopping experience is wonderful from start to finish.
If you have any repair or servicing needs for your current vehicle, now is a great time to have those issues taken care of. Our knowledge maintenance staff is highly trained and can help you maintain and raise the value of your current vehicle. We are ready to solve your situation, even if you didn't buy with us.