All-New 2020 Jeep Gladiator Stealing the Wrangler Spotlight?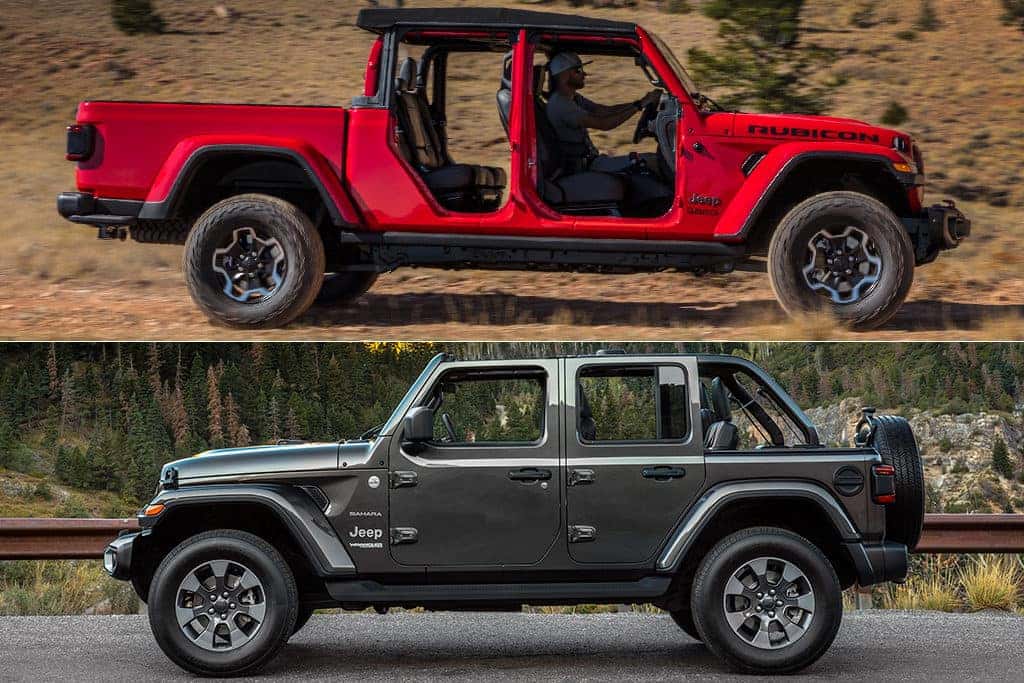 Photo credit: AutoTrader
Jeep only has one spot for their top-selling vehicle and experts are weighing in. The early sales of the all-new 2020 Jeep Gladiator pickup showed how fast consumers were to buy the first Jeep pickup since 1992. The versatility of the Jeep Gladiator now seems to push the heritage and accessibility offered with the Jeep Wrangler out of the spotlight. While 2018 was a record-setting year for the Jeep Wrangler, 2019 has had better sales than 2017, but way off from the record-setting numbers of 2018 through the first quarter.
Gladiator To Blame For Lower Jeep Wrangler Sales?
In the first quarter of 2018, there were 55,504 Wranglers were sold. Not too far behind, but slower than last year there were 49,988 Wranglers sold in 2019's first quarter. 2018 saw over 14,000 more Wranglers sold than it did in 2017. In 2017, 41,311 Wranglers were sold through the first quarter of 2017. So, the Wrangler isn't doing badly at all, but the first wave of Launch Edition 2020 Jeep Gladiator vehicles saw exactly 4,190 of those special edition Gladiators sell out in less than 24 hours. With the all-new Jeep model resembling the Jeep Wrangler design we can see customers holding off on buying the Wrangler as the Jeep Gladiator provides more functionality thanks to a long steel bed and it's status as the newest Jeep product.
A Closer Look At the 2020 Jeep Gladiator
There's a reason an owner opts for a Jeep Wrangler over other SUVs. Usually, the functionality and ability to take off the doors, drop down the windshield and have a totally unique experience driving an open vehicle drives the decision. That same functionality is part of the Jeep Gladiator as well. In fact, the amount of parts and accessories that owners of the Gladiator can choose from provides over 200 options! The Jeep Wrangler is no exception to seeing new changes by the owner's hand and the Gladiator is likely to follow that same formula.
"People will buy a Wrangler and then accessorize it to their own liking and do it the way they want it.  think the Gladiator, with a lift and some 35s — people will be following you to gas stations, taking pictures and hanging out of car windows when you drive by." Doug Wilson, CEO of Wilson Auto Group.
Mopar Is Awaiting the Rush
Those who will buy a Gladiator will probably look to keep spending money on brand new accessories to complete the look they want with their new colossal pickup. The 2020 Jeep Gladiator is expected to become the most popular with customizations from military-grade LED lights to racks for recreational use, such as adding bicycles or surfboards and more. Best of all? Mopar will have over 90 percent of their Gladiator products ready to go during the launch for customers to buy.
"The industry is becoming more about personalization and customization, and owners being able to put their own mark on a vehicle to make it perfect for them," -Kim Mathers, Head of Mopar Accessories and Performance
Ready For the Jeep Gladiator?
Fiat Chrysler Automobiles is excited to launch their all-new pickup with great enthusiasm coming from the fanbase as well as the Jeep brand. Mopar, the parts company that is part of FCA with secondary accessory products believes the 2020 Jeep Gladiator will provide more attention going forward than the latest-generation Wrangler for the foreseeable future. The starting price of the base model Jeep Gladiator is $37,040 MSRP (plus destination fee) and should be hitting dealerships almost as this article is being written.
Find the Newest Jeep Vehicles Today at Kendall Dodge Chrysler Jeep Ram
At Kendall Dodge Chrysler Jeep Ram, we hope to take care of our customers. From sales to servicing, we're here to assist! If you're planning to go off-roading, we can help make sure your Jeep is ready to handle the adventure. We have the new 2019 Jeep Wrangler ready for your test-drive. If you're wondering if you can buy or lease? We can help you make the best decision. From trade-ins to selling, we're here to provide a solution.
Our friendly servicing team handles repairs and regular maintenance every day, we look forward to helping your vehicle return to top shape. With a simple online appointment, our service team can begin making you a satisfied customer. We look forward to seeing you today!