Armored Jeep Wrangler Gets Starring Role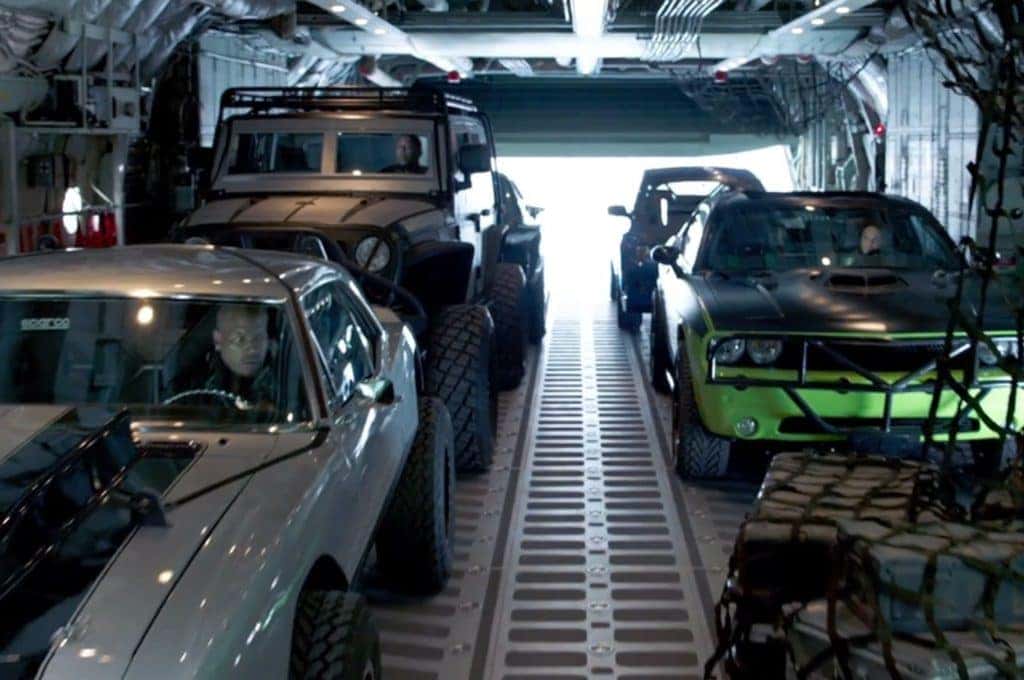 While Jeep may be advertising the Wrangler Unlimited as a trail-rated model that is perfect for "adventure fueled by the power within," we're not sure the automaker meant that to include dropping out of an airplane and parachuting down to the trail.
Yet that's exactly what happens with a Jeep Wrangler Unlimited and other vehicles in the trailer for the new "Furious 7" movie, starring Vin Diesel and Paul Walker.
You won't see this Wrangler Unlimited at any Jeep dealerships near you. The armored model has received plenty of modifications to make it capable of reaching top speeds and of completing death-defying stunts in the movie, which follows a gang of street racers who often find themselves at odds with the law.
The character Tej Parker, played by rapper and actor Chris "Ludacris" Bridges, will drive the Jeep Wrangler Unlimited in the movie.
One scene in the trailer shows Ludacris, Diesel and Walker driving their vehicles out of a jet in mid-flight. Diesel drives a classic Dodge Charger while Walker drives a Subaru WRX STI. Other vehicles include the new Dodge Challenger R/T and a classic Camaro.
All vehicles deploy a parachute, land safely on the road, and keep speeding through the getaway.
That's not a test drive you'll be able to take after visiting a Jeep dealership.
While you're unlikely to need to put the Wrangler Unlimited through its paces by driving out of a jumbo jet, you can take it off road and over some of the most rugged terrain. The powerful engine and tough exterior will get you through most driving conditions unscathed, and the posh interior will ensure you feel comfortable while you're doing it.
"Furious 7" is expected to be the last in the "Fast and the Furious" film series since Walker, one of its stars, died in a car crash at the end of 2013. The actor had already shot some scenes for the new movie, and his brothers were used as stunt doubles to complete his scenes.
The film is expected to be the biggest in the series, as well, and that attention could shine a spotlight on the cars in the movie, such as the Jeep Wrangler Unlimited.
Now is a great time to visit Jeep dealerships near you to snap up one of these amazing new models. You won't get an armored version, but you can still feel like you're leading your own adventure when you are behind the wheel.