The Success of the Dodge Aries


Imagine my surprise when I discovered that I have two things in common with a car I had never even heard of. Like the Dodge Aries, I was also born in 1981 and my birthdate just so happens to put me under the Aries astrological sign.
Now whether that means I was born under a good or a bad sign, I have no idea. But when it came to the success of the Dodge brand, the Aries signaled nothing but good news.
Narrowly avoiding one marketing mishap, the Dodge Aries ultimately enjoyed impressive sales and evolved over the course of its rather short, nine-year span, to reflect the demands of its consumers.
So, what was the Dodge Aries, besides a Chrysler k-car manufactured in the 1980s?
You'll be hard-pressed to find one at your area Dodge dealers in Miami, but if you could, this is what it would look like.
Dodge Aries – Chrysler's Special K

In 1981, Chrysler launched the Dodge Aries and the Plymouth Reliant as the K cars for that model year. Some in the automotive industry dubbed them K car twins.
What is a K car?
Simply put, a K car is an automobile platform designed to seat six passengers across two bench-style seats, one in the front and one in the back. Most cars at this time could only accommodate five passengers, so room for one more person was an attractive K-car feature.
The Dodge Aries made room for six passengers in a choice of three body styles: a two-door coupe, a four-door sedan, or a four-door wagon.
Standard power came from a 2.2 inline four engine, generating 82 horsepower with 111 lb.-ft. of torque. Available transmissions included a four-speed manual and a three-speed automatic.
Besting the Toyota Corolla (that car has been around forever!) in the zero to sixty miles per hour sprint, the Dodge Aries arrived somewhere between twelve to thirteen seconds.
Consumers could opt for the Mitsubishi brand motor, a 2.6 liter Hemi, and those cars were easily recognizable by the brand "2.6 HEMI."
Weighing between 2,300 and 2,400 pounds, the Dodge Aries started at $5,880.
Unfortunately, false or at least misleading advertising lured a lot of shoppers into showrooms, but precious few of them actually made an Aries purchase. Having been advertised as ultra affordable, the Aries' actual price tag, which was significantly higher, left a sour taste in most people's mouths.
So, in a quick about-face maneuver, Chrysler slashed the price by re-releasing a seriously dressed down version of the car. Like practically naked dressed down version. As bare bones as could be while still being a new car.
What could have been, or what started as a sales nightmare became an overwhelming success, and both the Reliant and Aries had more sales in 1981 than either had during any other model year thereafter.
That said, sales did continue to prove strong in the subsequent model years as Chrysler continued to tweak its K car design.
Take a look at the commercial that introduced the 1981 Dodge Aries to the world.
The Ever-Evolving Dodge Aries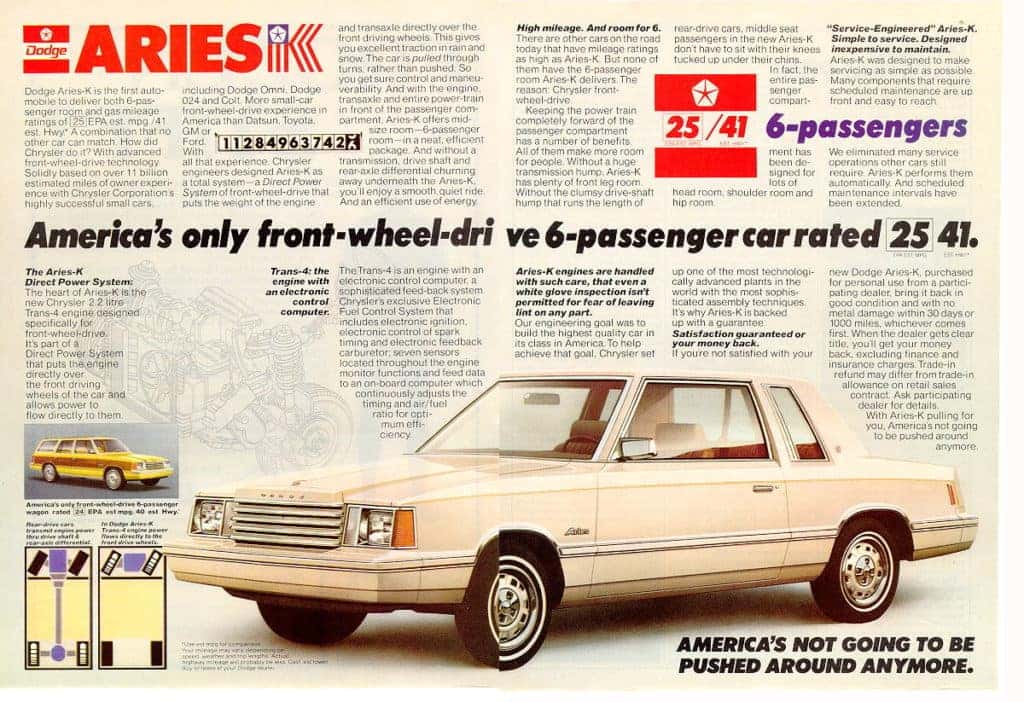 The following year, the Dodge Aries featured an updated powertrain and a new window mechanism, which was great since the rear windows in the 1981 model couldn't be rolled down at all.
An optional manual shifter console was created and Chrysler altered the Aries' suspension for a more comfortable and quieter ride.
By 1983, Chrysler's K cars were picking up serious speed and the enhancements evolved to meet consumer demands.
This was the year that brought power brakes and self-adjusting rear brakes as standard equipment on every Aries car.
The brakes were also larger and more responsive. And the Aries now offered improved balance and had a tethered gas cap and a battery that required no maintenance.
With these changes, each model offered two trim levels. The Aries sedans and coupes came as base or Aries Special Editions, while the wagons were either Custom or SE.
All SE models were freshened up with cosmetic changes, like wood grain touches throughout the cloth-covered cabin, but Chrysler also created a quieter ride by using more sound deadening materials, like polyester, rubber, nylon, and plastic.
The engine was quicker and more fuel-efficient by eight percent on the highway, thanks to a new five-speed manual transaxle.
Moving along to 1984, the Dodge Aries got an engine boost, the 2.6-liter getting 101 horsepower and the 2.2 generating 96 horsepower.
Other new features for the 1984 model year included a revised suspension, a brand new electronic radio (such an antiquated detail when I think of my last post about Bluetooth technology and infotainment systems), as well as a fourteen-gallon fuel tank.
Inside, the Aries boasted a new dashboard – all black, with circular gauges. Speaking of antiquated, rather than arrows, the turn signals on the gauges were identified "left" and "right," with the words written out completely.
For 1985, the Aries got a little makeover. On the outside, the Aries sported a sleeker hood, larger taillights, and an eye-catching blacked-out front fascia. The interior saw some changes, too, including an updated climate control panel, an optional heavy duty suspension, and…wait for it. Wait for it…map pockets.
Map pockets! Yes, they are exactly what they sound like. Essentially mesh pockets for storing maps. Talk about old-school compared to our fascination with, not to mention critical reliance on, today's GPS navigation systems. I wonder how many new generation drivers can even read a map.
The following year was the last for the 2.6-liter engine, while the 2.2 received fuel injection, enhancing its power to 93 horses, driven by a standard five speed manual.
An optional 2.5-liter engine was available on all Aries models, with the exception of the base level. With the 2.5 single-point fuel-injected engine, the Aries enjoyed 96 horsepower.
Other enhancements included a new additional brake light, 90 amp alternator, and a standard close-ratio five-speed manual. The LE trim got 14-inch sport wheel covers, while all SE sedans now came with a vinyl center armrest and new cloth interior. With the exception of the base level, the Aries could be enhanced through available Protection and Popular Equipment Discount packages.
The Beginning of the End for the Dodge Aries

With the release of the Plymouth Sundance and Dodge Shadow, it looked as though the dynamic duo that was Reliant and Aries were on their way out. But instead, popular and persistent demand kept them holding onto the road for another two years, with a few little upgrades for 1987 and 1988.
Hear what this enthusiastic spokesperson had to say about his 1988 Dodge Aries. Do you like the cool stuff? Don't miss the map light in this commercial!
Ultimately discontinued in 1989, the final model year of the Aries saw it strengthened to 100 horsepower and outfitted with even more soft-touch details.
The ride was more comfortable and quieter than ever before.
Even with the improvements, the price remained competitively affordable, but the Aries was finally pulled from the assembly line in 1989.
Although it has been more than a quarter of a century since the Aries K cars were discontinued, they remain an important chapter in the Chrysler-Dodge history, an automotive legacy which continues with this year's 2015 Dodge lineup.
Scope them out at your local Dodge dealer. Grab life behind the wheel of a Dodge and find out what's it's like to drive a brand new car backed by a long history.