Ball and Buck Restore Jeep Wrangler CJ-8 Scramblers For Customers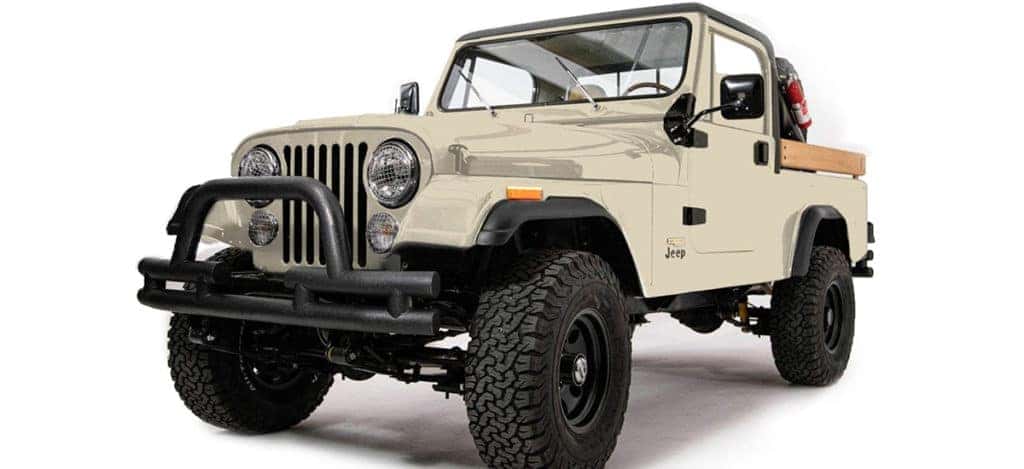 Jeep purists are always happy to learn about ways to enhance their Jeep vehicles. For some, this is more than just fun, it's a way of life. These enthusiasts are the ones that travel to Toledo to join the thousands that come to the famous Jeep Jamboree that takes place each year. Known as "Jeepers", these are the fanatics that love all things Jeep. We are Jeepers ourselves at Kendall Dodge Chrysler Jeep Ram. Recent details have come from Ball and Buck, a brand dedicated to hunting, fishing, and other outdoor equipment and clothing is officially joining the group of companies that make Jeep accessories. A new specially upgraded version of the classic Jeep CJ-8 Scrambler is available with the assistance and work put in by Ball and Buck.
A Look Into the Ball and Buck
The new Ball and Buck Original Signature Series CJ-8 begins with the Scrambler, first introduced in 1981 and produced over a half-decade span till 1986, this was a Jeep vehicle similar to the modern-day Jeep Wrangler pickup. Built with a small pickup bed, this was a Jeep vehicle built with versatility in mind. These unique Ball and Buck special edition vehicles have been made thanks to the hard-working of searching around the United States to locate and revive old Jeep vehicles into what Ball and Buck creates. Once found, a Jeep vehicle is shipped over to Kyle Smith of the Original Bird Buggy in Georgia to be worked on. Smith works on the modernized process and ensures the vehicles are crafted to be exactly as the owner wants.
The Enhancing Process
Inside, work is done on the interior to wrap the seating with Ball and Buck's signature camouflage leather. Also added are solid brass shift knobs and new heater controls. The seats are also upholstered with World War II tent canvas. Practical items are added including an integrated shotgun sleeve and a pocket knife with a detachable sheath for customers. Customers will enjoy the all-important air conditioning and GPS add-ons. The exterior gains include LED headlights and a solid bed liner is added. The bedsides are made of hand-carved boards crafted from sinker cypress, a block of wood harvested from the bottom of rivers in the South with added brass Ball and Buck logos. Stainless steel bumpers are added, and the rear boasts a 2000-pound-rated trailer hitch. Ball and Buck include a matching dog crate for the back, should an owner want one.
Continued Perks of the Ball and Buck Wrangler
Customers can choose from exterior trim choices, as well as engine color, and transmission case color for their Scramblers. The two exterior trim options are polished stainless steel or matte black. There are four geographic-themed color schemes: Coronado Sand, Everglades Green, Chesapeake Gray, and Sutton Black. Powertrain options are either a 4.2-Liter inline-six paired to a four-speed manual transmission or an LS3 6.0-Liter V8 crate engine that is paired to either a five-speed automatic or five-speed manual transmission. A third powertrain option is a Cummins turbo-diesel 2.8-Liter inline-four with a five-speed manual. Upgrades include fuel injection, traction control, and a full suspension setup from ARB.
What does this cost to own this exclusive Ball and Buck Original Signature Series CJ-8 Scramblers? The price starts at $65,000 and ranges up to $95,000. To order one, buyers have to be aware of the three to six-month process. Remember, they have to locate a suitable Jeep. Each specific vehicle is hand-numbered. Buyers are asked to place a deposit of $1776 upon ordering. Not sure about waiting three to six months to get a new Jeep? We can help!
Come to Kendall For All Things Jeep!
Want to test-drive a Jeep today? Check out our wide lineup of new vehicles, including our latest Jeep vehicles. Come check out the new 2020 Jeep Wrangler. We are ready to show off the award-winning 2020 Jeep Gladiator as well. Whether you're in Doral, Kendall, North Miami, Homestead, we're happy to help our South Florida and local Miami customers. Buying, leasing, or selling your vehicle has never been easier than with us in 2020.
Have a vehicle that currently could use some repairs or work done? Allow us to help with a simple online service appointment and visit our service center. We hope to see you today at Kendall Dodge Chrysler Jeep Ram!