The 5 Best Chrysler Vehicles to Buy Used

Chrysler has consolidated its lineup in recent years in order to focus on offering only the most essential premium cars, as well as to free up room to expand other brands in the Fiat-Chrysler empire.
But despite this, there are plenty of great used Chrysler vehicles available at dealerships across the country. From economical to entry level premium to performance luxury, Chrysler has a proud history of creating great cars.
And because you're buying a used car, you don't have to worry about depreciation nearly as much as new car buyers. This ultimately means you can upgrade to a car you might otherwise not be able to afford new. (If that's the case, there are a few great ones to consider on this list.)
To help you in your search for a great used car, here are five of the best Chrysler vehicles to buy used:  
2012-2014 Chrysler 300 SRT-8

The Chrysler 300 is a truly intimidating car. It's almost larger than life when you see it coming the opposite way on the road. From its exterior styling, you'd expect to find out that it's a premium, upscale luxury car worth $100,000 or more. But the truth is even better because you can actually afford to buy one.
The SRT-8 model is the top-of-the-line performance version of the classic Chrysler 300. Modified for power and handling by the experts at SRT (Street and Racing Technology), it's one of the few luxury cars that offer a mixture of raw power, sport car-like handling, and a luxury-quality interior.
It's also a fairly rare vehicle to find on the open market, as it was discontinued after the 2014 model year. Most of the ones you'll find were from the first generation. Still a great car, but the styling upgrades on the second generation make for a more modern appearance overall.
Powered by a 6.4-liter 392 HEMI V8, it makes an even 470 hp and 470 lb-ft of torque, which puts it in a league of its own for its price range as a used car. If you want something more than just your standard muscle car, or want something more than just your standard luxury car, you need to be introduced to a used Chrysler 300 SRT-8.
2011-2014 Chrysler 200 Convertible
Many were disappointed when Chrysler made the decision to not make a convertible version of the new 2015 Chrysler 200. One of the few FWD convertibles left during its four-year run, the 200 provided buyers looking for an economic, yet peppy entry-level car with a good mix of power and luxury.
Unlike performance cars, the Chrysler 200 Convertible was made for comfort, not weekends at the track and drag strips. And really, that's the charm of this now-discontinued model . It can comfortably fit four passengers, handle bumps and road imperfections better than a RWD performance or sports car, and has plenty of extra convenience features to improve the overall driving experience.
If you want to enjoy a convertible without the rough and tough driving experience of a sports car, the Chrysler 200 is your best bet on the used market.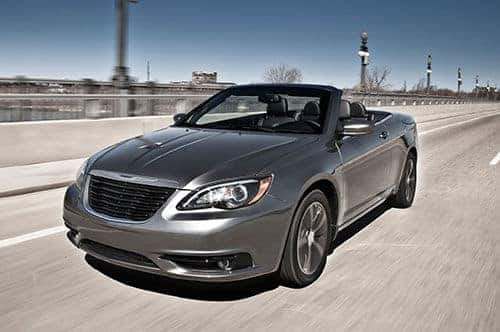 2011-2014 Chrysler Town and Country
Minivans may not be as popular as they once were in the U.S., but they're still incredibly functional vehicles for those that need to haul around more than 4-5 people at a time and need enough space to fit carry more than just a few bags of groceries.
And of all of the minivans on the market today, the Town and Country remains on the absolute best options for buyers. It's not the cheapest or the most fuel efficient, but its capabilities, reliability, luxury comfort, and features separate it from other popular minivans, such as the Toyota Sienna and Kia Sedona.
Its innovative Stow N' Go seating system provides an incredible amount of space that puts most SUVs to shame, and for way less added cost. If you want to find a used minivan with style and plenty of amenities at an affordable price, start looking for a 2011-2014 model year Town and Country!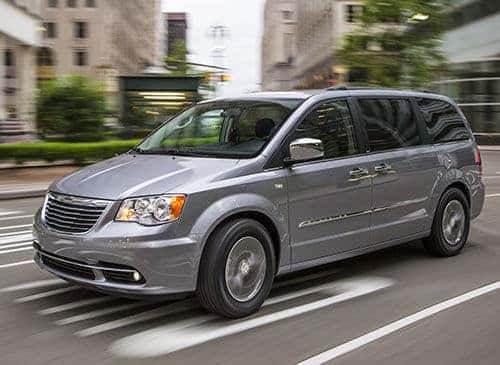 2006 Chrysler Crossfire SRT-6

There are so many two-seater sports cars on the market that it's easy to forget one made by an American company. But forgetting the Chrysler Crossfire SRT-6 would be a big mistake.
It was created during the mid-2000s when Chrysler partnered with Mercedes-Benz. And by the looks of the Crossfire, you could take the Chrysler logo off, put on a Mercedes logo, and it could pass for a German sports car.
Now, the base Chrysler Crossfire was a tame little car, with a Mercedes-sourced 3.2-liter V6 making 215 hp and 229 lb-ft of torque. With a manual transmission, it could do 0-60 mph in about 6.4 seconds. That's by no means slow for a non-performance sports car, but not something you brag about to friends at work.
The SRT-6, on the other hand, was a performance sports car. SRT strapped a supercharger to that same 3.2-liter V6, giving it 330 hp and 310 lb-ft of torque. That allowed it to go from 0-60 mph in about 4.8 seconds.
Less than 4,000 SRT-6 models were produced, meaning it's an extremely rare find, especially with low mileage and in excellent condition. However, even if you find one that wasn't taken care of the way you'd like, it might be worth picking up and fixing as a future collectible.
2008-2010 Chrysler PT Cruiser
While the PT Cruiser was a big seller for Chrysler in the 2000s, it wasn't the most loved car. Its retro styling ran some people the wrong way, but it had a loyal customer base of people who loved that it was unique in a compact car market saturated by bland sedans and hatchbacks.
Despite any negative news you may have heard, the PT Cruiser is actually a great, affordable used car. There are plenty trim levels and model options to choose from, including the performance-focused GT model which features a turbocharged engine that was used in the Dodge Neon SRT-4 and even a convertible.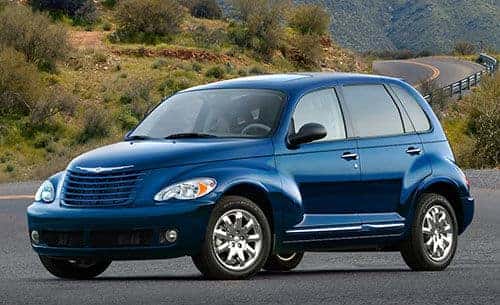 While the other cars on this list command a more premium price, the PT Cruiser was one of Chrysler's last non-premium economy cars and is more than worth looking at if you're looking for an affordable, yet function car.