Best Jeep Lift Kits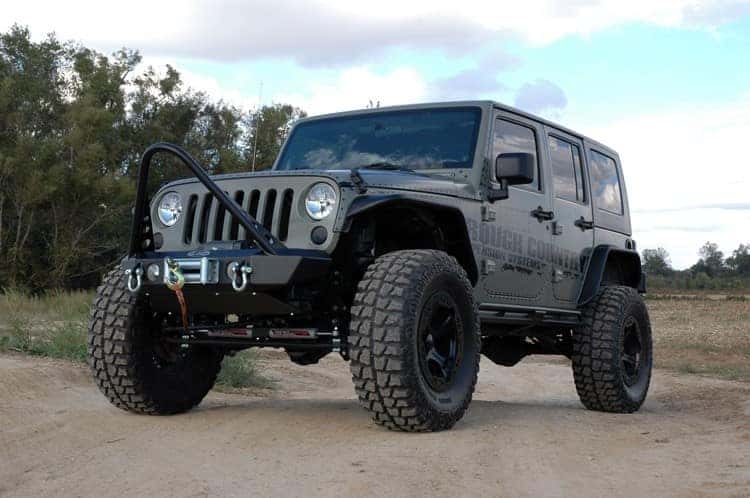 One of the main reasons so many drivers go back to their Jeep dealer in Miami again and again is because they love how easily they can modify and personalize their vehicles.
Though Jeeps are already durably built and engineered for optimal performance off the pavement, many adventurers like to outfit theirs to handle the most intense off-road situations.
Though the list of possibilities goes on and on, one of the most common aftermarket Jeep modifications that Jeep enthusiasts recommend is a lift kit.
What is a Lift Kit?
Different lift kits can be used to beef up a Jeep's looks, offer extra space for larger, more rugged tires, and increase ride height. Here's an overview of the most prevalent types of kits.
Some people opt for a body lift, using blocks or spacers to raise their Jeep. It adds to the vehicle's style, eeks out some extra room for taller tires, and it's the less expensive method. Unfortunately, it doesn't create additional clearance.
However, with a suspension lift, you get both benefits. By switching out the front and rear leaf springs and shocks, you can upgrade your tires and get additional clearance.
A suspension lift gives you the ability to take on more challenging off-road obstacles from more intense angles. And all the while, it makes the ride feel smoother.
While more costly than a body lift, most off-roaders  consider the suspension lift kit to be the most worthwhile investment because it provides a lot more capability.
Where Do I Get One?
In the past, off-roaders used to construct and rig up their own lifts with varying results. Sometimes it worked and sometimes it didn't, but way out on the trail was a tough place to find out.
Luckily, a number of well-known aftermarket parts producers now offer kits designed specifically for each kind of off-road vehicle.
They're unique to the make, model, and year, so it's extremely important to track down one that is particular to your Jeep. You should also make sure that you choose a kit from a reputable company to ensure the parts are high quality.
Who Installs It?
You can install a lift kit yourself if you're pretty savvy and have the proper tools. However, if you don't have much experience with modifications, it may be best left to the professionals.
There are many shops that specialize in 4×4 vehicles, and their trained mechanics can install the kit quickly and easily. You can save a lot of time and energy, especially because other work may have to take place at the same time.
Sometimes getting a lift also means re-gearing your Jeep. Because you're adding larger tires, your vehicle has to work harder to turn them. That can reduce your mileage and ultimately cause damage to the engine and transmission.
To avoid those issues, the shop may re-gear your Jeep to accommodate the new tires so they won't negatively impact the rest of the vehicle's systems. Your mechanic can advise you about whether or not re-gearing is necessary.
Is There Anything Else I Should Know?
There are a couple other major things to take into consideration before you proceed with installing a lift kit. The first is that raising your vehicle does increase the chances of rollover.
When you raise your Jeep's center of gravity, it changes the way the vehicle handles. And it's likely to feel less stable around sharp curves when you're driving fast.
Going with a lift that's too high can really throw off the balance of your Jeep and make it risky to drive. That's why it's so important to get the appropriate kit and avoid raising your ride to an unsafe degree.
You should also take it easy when you first have a lift installed and get reacquainted with your Jeep. You'll probably need to adjust your driving style a bit.
Secondly, modifying a vehicle can often lead to warranty issues. If your Jeep is still under warranty, talk to the dealership first to make sure that any future claims will not be turned down as a result of an aftermarket modification.
How Do I Choose the Right Kit?
Choosing the best kit for your Jeep has a lot to do with why you want to lift your vehicle. If you're going primarily for more aggressive looks and a bit more capability, you'll want something different than someone who's looking to consistently use their Jeep for extreme off-roading.
Think carefully about how much clearance you really need for regular use and how much larger you want to go with your tires.
Lifting your Jeep more than you actually need to will just end up costing you extra cash in the long run. Consider the extent of your off-roading plans, and make decisions from there.
Which Brands Should I Consider?
If you look online, you'll find a sea of manufacturers that produce aftermarket lift kits specifically for Jeep models.
Though the number of options may be staggering at first, by checking out reviews and recommendations from those who have gone before you, you can get a better idea of which kit will work best.
The following are some of the most highly recommended brands to look for.
Black Diamond
This company's kits are among the best reviewed in the industry. Consumers give Black Diamond kudos for their excellent warranties and customer support.
Owners also note that lift kits from Black Diamond tend to be very reasonably priced. The brand's products are consistently reviewed as the "Best bang for your buck."
Rock Krawler
If you ask for advice about lift kits on any Jeep forum, Rock Krawler is the name that will pop up. They make some of the most highly capable kits in the industry.
Jeep owners enjoy the nice, stiff suspension they provide, and their kit is praised for its off-roading prowess.
Teraflex
A popular, go-to company, Teraflex has a lot of loyal buyers who appreciate the outstanding balance of on and off-road performance their kits offer.
Their lifts enhance stiffness, but not too much, and are known for improving the smoothness of a Jeep's ride. Another perk is that their products are also affordable and pretty easy to install.
Rough Country
Rough Country's kits are best known for their user-friendliness. Even beginners find them extremely easy to install because they come with everything you need, as well as great instructions.
Topping off the list of Rough Country advantages, the brand's reasonable costs also attract many Jeep owners who are looking to do some modifications.
Rubicon Express
In online Jeep communities, drivers will often measure the quality of a lift kit by asking if it stacks up against one from Rubicon Express.
This brand has a reputation for getting the job done well without breaking the bank. They even offer a "Budget Boost" kit to give drivers a couple more inches of clearance at an impressively low price.
How Much Should I Expect to Pay?
The price of a lift kit is really determined by how much capability it provides. You can get a really cheap body lift kit that will only run you a couple hundred bucks. That may be just right to get the look you're going for.
But if your aim is to make your Jeep one of the most capable off-roaders around, you should definitely expect to pay a lot more.
Prices can range from a few hundred dollars into the thousands. And you should always read carefully to figure out exactly what the kit includes. In many cases you have to buy additional parts, like shocks, separately.
However, the investment, the sweat, and the time will be well worth it when you have your Jeep exactly the way you want it and you're able to break any boundaries that stand in your way.