Black package comes to Heavy Duty trucks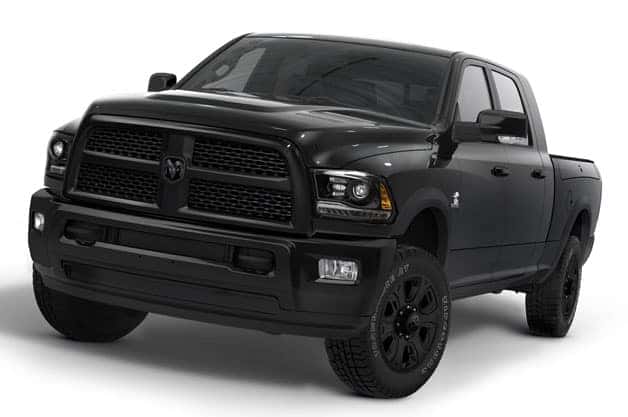 Are you (like us) one of the many that love the Black Express package Ram offers on its 1500 light-duty pickup? It looks amazing, but we know that some drivers need the capabilities that come with a Heavy Duty model. When it comes to Dodge Ram, Miami drivers have often voiced similar feelings considering how great of a package it is. For those drivers, good news is fast on the way. Buckle your seat belts.
The Atlanta International Auto Show saw the Ram truck brand rolling out the beloved Black package for its HD 2500 and 3500 SRW models. It looks something fierce, with its sinister-looking exterior sitting on 20-inch alloy wheels. From the fog lamps, to the grille, to the front bumpers, rear bumpers and badges, its all blacked out. All the bodyside badging has been removed too, unless you opt for Cummins power, in which case you'll get a nice chrome diesel badge on your blacked out ride.
It was the exact popularity of the Black edition light-duty truck that led to this, Ram spokesman Nick Cappa explains. "Ram has a reputation for going further on design and custom-looks from the factory," explained Cappa, referencing the Express, Sport and Longhorn editions. "This type of forward design-thinking led us to extend the aggressive appearance to the HD trucks, which in the past has been a bit more subtle."
Don't worry though, there's more. The Ram Heavy Duty Black package includes halogen projector headlamps with black bezels and 15 amber LEDs for the turn signals and three more for the side markets. Even the taillamps are trimmed in black with an assortment of LEDs, and the Parkview and Parksense systems are included as well. What's not to love? Let us know what you think below, and if you'll be joining the Black package posse soon!