Bulletproof Jeep Grand Cherokee Fleet Is Ready To Protect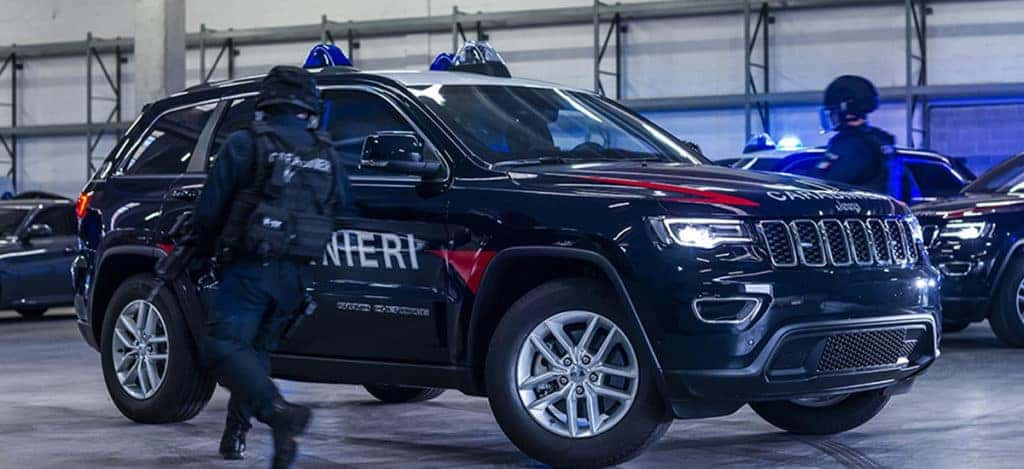 Photo Credit: Jeep
Fiat Chrysler Automobiles (FCA) has begun to produce the latest in tactical use vehicles with their Italian fleet of superior armored Jeep vehicles. The fleet contains 19 Jeep Grand Cherokees that have been created to join the Italian Carabinieri, Italy's very own counter terrorism unit. What makes these Jeep vehicles so special is the upgraded and reinforced bulletproof armor. With the blue strobe lights and Italian Carabinieri uniform look, this is a sharp way to protect and serve. While these special Jeep vehicles are impressive, there's some features that make the United States 2019 Jeep Grand Cherokee version even more impressive.
Which Vehicle Is Stronger?
Among the fleet of 19 Jeep Grand Cherokee vehicles, those models carry a 3.0-Liter V6 diesel engine that pumps out 190 horsepower. Interestingly enough, those powertrains actually pale in comparison to the Grand Cherokee offered in the United States. The U.S. EcoDiesel engine offers 240 horsepower and 420 lb-ft of torque. Both vehicles are paired to an eight-speed automatic transmission that feeds power into the four-wheel-drive system. These powerful SUVs are strong no matter what side of the Atlantic they are being driven.
Other Differences Between These Jeep Vehicles
Bulletproof Italian Jeep Vehicles and U.S. Consumer Jeep Vehicles have other differences worth noting. The suspension components have been massively upgraded to handle the trials of crime fighting. The upgraded suspension also has extra weight from bulletproof materials and added components to make the fleet able to withstand armor piercing bullets. What exactly is bulletproof with those Carabinieri Jeep Grand Cherokee models? The body panels, windshield, every window and all the tires contain reinforced armor. The vehicles are also outfitted with Odino police database system with a 7-inch Android tablet.
FCA Vehicles Help Officers Protect and Service Better Than Ever
This is not the first time FCA has helped provide the Carabinieri with special Jeep vehicles for their task force. Those new 2019 Jeep Grand Cherokee models join the over 1,000 Jeep Renegade models and lone Jeep Wrangler that were upgraded in the same way these new Jeep Grand Cherokee models were. FCA has also supplied the police with over 10,000 Dodge Pursuit vehicles that are bulletproof and upgraded. While the upgraded and armored vehicles are only for the police, those models are still available to the public. Finding a great Jeep vehicle is easy with a reliable Jeep dealership.
Drive Jeep Vehicles at Kendall Dodge Chrysler Jeep Ram
If you're looking for a vehicle that will put a smile on your face every day, stop by our massive lot filled with plenty of new and pre-owned cars, trucks and crossovers. Look no further than Kendall Dodge Chrysler Jeep Ram for all of the new 2019 Jeep Grand Cherokee, ready to go for you! Come by for a test drive and we'll work with you for any trade-ins, leasing, selling or buying with our finance department.
When you buy with us, we'll hope you return when in need for the wonderful experience our service department provides every day. We're open seven-days-a-week and can handle almost any servicing or vehicle repairs your vehicle should need. Find everything you'll need to a wonderful customer experience with every visit to Kendall Dodge Chrysler Jeep Ram.