Celebrating Jeep History in Willys Wheeler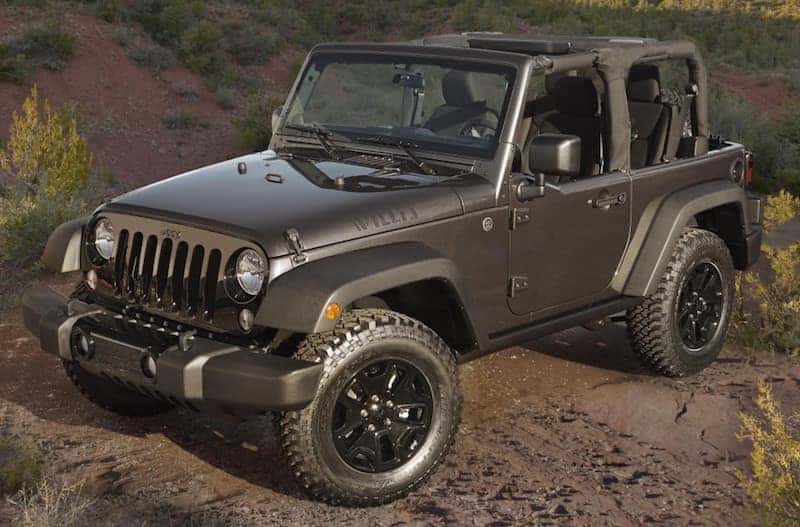 If you've been somewhat observant lately, you're sure to notice there is no shortage of information or interest in all things WWII. While this was a moment in American culture that became rich in history, it was also the era that birthed the Jeep Wrangler. Though at the time it was designed specifically for its use on battlefields, our culture has turned it into an American icon representative of overcoming any obstacles in its way. Today, you can get into Jeep lease offers that will put you in the driver's seat of a special edition Willys Wheeler.
Willys Overland CJ-2A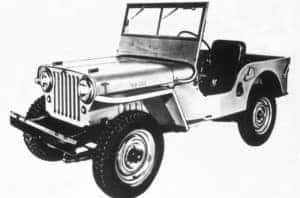 You may or may not have heard about Jeep's recent edition, Willys Wheeler. Having only been in circulation a little more than a year now, it's an homage to the original WWII civilian Jeeps.
During the second world war, "Willys", or Willys-Overland CJ-2A (Civilian Jeep), first appeared on to the market in 1945. The 2015 Willys Wheeler harkens back to this 1940's era when Eisenhower was powering through Europe and unstoppable in the Jeep.
Looking at it, the Willys Wheeler looks like a Wrangler Sport. Truthfully, they're very similar. The Willys Wheeler takes the Sport platform and adds a whole host of nostalgic and updated goodies to celebrate the original 'go anywhere' attitude.
Mixing the Old with the New

Goodies like a Dana 44 rear axle with Trac-Lok limited-slip differential with a 3.73 ratio and Jeep Command-Trac part-time, AWD system has a two-speed transfer case with a 2.72:1 low-range gear ratio for when you're ready to take rock climbing to the next level. Power is transferred to the road, trail or creek via 17-inch aluminum BF Goodrich KM Mud Terrain LT255/75R17 tires that offer incredible traction through the thickest mud and hardest crawls. Bolted directly to the frame to add body strength are rock rails which protect the undercarriage and for a finishing touch: Jeep Trail Rated Kit that includes a D-Ring, tow strap and gloves all that come in a Jeep-branded bag.
Also present for any off-roading trips are the grab handles, lovingly referred to as, ahem, well you'll know if you ever have to use them (it's what you're likely to exclaim if you find yourself gripping one). Jeep ready Mopar floor mats act more like catch all trays protecting the floor ready to collect all the dirt, mud, snow and rocks that are likely to end up there if you're using your Jeep properly.
Keeping its iconic seven-slot front grille that's flanked by two round headlights, its' gloss black finish is also appears on the appliques that cover the front and rear bumpers. Jeep's iconic half doors are also available for purchase.
What would a special edition Jeep be without its decals? "Willys" decals don the side of the hood while the tailgate gets a 1940's-esque satin-black "4 Wheel Drive" decal.
Toledo, Ohio
There are few things that are more American than the Jeep Wrangler. With its roots deeply embedded in U.S. Army and having Eisenhower credit the Wrangler with our victory in WWII, there couldn't be anymore more appropriate than manufacturing it from its birthplace. The Willy-Overland company was established in Toledo, Ohio in 1912. Originally, the company made passenger cars, but after WWII the company became dominated with the production of Jeep products. Today, the Wrangler Willys Wheeler is manufactured in Toledo keeping the tradition and production alive for more than a century.