Challenger A/T Untamed Concept Takes Muscle Off-Road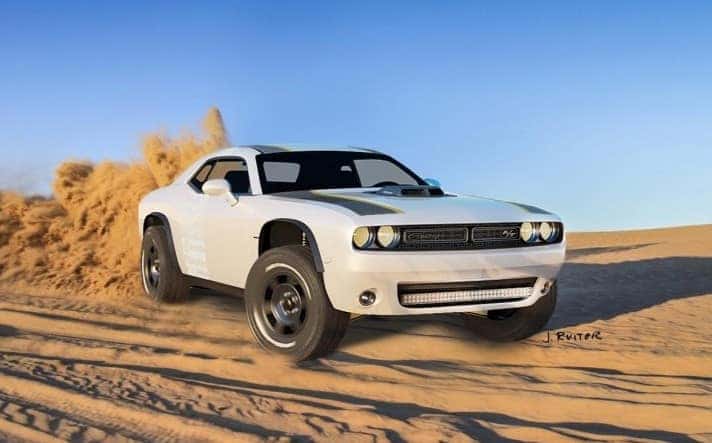 The Dodge Challenger SRT Hellcat has taken on the muscle car ranks with its incredible power, visual draw, and compelling rumble. Waiting to get in the driver's seat has been almost more than some enthusiasts can bear.
As if the arrival of the Hellcat at every Dodge in Miami isn't exciting enough, designer Joey Ruiter had to take it up a notch.
Ruiter is known for his edgy Reboot Buggy, a minimalist off-road vehicle with a sporty setup and a lot of punch. His ongoing interest in all-terrain vehicles has driven him even further with his latest concept.
While the A/T Untamed may look similar to the regular Challenger, its transformation would probably leave it better classified as an off-road truck.
He says that when a vehicle can hold together under the worst conditions and still get the job done, then you know it will be able to perform really well when faced with typical circumstances.
With enhanced suspension, skid plates, body armor, flared fenders, and intense off-road tires, the A/T is ready to take on some serious obstacles.
However, Ruiter did note that even though keeping the Challenger's V8 would be legendary, the A/T Untamed would be better served by a V6 in terms of weight.
As far as looks go, the concept art shows many of the finer details that complete the package, such as a lower LED light bar and flashy graphics.
Ruiter's focus on unsurpassed off-road performance has many people hoping that the Untamed version of the Challenger will go from concept to reality.
Currently, he's working on a modification kit that could be offered to Challenger, Mustang, and Camaro owners in the future.
He says he'd love to replicate the excitement about the street version of the Hellcat in off-road enthusiasts.