Chrysler Pacifica to be Produced for Tech Spin-off, Voyage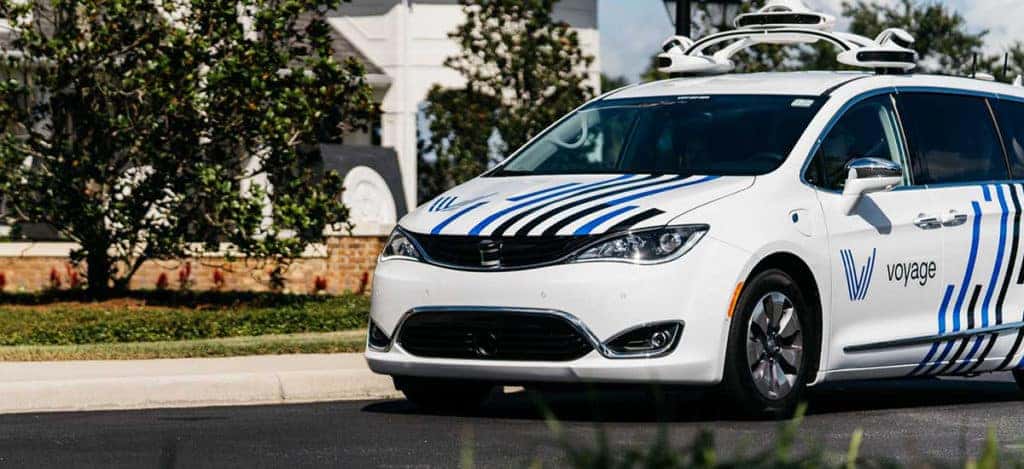 Photo credit: Mark Kane
Fiat Chrysler Automobiles (FCA) has agreed to produce new Chrysler Pacifica Hybrid minivans for Voyage Auto Inc. These Pacifica Hybrid minivans will be built for Voyage use specifically. The startup Voyage company will use these new minivans as a fleet of "robotaxis". This move is similar to when FCA partnered with Waymo to produce Waymo's self-driving fleet as a service that operated in Arizona and Detroit. Some of these Voyage Pacifica Hybrids have already been tested taking seniors around a San Jose retirement community. Voyage aims to promote its product, which is 100% autonomous and safe according to statements from the company.
The Way of the Future
Voyage is a Palo Alto-based self-driving tech spinoff from Udacity. Originally, Udacity set up their company with modified Chrysler Pacifica Hybrid minivans that involved a business model to supply ride-sharing services for a small fee. The new fleet of Chrysler Pacifica Hybrid minivans will offer a ride specifically developed based on autonomous driving (vehicles that move without a human driver). This includes customizations like redundant braking and steering that driverless vehicles require to function properly. Of course, for those inside the Pacifica, they will get to enjoy the perks of a solid infotainment system, comfortable seating, and the ease of not having to worry about driving.
"Building a self-driving car requires a deep connection between software and hardware, and both pieces need to be considered in tandem. This partnership connects Voyage's self-driving technology with FCA's deep expertise in building vehicles to launch truly driverless transportation services," Voyage CEO Oliver Cameron wrote in a blog about the deal. 
More On FCA's New Deal
The new deal for both companies is the latest in a series that Fiat Chrysler has made with AV startups. Alphabet Inc.'s autonomous vehicle unit, the aforementioned Waymo, has over 62,000 Chrysler Pacifica Hybrid vehicles that make up its fleet.  to provide custom Chrysler Pacifica minivans and it is partnering with Palo Alto-based Aurora Innovation Inc. to develop autonomous vehicles. Voyage last month secured a permit to be able to add passengers on California roads inside its autonomous vehicles. Very few companies have been granted permission to do so. The list includes Aurora Innovation, AutoX Technologies, Cruise Automation, Pony.ai, Zoox and Waymo. No other company has earned the right to add autonomous vehicles on California roadways.
Voyage Joins Rare Company
As for the residents in The Villages senior community in San Jose, all requested rides have been halted due to the coronavirus crisis. But, before the outbreak, Voyage had begun charging for rides in San Jose, but it isn't allowed to do that on public roads under the state permit. The company has also applied for a transportation charter permit, which is needed for limousine, bus and other third-party charter services. Voyage has accumulated a total of nearly $51 million in funding from investors who include Franklin Templeton Investments, InMotion Ventures, MS&AD Ventures, Chevron Technology Ventures and Khosla Ventures. As self-driving companies are taking off, some readers are wondering what will happen to current vehicles. The good news, human drivers won't be replaced any time soon. Come see the latest Chrysler vehicles with our help today! 
Kendall Dodge Chrysler Jeep Ram Has You Covered
We're all about helping our customers enjoy their shopping experience. We have a friendly and passionate sales team that will make your buying, leasing or selling needs easy for any of our choices in our new vehicle inventory, including the new 2020 Chrysler Pacifica. Considering a pre-owned vehicle? We have a whole bunch for others to choose from.
Dealing with problems with your current vehicle? Is it not running well or needs some work? We're still here! We are able to make sure you're back on the road fast with our experienced service staff. Make an online service appointment and we can help you with your vehicle problems in a timely fashion. We look forward to being your center for all things automotive, even during these unprecedented times. We're here to help both in-person and online at Kendall Dodge Chrysler Jeep Ram!