Classic Dodge Demon vs the Incredible 2018 New Dodge Demon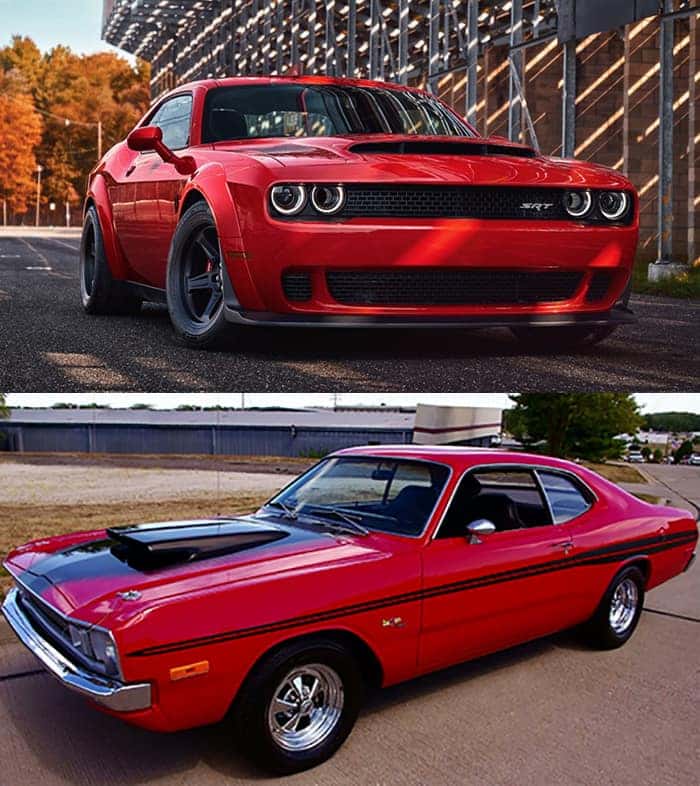 Since Dodge  revealed the Dodge Challenger SRT Demon last week, it's all we can talk about. Not only is it the most powerful factory-produced car, but its track times and exterior design are just amazing. But we can't talk about the SRT Demon without talking about the model that started it all, the original Dodge Demon. Here's a look at the newest 2018 Dodge Challenger SRT Demon and a look back at the original 1971 Dodge Demon.
1971-72 Dodge Demon
The original Dodge Demon lived a short, but awesome life. The '71 and '72 Demon was a muscle car trim of the Dodge Dart and Plymouth Duster. Dodge souped the Dart up with a stronger engine and changes to the exterior.
108-inch wheelbase which was three inches shorter than the other Dart models.
Chrysler's 340 cubic inch four-barrel engine which produced 275 bhp (brake horsepower) in 1971 and 240 bhp in 1972.
TorqueFlite 8-speed automatic transmission.
Track Times: 0 – 60 in 2.3 seconds and ½ mile in 9.65 seconds at 140 mph.
Dual exhausts.
Heavy duty suspension.
Rallye instrument cluster.
2018 Dodge Challenger SRT Demon
The new Dodge Challenger SRT Demon was released at the New York International Auto Show and it is everything we'd hoped it would be from the teasers. The Demon is going to kill it on the drag strip, but it's still street legal, so your commute will get WAY better. Here are the details on this bad boy:
Supercharged 6.2-liter HEMI Demon V8 engine (840 horsepower and 770 lb-ft of torque).
TorqueFlite 8-speed automatic transmission
Track times: 0-60 mph in 2.3 seconds, quarter-mile in 9.65 seconds.
18-inch wheels wrapped in drag radial tires.
Brembo brakes
Dual illuminated air-catcher headlights
Black demon logos inside and out.
We don't have the Demon in the showroom (yet), but we do have it's 707 horsepower brother, the Dodge Charger and/or Dodge Challenger Hellcat. Check out out Hellcat inventory at Kendall Dodge Chrysler Jeep Ram here.
Photo source: Detroit Free Press/ Ramblin Around (YouTube)