Closer Look at New Wrangler JL Engines: Diesel, eTorque, Pentastar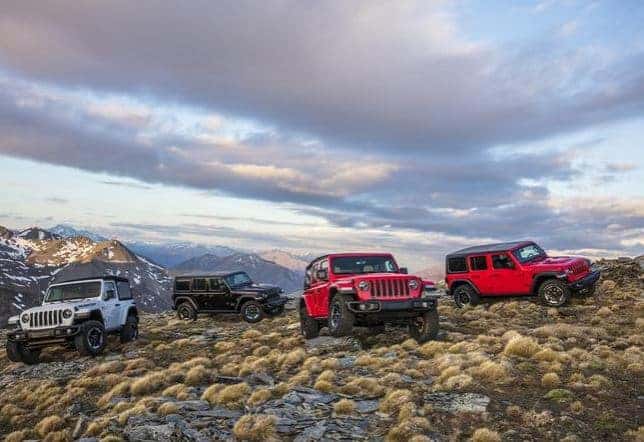 Before the all-new Jeep Wrangler JL arrives to Kendall Jeep (it's coming soon), we're trying to learn about all of the Wrangler's new features, and today we're focusing on the three engines that will be available.
3.0L EcoDiesel V6 Engine
For the first time ever, the Jeep Wrangler will be available with a 3.0-liter EcoDiesel engine. The diesel engine is an excellent choice for the new Wrangler JL because it increases the vehicle's fuel economy and it boosts the vehicle's torque, which also improves towing capabilities.
The 260-horsepower 3.0L EcoDiesel engine is paired to an eight-speed transmission, and together the transmission and the engine produce 442 lb-ft of torque. To help conserve fuel, the engine has Engine Stop-Start (ESS) as well as low-friction pistons, which also reduce greenhouse gas emissions. The 3.0L EcoDiesel engine will be available in 2019.
Turbocharged 2.0L I4 Engine
New to the all-new Wrangler JL is the all-new turbocharged 2.0-liter four-cylinder engine and it features new technology that enhance the Wrangler's overall performance and fuel economy. The new 2.0L engine produces best-in-class 270 horsepower, 295 lb-ft of torque and it features eTorque technology.
The engine's new eTorque technology makes the Wrangler a mild-hybrid vehicle. It's hybrid functions include auto stop/start, electric power assist, extended fuel shut-off, transmission shift management, intelligent battery charging and regenerative braking. Like the 3.0L EcoDiesel engine, the 2.0L engine is paired to an eight-speed automatic transmission.
3.6L Pentastar V6 Engine
Returning to the Wrangler lineup is the 3.6-liter Pentastar V6 engine, but it has been upgraded for the new Wrangler JL. The 3.6-liter Penstar V6 engine is a versatile and practical engine, and according to Jeep, there are more than five million 3.6-liter V-6 Pentastar engines on the road today.
The 3.6L engine now comes standard with Engine Stop-Start (ESS) and it produces 285 horsepower and 260 lb-ft of torque. The 3.6-liter V6 engine comes standard with a six-speed automatic transmission and its available with the eight-speed automatic transmission that comes standard with the 2.0L and 3.0L engines.
2018 Jeep Wrangler Availability
New 2018 Jeep Wrangler models are available at Kendall Jeep now. We are one of the newest Jeep dealerships in South Florida and we pride ourselves on customer service and satisfaction. We have a large selection of Jeep models, especially the ever-popular Jeep Wrangler. Come by and see what we have in stock today! We are located in Kendall and we are open seven-days a week!