Crazy Fast – 2016 Dodge Charger Performance Trims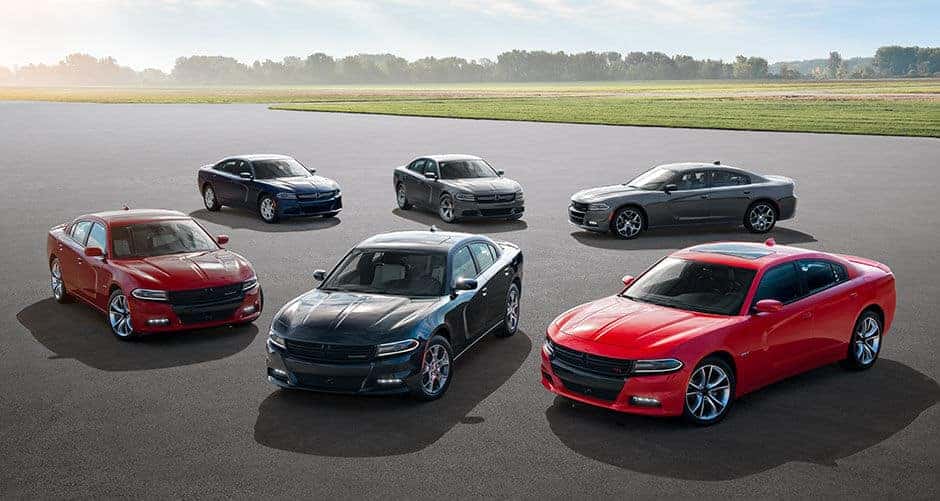 The Dodge Charger first hit the streets in 1966 as a two-door muscle car. Since the first introduction of the vehicle it has gone through several generations, and in 2006 the car was turned into a four-door sedan, making it the only four-door sedan muscle car.
The 2016 Dodge Charger is the seventh generation of Chargers and the lineup consists of seven different trims. The seven different Charger trims offer buyers variety and plenty of options to make it their own, whether that is as a powerful performance sedan or a family sedan.
Aside from the Charger SE and SXT that are equipped with the 292-horsepower 3.6-liter V6 base engine, there are five other trims that have three different engines used on the Charger lineup. These trims include the Charger R/T, R/T Road Track, R/T Scat Pack, SRT 392, and SRT Hellcat.
Next up from the base engine is the 370-horsepower 5.7-liter HEMI V8 MDS VVT engine paired to an automatic transmission. This engine is standard on the Charger R/T and R/T Road and Track trims and it gets up to 25 highway mpg+ backed by Best-in-Class horsepower and 395 lb-ft of torque. The track times for this engine include 0-60 mph in 5.1 seconds, and finished the quarter mile in just 13.6 seconds.
The second most powerful engine on the Charger lineup is the 6.4-liter HEMI V8 engine, also paired to an automatic transmission. It delivers 485 horsepower, 475 lb-ft of torque and it is the standard engine on the Charger R/T Scat Pack and SRT 392. The bigger engine generates 485 horsepower and 475 lb-ft of torque. This engine gets 18 city and 30 highway mpg, not bad for all that power. Track times are great for the R/T Scat Pack and SRT 392. When equipped with the 6.4-liter engine, the Charger can accelerate from 0-60 mph in the low four-second range.
Finally, there is the all-mighty Charger SRT Hellcat, which is the fastest sedan ever. The Charger SRT Hellcat is equipped with a Supercharged 6.2-liter HEMI SRT Hellcat V8 engine. This engine generates 707-horsepower, which is 7 more horses than the Lamborghini Aventador.
The Charger SRT Hellcat has a top speed of 204 miles per hour, a quarter-mile elapsed time of 11.0 seconds on street tires and can accelerate from 0-60 mph in the high 3-second range.
If you are interested in test driving any of these Dodge Charger models, feel free to come down to Kendall Dodge Chrysler Jeep Ram and check them out! Or check out our online inventory here.
Photo source: Dodge.com