Dodge Creates Dodge Durango Concept With Hellcat Redeye Engine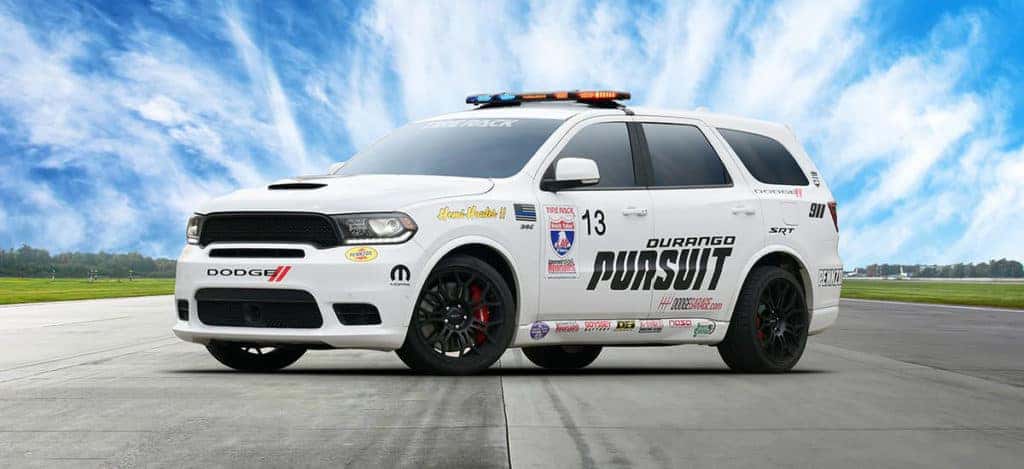 Photo credit: Dodge
Not every vehicle could handle hosting a 6.2-Liter supercharged Hellcat Hemi V8 engine, but for the latest police cruiser concept, one Dodge Durango Pursuit now hosts the remarkable engine that is also fitted in the 2019 Dodge Challenger SRT Hellcat Redeye. Dodge created this supercharged SUV for the One Lap of America, a tour of various racetracks that appears May 4th through the 11th, 2019. The engineers of this monstrous SUV have nicknamed the Dodge Durango Pursuit the "Speed Trap", rightfully so considering its remarkable speed and power.
Meet the Ultimate Dodge Durango Pursuit
What helps this latest Durango concept standout is a cat-back exhaust system, a lower ride height (0.6-inch lower), 20-inch wheels encased by 305/35ZR20 Pirelli P-Zero tires (the same as used on the Challenger SRT Hellcat Widebody), and upgraded 15.7-inch front and 13.8-inch rear Brembo brakes. Dodge took out the third-row seats to shave off weight, added a roll bar and equipped a driver safety harness, as per the rules of the event require. The Durango still includes its eight-speed automatic transmission and all-wheel-drive system, but additional items include a loudspeaker behind the grille. It's still a vehicle meant for police purposes.
The 2019 Dodge Durango SRT, currently available for customers, comes stock with a naturally aspirated 6.4-Liter Hemi V8 producing 475 horsepower. The SRT is the sportiest version of the Durango money can buy. Fiat Chrysler Automobiles (FCA), the parent company to Dodge hasn't added a Hellcat engine to a production Durango. FCA did add one for the Jeep Grand Cherokee Trackhawk, the only SUV that FCA has supplied a Hellcat engine to, until now. But this is an even more impressive engine created for One Lap of America.
The Premise of One Lap of America
The inception of the One Lap of America goes back to 1984, the aim to help America maintain a safer America by keeping racing on race tracks and not the streets of communities. One Lap of America is considered the successor to the original Cannonball Run of the 1970s, founded by famous automotive journalist Brock Yates, his son Brock Yates, Jr. is the head of the One Lap of America event. Dodge spoke about this particular event and the concept.
"Winning the truck/SUV class last year proved just how fast and durable the stock Dodge Durango SRT is during extreme competitive conditions. The class is expected to be even tougher this year, so we're leveraging the highest-performing engine in our toolbox—the Challenger SRT Hellcat Redeye's 797-horsepower supercharged 6.2-Liter HEMI high-output V8— to power the Dodge Durango SRT Pursuit for this year's One Lap. It will be exciting to follow the Durango SRT Pursuit Speed Trap on its One Lap adventure to see how this concept vehicle performs," said Steve Beahm, Head of Passenger Car Brands for FCA North America.
More About the One Lap Event
Racers that have entered will compete at eight tracks in seven different states over one week. Contestants drive to a list of tracks over the course of a week for various events. One Lap of America rules stipulates that cars can only use one set of tires for the entire 4,000-mile spectacle, with a single spare allotted for emergencies. To find out more about the latest Dodge Durango, we know exactly where to go for a test-drive.
Drive the Dodge Durango Today!
Hurry to Kendall Dodge Chrysler Jeep Ram to test out the 2019 Dodge Durango. Allow our friendly and professional staff to help with any questions or concerns. We can't wait to show off our lineup of new Dodge vehicles available for buying, leasing and we accept trade-in offers.
Come to us to help you get your vehicle up and running like new with an online service appointment with a visit to our service center. We look forward to seeing you soon at Kendall Dodge Chrysler Jeep Ram and providing an unmatched full-scale automotive experience today. See you soon!