Dodge Dealership Miami
Are you interested in learning more about the Dodge brand? If so, your local Dodge dealership Miami can point you in the right direction. Soon enough, you will have a better understanding of the company's lineup of vehicles, vision for the future, and so much more.





With a history dating back to 1900, Dodge has proven itself to be one of the most reliable and longstanding car companies in the world. Over the years, the brand has attracted hundreds of millions of buyers, thanks to a large selection of attractive and affordable vehicles.
At Dodge, the future is now. The company continues to focus its resources on designing vehicles with state-of-the-art features, inside and out.
The goal of your Dodge dealer is simple: to provide you with a large selection of affordable vehicles. From there, it is your choice as to which one you purchase.
From Small to Large: What Dodge Offers
Dodge dealerships take great pride in offering a large selection of vehicles. From compacts to SUVs and everything in between, you will never be disappointed when you step foot on your local dealer's lot.
To truly understand what the brand has to offer, you must dive into the finer details of its lineup.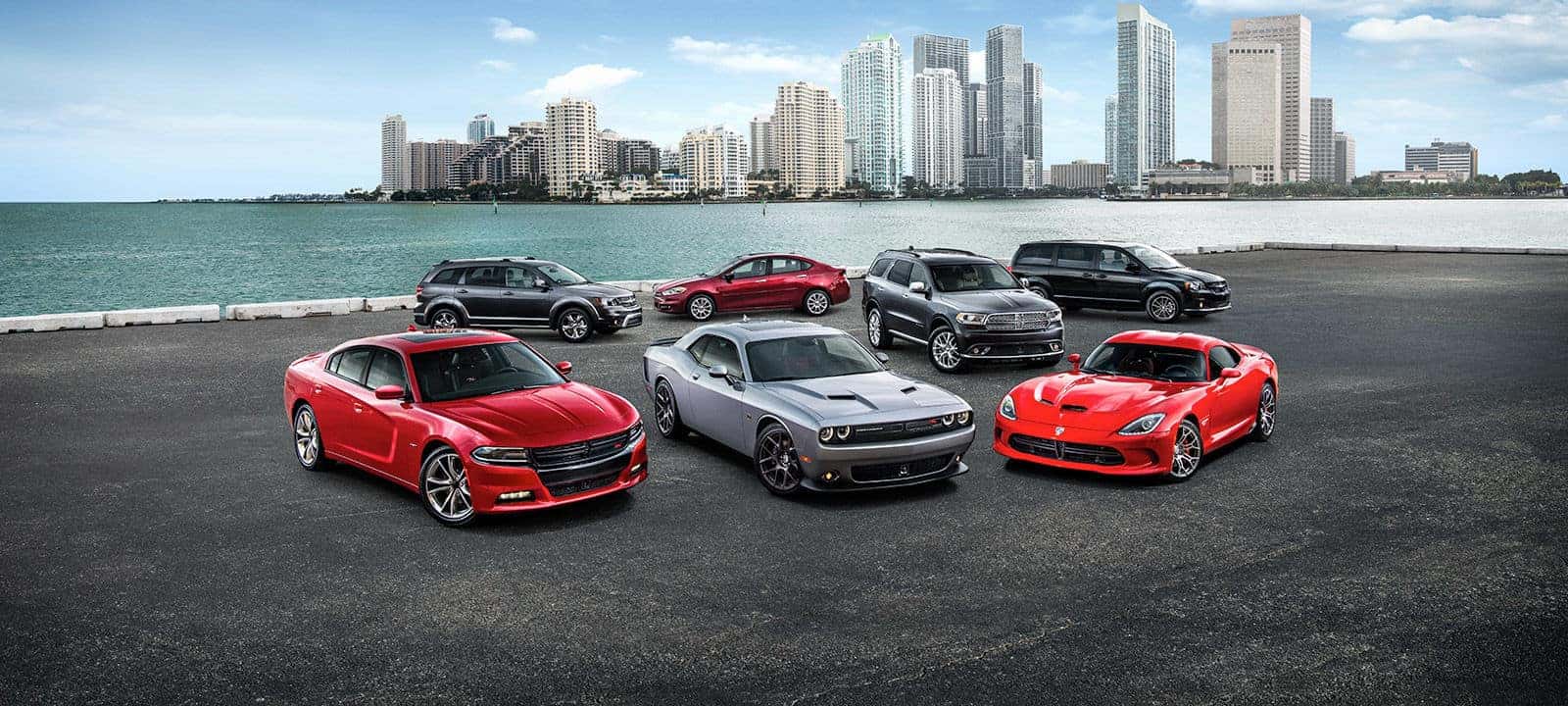 Challenger
Combining old school with new, the Challenger provides the best of the best inside and out. Offered as both an affordble model with a V6 engine, or a performance-tuned V8, the range of Challenger models and available upgrades are out of this world. Best yet, a starting price of $26,495 makes this vehicle affordable when compared to the competition.
Charger
There aren't many sedans that combine power and comfort the same way as the Charger. With nine models to choose from, you can be rest assured that your Dodge car dealership has one that piques your interest. Starting at $26,995 (before incentives), it is a sedan that fits many budgets.
Dart
If small is the new big, the Dodge Dart is in luck. This compact vehicle is easy to control, fun to drive, and packed full of features, such as Uconnect with an 8.4-inch touchscreen. With a starting price of $16,495, you won't break the bank if you decide to purchase this model.
Durango
This SUV has undergone many changes over the years, all the while keeping its spot at the top of the full-size market. For 2015, there are a few things in particular to get excited about, including new refinements and interior options. In addition to a starting price of $29,995, the base MPG is 18 city and 25 highway.
Journey
Crossovers are more popular today than ever before. With optional seating for seven, a starting price of $19,995, and impressive fuel economy (19 city / 26 highway), this crossover is giving the midsize SUV market a run for its money.
Grand Caravan
Some companies have given up on the minivan segment, but that's only because Dodge has cornered the market. We understand what buyers want from a modern minivan, which is why the Grand Caravan remains the industry leader. Its interior size, low starting price ($20,895), and base MPG of 17 city and 25 highway are just a taste of what the 2015 Grand Caravan has to offer you and your family.

The Biggest, Baddest American Engine: HEMI V8
What is it about the Dodge HEMI that makes it the top American engine? Well, it starts with power and efficiency. And it doesn't stop there.
First things first, you can burn rubber when your vehicle is powered by the HEMI V8. Sure, you want to drive safe at all times, but there are instances in which a little bit of "get up and go" is exactly what you need.
Secondly, the HEMI does a great job of burning fuel in the cylinder, thus fighting against the poor fuel economy that plagues many similarly sized engines.
Thirdly, and something many people don't think about, is the size of the valves. By placing the values at opposite sides of the head, the HEMI engine has more space for larger valves.
It is hard to understand the hype of the HEMI V8 until you experience the power on your own. Stop by your local Dodge dealership in Miami to see what the hoopla is all about. Let's put it this way: you won't be disappointed with the experience.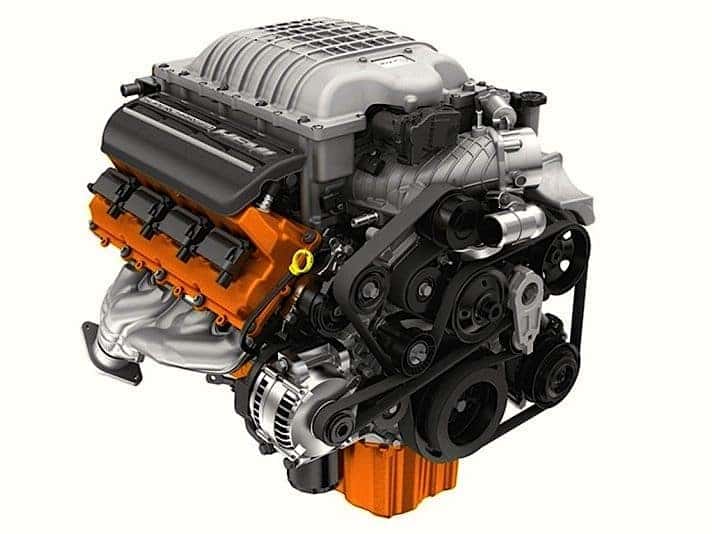 Fastest Sedan in the World: 2015 Charger SRT Hellcat
There used to be a day and age when buying a sedan meant you were sacrificing performance. But don't tell Dodge that. With its 2015 Charger Hellcat, you get the best of both worlds. The interior is spacious enough for your entire family, and once you step on the pedal you will feel exhilarated.





With a starting price of $63,995, this vehicle is one of the most expensive in the Dodge lineup. But remember, you get a lot of bang for your buck:
The Charger Hellcat is the most powerful sedan ever, thanks to its 6.2L HEMI V8 SRT Hellcat engine with 707 HP and a top speed of 204 miles per hour.
Red Brembo six piston for greater braking power.
20 x 9.5 inch matte black aluminum wheels.
Ventilated and heated performance seats wrapped in Alcantara suede and Nappa leather.
Some of these features have nothing to do with performance, but remember one thing: you are getting more than a fast sedan when you purchase the 2015 Charger Hellcat. You are also getting a comfortable, feature packed vehicle that provides you and your traveling party with an enjoyable on the road experience.
Future of Dodge Performance
When you visit Dodge dealerships in Miami, you will spend most your time looking at 2015 models. That said, don't overlook what this brand has in the pipeline.
While some automakers sit back, hoping the future doesn't pass them by, Dodge doesn't follow this strategy. Instead, the company is always looking for the next big thing. The company is always looking to do something that will "wow" consumers.
For example, the 2016 Dodge Charger is set for some changes. On the outside, it may not appear much different than the 2015 model. However, as you dig around, you will find that Dodge made quite a few changes.
In addition to speculation regarding engine choices, all signs are pointing towards interior updates, both in terms of comfort (think leather) and technology (think navigation and audio).
Who could forget about the 2017 Dodge Dart? Scheduled to arrive sometime in the summer of 2016, this new model will continue to offer turbocharged engines mated to a front-wheel drive setup.
Here is where the fun begins: a Dart SRT is set to join the lineup toward the end of 2016. Many consumers are already on the edge of their seat, wondering what this vehicle will bring.
Early indications are that a high-output turbocharged engine and all-wheel drive will be available.
Are you excited about a current model? Do you want to discuss the future? Call or visit a Dodge dealership Miami to find what you are looking for. Purchase a vehicle that looks good, performs at a high level, and keeps you comfortable.