Dodge Durango SRT Remains The Top-Tier Three-Row Option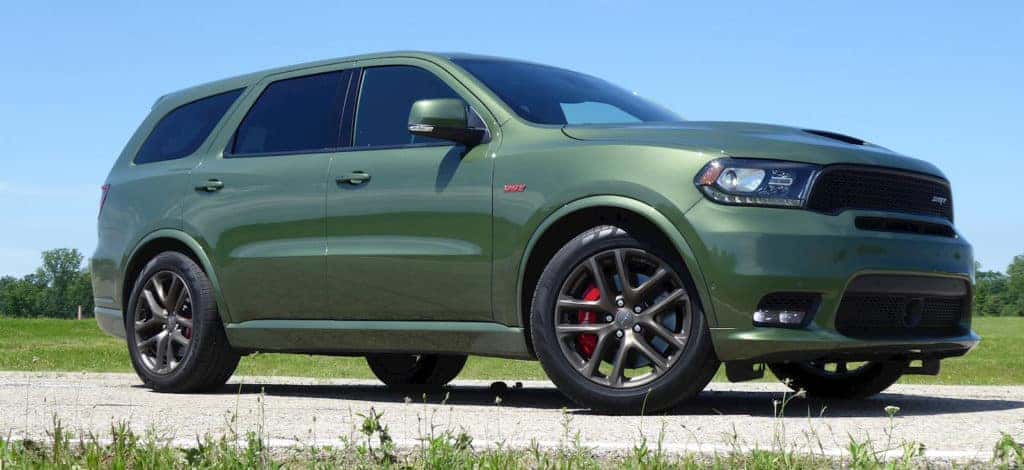 Photo credit: JD Power
There are few vehicles that can match what the 2020 Dodge Durango offers customers and none of them is an SUV. Sure, some vehicles might be a touch faster than the Durango, but do they have the power the Durango carries? The Dodge Durango SRT is the current top-tier Durango trim option, with the right amount of strength and speed. Now in its second year of existence, owners have now had a couple of years of firsthand experience with the 6.4-Liter V8 HEMI powertrain, the refined luxury of the interior, and the remarkable handling offered to drivers. Let's break down exactly why we love the newest Durango SRT. 
Unmatched Three-Row Towing Power
Looking for a superiorly strong SUV on the market? 8,700 pounds of maximum towing capacity is second-best on the market for three-row SUVs. It's able to tow more than the Lincoln Navigator, Chevrolet Tahoe, and GMC Yukon. Known for its strength, the 475-horsepower V8 HEMI engine supplies its segment-leading towing capacity. Using its all-wheel-drive, the Durango offers solid traction and grip when towing or hauling anything to move ahead safely. Owners can speak to the immense satisfaction of not only being able to use the Durango in a useful manner when towing items, but the refinement offered inside the vehicle. The comfort offered, especially in the SRT trim, is high-class and still holds well with its leather seating, infotainment system, and rich features that make the Durango feel like a much more pricey SUV. 
Refined Interior + Infotainment Perks
The high-performance SUV has luxurious aspects all throughout the interior including among many aspects; a 19-speaker Harman Kardon premium audio system, a power sunroof, plus a rear-seat DVD system with the Premium Interior package are all fantastic options. A tech package offers advances in safety including blind-spot and rear cross-traffic detection. For those who want a large-size SUV that can fit eight safely, this is the choice to make. Not to mention, the Durango SRT is the fastest three-row SUV on the market with its remarkable 4.4 second 0-60 time. Of course, while the SRT trim provides all these features, all Durango trims offer a lot for customers to enjoy. 
Can't Go Wrong With Any 2020 Durango
Customers not looking to drive the SRT can feel comfortable with the lower-trim options. The 2020 Durango is fitted with the trusted 3.6-Liter V6 Pentastar engine in the base model, which produces 293 horsepower and 260 lb-ft of torque. All powertrains are tied to a smooth automatic 8-speed transmission. The Pentastar V6 can tow up to 6,200 pounds and offers solid strength. The upcoming 2021 Dodge Durango is slated to still gain the Pentastar engine among the powertrain options, but there is a rumor of a new Hellcat engine joining the options list for the 2021 Durango. For now, any customer interested in the Durango can check us out to buy from the comfort of their home with us. The starting price of the 2020 Durango is $34,995 (Plus destination) for the base trim, GT. Want to get into a new Dodge vehicle? Let us help.
The Dodge Line-Up Is Here At Kendall Dodge Chrysler Jeep Ram
Want to save on a new 2020 Dodge Durango. We have a selection of Dodge muscle cars, including the new Dodge Charger and new Dodge Challenger. We're more than able to assist our customers for any buying, leasing, selling or needs they may have. We can also help buyers trade-in their current vehicle. Our knowledgeable sales team shows off all our newest vehicles and high-quality pre-owned vehicles with pride. 
Not sure if your current vehicle is running well or needs some work? We're here! We are able to make sure you're back on the road fast with our experienced service staff. Make an online service appointment and we can help you with your vehicle problems. We look forward to being your center for all things automotive. Stop by to see us today at Kendall Dodge Chrysler Jeep Ram.